Written By
Louise
On Apr, 1 2020
8 minute read
Lost conversions are a big issue in e-commerce. The majority of all shopping carts are abandoned, and business owners of all experience levels count ecommerce cart abandonment as one of their biggest headaches.
Thankfully, there are a number of things you can do to drive ecommerce conversions and turn your cart abandonment rate around.
In this article, we will give you a few quick fixes to drive conversions and prevent cart abandonment. Then, we'll show you how to bring lost customers back with a first-rate abandoned cart retargeting campaign.
How to formulate an abandoned cart strategy
Before building a retargeting campaign, there are a few things you can do to encourage customers to complete their purchase.
First, you need to calculate your cart abandonment rate to better understand the problem you're trying to solve. Then, optimize your website to ensure the purchasing process is quick and seamless.
Calculate your cart abandonment rate
First things first, you need to know your numbers. If your online store doesn't automatically calculate your cart abandonment rate, you can do it manually.
Here's the cart abandonment rate formula:
Choose a time period to measure your cart abandonment rate
Divide the total number of completed purchases by the number of shopping carts created
To get the rate as a percentage, minus the subtotal from one and multiply by 100
If you have 100 purchases from 200 shopping carts in September, you would calculate your CAR like this:
100/200 = 0.5
1 - 0.5 = 0.5
0.5 x 100 = 50
50% CAR September
Once you have this benchmark, you can start to track your numbers and optimize your store with the aim of decreasing eCommerce cart abandonment each month.
Optimize your online store
There are many factors contributing to eCommerce cart abandonment. E-merchants need to identify any drop-off points during the purchase process, then work to remove them.
Common culprits tend to be a slow website, poor product descriptions, a complex payment process, and hidden costs at checkout.
Check your website loading times
An eCommerce customers' time is of the essence. If they have to hang around and wait for a website to load, chances are they'll leave and find somewhere else to shop.
Softwares such as GT Metrix are a great way to monitor the speed of your website and ensure potential customers aren't wasting time waiting for the page to load.
Not only will this tool show you current website loading times, but it will also alert you if loading times drop so you can rectify any future issues as they occur.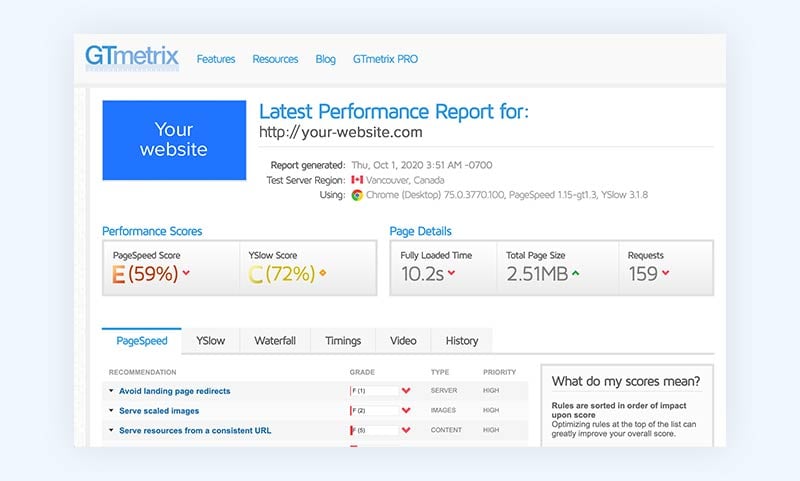 Examine customer's on-site behavior
Heat-mapping software like Hotjar is a great way to see how customers interact with your site. A heat-map will show e-merchants where customers first go when they enter a site, which buttons they click most often, and which pages they view for the longest time.
Such software is a great way for e-merchants to identify any stages in the purchase process that customers get stuck, then work to improve their site accordingly.
Give more detail in product descriptions
High-quality product images and descriptions are an imperative part of making a sale. As customers can't touch, use, or try on items before purchase they need to find all the information they need on your site.
A single photo and basic description aren't going to cut it. Tell customers what the product is made of, show images of the product from multiple angles, and give extensive details about its shape and size.
Speed up the check-out process
Check-out presents a great opportunity for e-merchants to gain valuable customer information and secure membership sign-ups. But beware, making such steps compulsory is a sure-fire way to drive eCommerce cart abandonment.
Always give customers the option of a quick checkout, without the need to become a member or give any information that isn't absolutely necessary for the completion of the sale.
Be transparent about shipping costs and taxes
When the cost of a product jumps from $50 on the product page to $75 during the final stages of checkout, customers will be understandably annoyed.
Hidden costs at checkout are a major reason that tentative customers abandon their cart at the last minute. Be upfront about costs from the beginning, and do what you can to reduce extra costs such as shipping.
A proven tactic to decrease cart abandonment and increase average order value is a 'free shipping threshold'. Offer free shipping only to customers who spend over a certain amount to encourage them to add an extra item to their order at the last minute.

How to build an ecommerce cart abandonment campaign
Even after you've completed all the steps above to minimize your cart abandonment rate, there will still be visitors who leave without making a purchase.
A retargeting campaign is the best way to bring back these lost visitors and incentivize them to complete a sale. Follow these 4 steps to build an abandoned cart recovery campaign:
1. Write and design abandoned cart recovery content
For a retargeting campaign to be successful, it needs to reach lost shoppers the moment they exit your page.
This means more than just scheduling a message to send automatically when a customer abandons a cart. It means reaching customers on the messaging channel they check most frequently to ensue that they read your message while their intent to purchase is at its peak.
Because of this, a retargeting campaign needs to be multi-channel. Start with a Facebook Message, then an SMS, and finally an email.
Retarget quickly over Facebook Messenger
Facebook only allows marketers to send messages within 24 hours of a customer opting in, so it's important to use this channel first in your abandoned cart campaign.
Facebook Messenger is a great way for brands with a Facebook shop to retarget customers, and bring them back to complete a purchase, all within the one site. It's also a great way to interact with the younger generation who spend so much time on the platform.
A Facebook Message can include both text and images of the product(s) the customer abandoned, as well as direct links to the cart to complete the order fast.
Incentivize lost customers with an SMS
SMS is a great channel to reach customers fast. Customers open 98% of the SMS messages they receive, 95% of these within 3 minutes. This speedy open-rate is a massive benefit during a time-sensitive task such as abandoned cart recovery.
SMS is also the best channel to send discount codes and give customers that extra motivation to complete the sale. Customers open and use discounts sent via SMS 10x more than discounts sent over any other marketing channel, making SMS an imperative inclusion in any eCommerce cart abandonment campaign.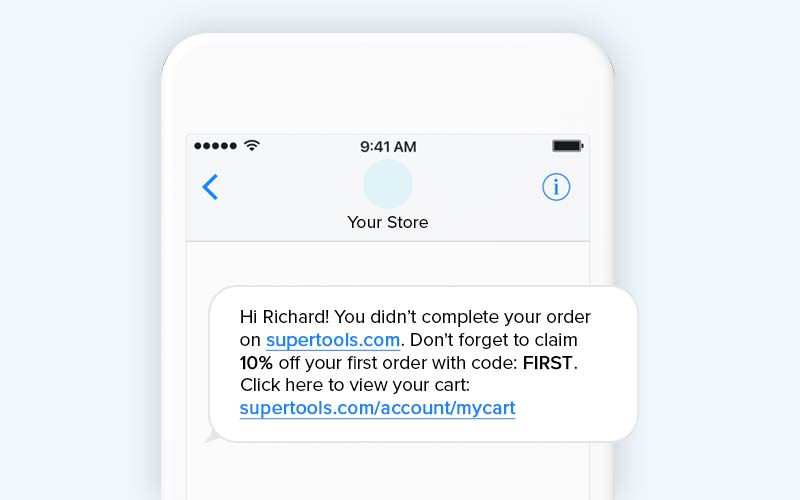 Bring customers back with an email
Email is the most visual medium, and is a great way to showcase the products a lost customer almost purchased, along with similar or complementary products to tempt them further.
An email also presents a great opportunity for e-merchants to showcase their visual branding with fonts, colors, images, and logos.
An abandoned cart email should include:
A call-to-action
A call-to-action (CTA) directs customers to their next step in the journey.
In a retargeting campaign, the CTA will take customers back to the cart they abandoned, ideally with all their information still filled in so they can complete the purchase in just a few clicks.
A CTA needs to be the most obvious aspect of the email, so consider adding a big, bold, colorful 'buy now' or 'complete purchase' button right in the center of the page.
If a customer only glances briefly at the email, you want the CTA to be the one thing they read and click.
High quality images
Photos are often the only way for customers to get to know what their purchase looks like before it arrives at their door. You should, therefore, invest in professional, well-composed photos that show your products at different angles and in different lighting.
Email images don't stop with product images. Grab customers' attention with a header image, footer image, and other branded images throughout the email. Email is the most visual medium, so use images to grab the customer's attention.
Mobile-friendly design
By 2021, 53.9% of eCommerce sales will be generated on mobile, so abandoned cart retargeting emails should always be optimized for mobile.
Once a customer reads your mobile friendly email and clicks the CTA, they should then be taken to a mobile-optimized website or check-out page. Customers should be able to journey from marketing, to website, to purchase all on a mobile device without any issues.
Friendly, convincing content
It's important your email reads like it was written by a real human being. Corporate-sounding emails and those that sound overly familiar are often a big turn off.
Here are some tips for writing a successful abandoned cart email:
Use the client's name to thank them for visiting your store, and remind them that they still have items in their shopping basket
Mention the name of the items and include an image to show the customer of what they left behind
Allay any doubts the customer may have about the product quality or your returns guarantee
Give customers an easy way to contact your brand incase they have any further questions
Include a clear call to action, with a sense of urgency
Make sure that there are clear and obvious links back to the shopping cart so the customer can continue their buying journey
2. Include discount codes in a retargeting campaign
Adding discount codes to your retargeting efforts can lead to less cart abandonment, higher website traffic, more conversions, and higher average order value.
A customer has already found your website and identified a product that they're almost willing to buy. All they need is a slight extra push, and something as small as a 5% discount or an offer of free shipping is often enough to drive home the purchase.
There's other research that backs this up: Perfect Search reports that using discount codes can lead to a 16% higher AOV and a near doubling of conversion rates.
3. Configure an action-triggered retargeting campaign
As mentioned earlier, it's imperative that a retargeting campaign reaches a customer fast. Using a marketing automation tool, you can schedule a campaign to send every time a customer performs a set 'action', ie. exiting your page with an item in their cart.
E-merchants can configure action-trigger campaigns for all the most common eCommerce use cases, such as a customer making a purchase, their credit card information failing, or browsing your site and then leaving without making a purchase.
Sending an automated marketing campaign whenever these 'actions' occur ensures that e-merchants chase up every lead and utilize every opportunity to make a sale.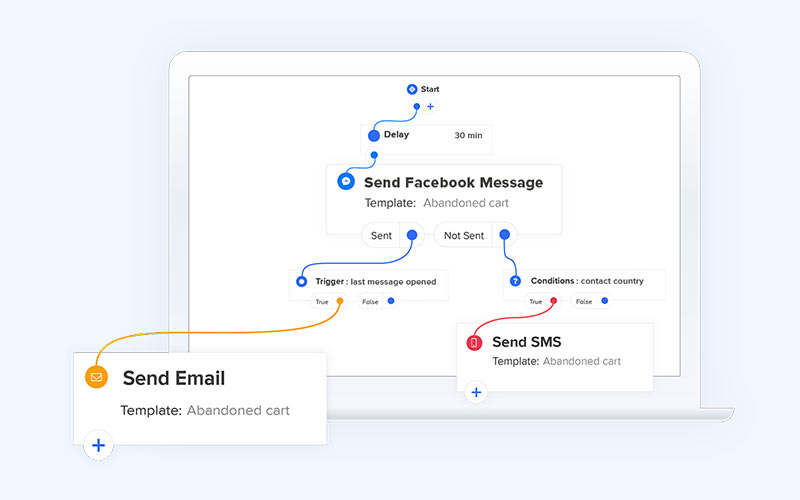 4. Build an abandoned cart recovery campaign
A successful retargeting campaign combines all the channels and features mentioned above into one cohesive workflow.
Make the most of each channel to maximize audience reach with 'fall-back logic'. Fall-back logic means that if one messaging channel fails to reach a contact, another channel triggers automatically.
Let's say a customer abandons a cart and triggers a retargeting campaign, which starts with an automatic Facebook Message. If for some reason that Facebook Message fails to send, the campaign will automatically try to reach the customer via either SMS or email.
You can also include 'conditions' within the campaign to split the workflow between customers who have opened or clicked a message, and those who have left it untouched in their inbox. Give customers a set amount of time to open the message, then automatically reach out again over another channel if they don't open the message in the set time.