Written By
Louise
On Jan, 20 2016
4 minute read
The average shopping cart abandonment rate across global e-commerce sits at around 70%, which means that out of 100 shoppers who find an ecommerce site and place an item in their cart, only 30 complete the purchase. This frustrating statistic results in both the loss of revenue and low ROI on marketing spend for e-merchants.
Fight cart abandonment and increase ecommerce conversion rates with mobile retargeting. E-merchants use mobile retargeting to remind lost customers about items they almost bought, then use direct links, a sense of urgency, and small incentives to convert the sale.
What is mobile retargeting?
Mobile retargeting means reaching out to almost-customers with an SMS the moment they exit an online store, reminding them about the great product they considered buying.
SMS is the most effective channel for abandoned cart retargeting for two key reasons:
The

majority of traffic

for e-commerce websites comes from smartphones - mobile retargeting reaches customers on the medium they use to shop and streamlines the journey from marketing to purchase

SMS boasts a 98% open rate

, with 95% of these opened within the first 3 minutes - in a situation of urgency, mobile retargeting campaigns reach a large audience fast
A successful mobile retargeting campaign will use different tactics to encourage a customer to complete their purchase. E-merchants can instill a sense of urgency saying the product is low in stock, or offer a small discount or free shipping to drive the sale home.
E-merchants need to be aware that lost customers may be browsing for similar products on competitors' sites, so time is of the essence. Send a mobile retargeting campaign to lost customers the moment they exit the page when intent to purchase is at its highest.

How effective is mobile retargeting?
Simply put, retargeting campaigns work. Studies have shown there is a 70% greater likelihood of converting for retargeted visitors compared to those who did not receive retargeting messages.
Turning to mobile retargeting specifically, not only is the medium the best way to reach a wide audience fast, but it's also the most effective way to engage customers with discount codes. Customers open and use discount codes sent via SMS 10x more than those distributed on any other marketing medium.
Create an SMS cart abandonment campaign
The easiest and most effective way to build a mobile retargeting campaign is with a marketing automation platform. Such a platform allows e-merchants to curate the perfect abandoned cart campaign, then schedule it to send the moment a visitor leaves the site. Automating this process means less work for the e-merchant, and zero chance of missing an opportunity with a potential customer.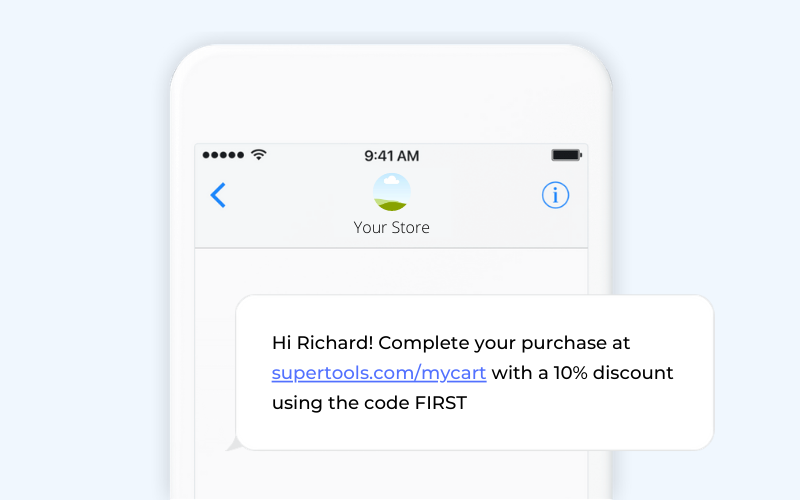 For optimal results, an abandoned cart SMS should include:
Personalized content - speak to the customer directly, mention them by name, and use a friendly tone of voice
A sense of urgency - tell the customer that time's running out or that the item is low in stock and encourage them to complete the purchase ASAP
A link directly back to the cart - save any shipping or payment information already input to speed up the process to complete the purchase
A special discount - a clickable link to claim a small percentage off or free shipping may be the incentive a customer needs to finalize the order
And remember, there is a 160 character limit for SMS messages, so keep the text short and punchy to avoid it sending as two separate messages.
Include SMS in a multi-channel retargeting campaign
Mobile retargeting works best in combination with other marketing channels. Embrace the strengths offered by email and Facebook Messenger marketing along with SMS marketing for a well-rounded and cohesive approach.
An e-merchants customer base contains individuals who spend their time using different platforms. Some customers will respond well to a quick, punchy SMS, while others find a visually stimulating email more compelling.
A multi-channel marketing strategy increases audience engagement and allows e-merchants to reach customers on the channel they respond with best.
Use multiple marketing channels in one cohesive campaign to complement each other.
First, send a Facebook Message to reach customers fast and on the same medium they use to shop. Facebook only allows marketers to send messages within 24 hours of the customer opting-in, so use Messenger as the first point-of-call within a campaign.
Second, send an email with visuals of the product, along with similar and complementary items. Email presents an excellent opportunity to showcase a brand's visual identity, so make use of logos, fonts, images, and color-schemes.
Finally, reach out over SMS, offering a 5% discount code or free shipping on the purchase. This small incentive might be all the almost-customer needs to convert.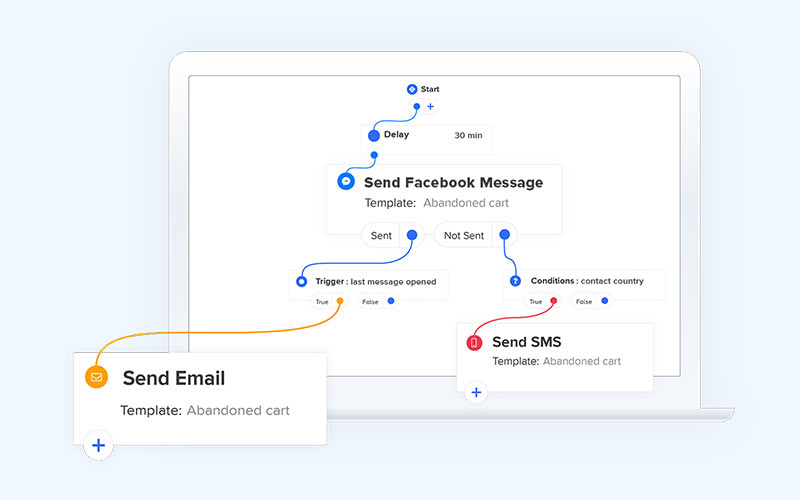 To ensure a retargeting campaign reaches the customer when intent to buy is highest, use fall-back logic. Fall-back logic is essentially a split within the campaign workflow to divide customers who have received a message from those who haven't.
If one messaging channel fails to send, another message sends automatically on a different channel, then another, until a message successfully sends.
Take this logic one step further with mid-workflow conditions. Conditions split the workflow between customers who have opened or clicked a message, and those who have received it but not engaged.
Cart abandonment is an urgent situation where e-merchants need to reach customers immediately. Input a condition 30 minutes after sending the initial abandoned cart message so that if the customer hasn't opened it within 30 minutes, the workflow will automatically try to reach them on another channel.