Written By
Louise
On Feb, 27 2020
9 minute read
Email marketing is a great way for e-commerce stores to reach their customers with engaging, beautifully designed content. While SMS and Facebook Messenger marketing are useful for short bursts of more urgent information, email gives marketers a large area to fill with personalized content, company logos, product images, discount codes, etc.
One of the main benefits of email marketing is that e-merchants have the opportunity to get creative with design elements to convey their brand's visual identity and showcase their products.
Brands can even get creative with their email subject lines, and run experiments to see what type of subject line works best for their email marketing.
With a creative mindset, e-merchants can send email marketing campaigns for almost any reason. The world truly is your oyster. However, for those of you just getting started or looking for some inspiration, here are 13 emails absolutely every e-commerce marketer must send.
1. Welcome email
First and foremost, the welcome email. Start off your relationship with a new customer in the best way - welcoming them to your store, thanking them for their business, and showing that you're a company that cares. Sending a welcome email is the first step towards building brand loyalty and is a great way to start a dialogue with new customers.
Some important things to remember when creating a welcome email are:
Visuals matter - this is the first piece of messaging your new customers will receive, so wow them! Make sure the color scheme, fonts, and layout go hand-in-hand with your website - this allows new customers to start forming a mental image of your brand and what you represent.
Show you care - online shopping has the potential to go horribly wrong, and consumers are understandably wary. Reassure them that your brand is there to resolve all too common e-commerce issues like incorrect sizing, damaged goods or products getting lost in the mail.
Open up a dialogue - give customers a way to contact you directly right from the outset. Provide a reply-to email address, give customers links to all your social media sites, and actively invite customers to ask questions or give feedback about your products or site.
2. Browse abandonment email
Potential customers arriving on your site, browsing through products, then leaving without making a purchase is a frustrating reality for all e-commerce store owners. Sending a browse abandonment email is a great way to regain the attention of these lost customers and bring them back to your store.
When creating a browse abandonment email, you won't have specific products to recommend the visitor as they didn't place anything in their cart. However, if you're using a marketing automation software, you can automatically recommend the most popular products sold on your site in the last 30 days. This will maximize your chances of the customer loving the items you recommend.
You can also include:
An explanation of your brand's story, your key values, and what you bring customers
Visuals that nicely match your website and overall brand image
Information about any exciting developments coming up soon - new products, sales etc.
3. Cart recovery email
Similar to browse abandonment emails - cart recovery emails work to bring lost customers back to your site. However, there's one key difference - the customer didn't just browse your site and leave, they put items in their cart. A marketing automation software will register these items so that you can retarget the customer with the exact product they considered purchasing, along with similar or complementary products.
Cart recovery emails are one of the most urgent emails to send. E-merchants need to ensure that they send an email immediately after the visitor leaves their store in case they're looking at similar products on competitors' sites.
One key question to ask yourself is whether or not you want to include a discount code in your cart recovery email. As the customer was already so close to buying a specific product, a 5% discount or an offer of free shipping might be all that's needed to bring the sale across the line.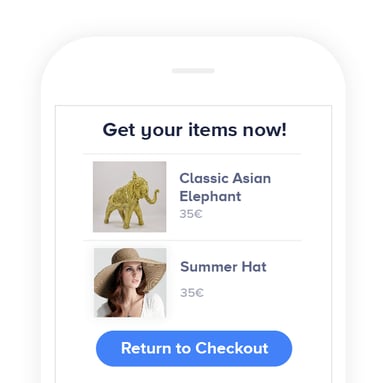 4. Order confirmation email
In the previous three email examples, you've been working to make a sale. So, what do you do once a purchase is completed? Send an order confirmation email of course! These are one of the most important emails for e-merchants to send, so make sure it's accurate and immediate.
Online shopping is risky for customers - they give vendors their money and trust them to send the right product to the right address, quickly and undamaged. There's a long lag between making the purchase and receiving the item, and customers need to be reassured that everything's going smoothly and their package is on its way. The best way to make your customers confident in their purchase is to immediately send an order confirmation email. This should include:
A 'thank you' to the customer for purchasing on your site
An order confirmation number - so that if there are any issues you can easily identify the order
A rundown of the order - including product(s) purchased, delivery address and payment method
Delivery information - a quick message saying that once the order has been shipped the customer will receive tracking information
5. Payment failed email
When a customer tries to purchase a product but the payment doesn't go through, e-merchants need to work fast and get the customer back to complete the checkout.
Although the customer has shown they are committed to buying the product, they may lose interest, so it's important that the payment failed email is sent immediately. The email should alert them to the issue and give them alternative payment options.
A payment failed email should include:
A personalized explanation of the issue with the initial attempted payment
A link that takes the customer right back to the shopping cart, ideally with all the contact and shipping details saved from the first purchase attempt
Alternative payment options - this could mean payment through sites such as Paypal or Klarna, the ability to split their payment into installments, or the option to use a different credit card
Images of the product(s) they tried to purchase. You could instill a sense of urgency by saying 'quick, only 2 left in stock'
6. Shipping confirmation email
Another email that every e-commerce store owner should automate is the shipping confirmation email. Similar to the order confirmation email, a shipping confirmation email reassures the customer that everything's going well and that they will receive their package soon.
The most important thing to include in a shipping confirmation email is a package tracking number. This allows your customers to keep an eye on their package, know where it is at all times, and have a better gauge on when it will arrive.
Make sure that the package tracking number is linked to the delivery website so that in just one click your customers can see exactly where their package is.

7. Post-purchase email
E-merchants should send a post-purchase email once a customer has received their package, to touch base and make sure they're enjoying their product. Sending post-purchase emails is a great way to nurture customers, increase brand loyalty, and secure business well into the future.
A post-purchase email is a great time to ask happy customers for reviews or testimonials to give your brand social proof. You can also ask your customers to share images of their new purchases across social media, and reward them with a discount on their next purchase.
Things to remember when sending a post-purchase email are:
The package needs to arrive before the email is sent, so take the expected delivery time then add a couple of days wiggle-room just to be sure
You might be more successful in acquiring testimonials or reviews if you offer customers some sort of reward (a discount or free shipping on a future purchase)
Why not try and upsell? Include recommendations for products that would perfectly complement their recent purchase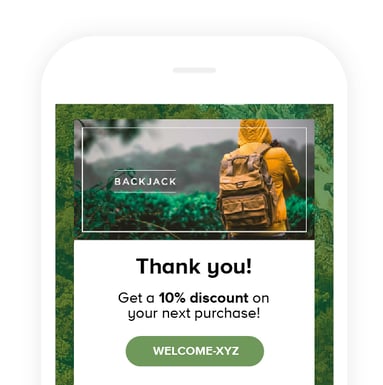 8. Newsletter email
A great way to build relationships with your customers, let them know what your company is up to, and keep your brand front-of-mind is with a regular newsletter. An e-commerce newsletter should be sent to the widest possible audience - so the first thing you want to do is create a contact list with all your current customers, past customers, and future prospects.
When designing your newsletter, visuals are paramount. Make sure that the images, color scheme, and font all perfectly align with your existing brand imagery.
Some great sections to include in your newsletter are:
Company news - has anything exciting happened within your company over the past month? Did you receive positive publicity? Tell everyone about it!
New products - have you recently released a new range of products? Get your customers excited to make a purchase!
Upcoming events - what's coming up on the horizon? Is your company going to attend an event or due to launch something new? Now's the time to publicize!
9. Holiday email
The holidays are a time to eat, drink and be merry with family - and shop online! E-merchants all over the world look forward to the spike in sales that comes with holiday season. But with such huge potential for profits, the level of competition is higher than ever.
A great way to stand out against the competition and bring holiday shoppers to your online store is with a festive holiday marketing email! These emails should alert customers to all your special holiday deals, highlight new products that will be released and recommend products that will make great gifts.
Every holiday is an opportunity for e-commerce marketing, so run campaigns around as many as you can! The most profitable holidays every e-merchant needs to include in their annual marketing calendar are:
Christmas
New Years
Black Friday
Cyber Monday
Mothers Day
Fathers Day
Easter
Valentine's Day

10. End-of-season sale email
What's the point of having 'end of season sales' if your customers don't know about them?! Broadcast all your special deals, discounts and clearance items to your entire contacts list with an end-of-season sale email!
The point of an end-of-season sale is to clear out last season's stock to be replaced with all your new products, so be motivate buyers with large discounts so that you sell everything.
An end-of-season sale email should include:
A selection of your most impressive sale items. Select the items that have sold best in the past or are receiving the biggest discounts.
A button that takes customers directly to the sale section of your website
A special discount code for your VIP customers to use throughout the sale to enhance their discounts
A sneak-peak of the products you will be releasing next season
11. Product release email
Once your end-of-season sale is over it's time to release your new range of products! You can't just release new products and expect visitors to flock to your online store. Send an email to your entire contact list showing them your exciting new items and directing them to your online store so they can make a purchase!
Customers love to purchase brand-new products, so use wording that conveys how exclusive and special they are. Your product release email should include:
A selection of the most exciting new products that have just been released to your store
A button that takes customers directly to your website
To spread the word about your new products even further, you could also ask customers to share their new purchases on social media to receive free shipping or a discount on their next purchase.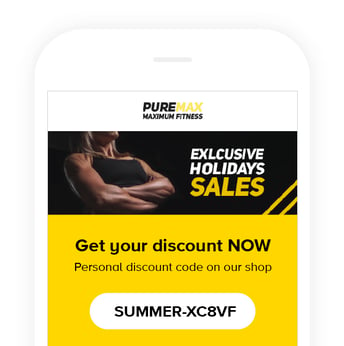 12. VIP email
The value of loyal repeat customers cannot be understated. E-commerce store owners need to do everything they can to engage with repeat customers, nurture them, and build long-lasting brand loyalty.
A great way to show your appreciation for these loyal customers and to retain their business well into the future is to create a VIP program. To do this, you first need to create a list of your VIP customers.There are many ways businesses can define a VIP customer:
Someone who has spent more than $X amount total in your online store
Someone who has made more than X purchases on your site
Someone whose average purchase amount is more than X
Have a think about it and define the metric that makes the most sense for dividing your customer base.
Once you have your VIP customer list, send them an exclusive VIP email! This email should include:
Special VIP discount codes
An offer for free shipping on their next purchase
Sneak-peeks at your new high-end products
Recommendations for some of your top-quality products
13. Winback email
If a customer hasn't been on your site in a long time, it doesn't mean they're gone for good! If a customer is already aware of your brand, there's a much higher chance of them making a purchase. In fact, the success rate of selling to a customer who's purchased from you before is 60-70% while the success rate of selling to a new customer is only 5-20%.
Because of this, customer win-back emails are essential. If a customer hasn't purchased from you in a certain amount of time, send them an email to tell them you miss them.
Customers often simply forget about a brand, so reminding them your company exists may be enough to bring back their business!
If not, there are a few things you can include in your email to bring lost customers back:
Personalized content that lets your customer know that you miss them and haven't forgotten about them
A special discount code to use on their next purchase
Free shipping to use on their next purchase
Some images of your exciting new products (that customers can purchase with their special discount)
Looking for a simple way to build contact lists, design email templates, create workflows then schedule and send emails automatically?