Written By
Louise
On Jan, 19 2020
5 minute read
Cart abandonment is one of the most frustrating issues facing e-merchants today. Customers may not realize it, but a lot of time and effort goes into them finding your store and selecting a product they like. Having that customer leave without completing their purchase is a huge waste of resources.
Unfortunately, this scenario is all-too-common, with 68% of all online shopping carts abandoned before checkout.
Reducing your cart abandonment rate is one of the quickest ways to increase ecommerce profit margins, and there's no better way to reduce cart abandonment than with a retargeting platform.
In this article, we run through 5 of the most popular retargeting platforms for ecommerce, dissect the pros and cons of each, and help you find the best solution (or solutions) for your online store.

AdRoll
If you're searching for a retargeting platform that sends personalized ads across multiple channels, it's hard to look past AdRoll.
Retargeting ads are a hugely popular method to bring back lost shoppers. AdRoll boasts of both cross device and cross platform compatibility, making it a great tool for e-merchants with a wide range of customers.
There are many ad retargeting platforms on the market, but what makes AdRoll special is their in-depth segmentation capabilities.
AdRoll provides users with 300 different 'intent signals' which group customers based on their on-site behavior, then sends each group specifically targeted ads. Intent signals include products a customer has viewed, or which stage of the purchasing funnel they dropped off at.
Additional features such as A/B testing and actionable data and metrics allow e-merchants to better qualify customers and win them back with super targeted ads across Facebook, Twitter, browsers, apps, and more.
Experienced e-merchants will jump in and use these complex features with no issues. However, it's important to note that AdRoll isn't very user friendly for beginners, so if you're new to eCommerce marketing expect a steep learning curve.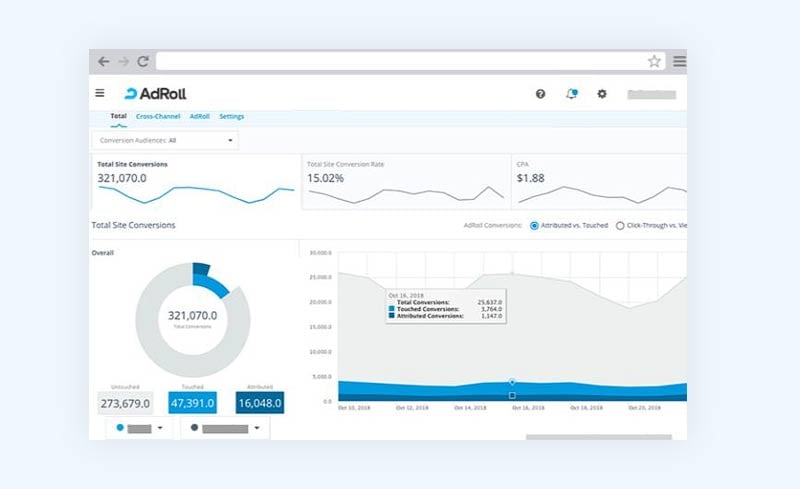 Rejoiner
E-merchants wanting to take a less intrusive approach to their retargeting should consider an email retargeting platform. Instead of inserting themselves directly onto the customer's browser, retargeting emails wait patiently in their inbox.
There are hundreds of email retargeting platforms on the market, so it was tricky to choose just one. Most include basic features such as drag-and-drop template editors, timely data and metrics, and A/B testing of campaigns.
Rejoiner stood out from the crowd thanks to their superior customer segmentation capabilities. E-merchants can create an in-depth profile for each individual customer, including their past purchases, browsing behavior, and interactions with any previous marketing materials.
Using this information, Rejoiner predicts what each customer will buy next, and sends marketing emails promoting these specific products.
You can also use this information to split campaign workflows so customers receive emails that are specifically targeted towards them.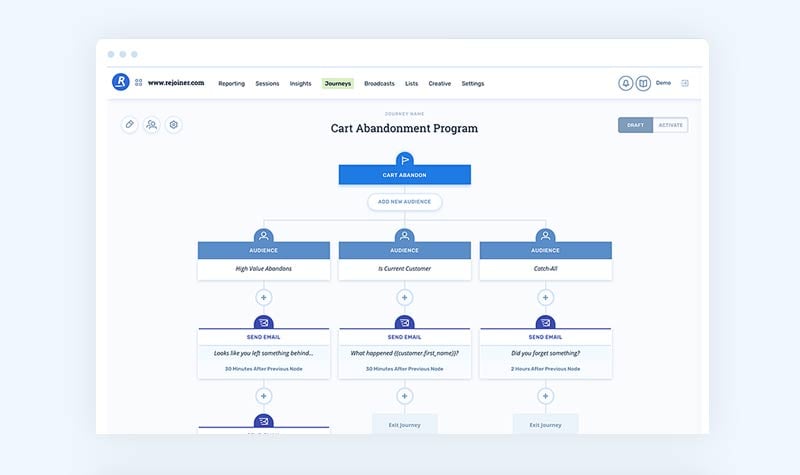 CartStack
If you're looking for something in between the intrusiveness of retargeting ads, and the low-key nature of email, CartStack could be the cart abandonment software for you.
E-merchants using CartStack can send retargeting emails similar to those sent by Rejoiner (albeit the segmentation isn't quite as impressive), complimented by an abandoned cart SMS.
SMS is the perfect channel for abandoned cart retargeting. Bringing-back a lost customer is a time-sensitive situation. You need to reach the customer while their intent to purchase is at it's peak, and before they find a similar product on a competitors site.
To reach a wide range of customers, fast, it's hard to look past SMS. Customers open 98% of SMS messages they receive, 95% of these within just 3 minutes.
On top of this, customers open discount codes sent via SMS 10x more than discount codes sent over any other marketing medium. So, if you plan to incentivize lost shoppers with a discount code, SMS is a must.
The major downside of CartStack is that email and SMS operate within their own workflows. This makes it difficult to time your email and SMS to perfectly compliment each other, and with retargeting, timing is everything.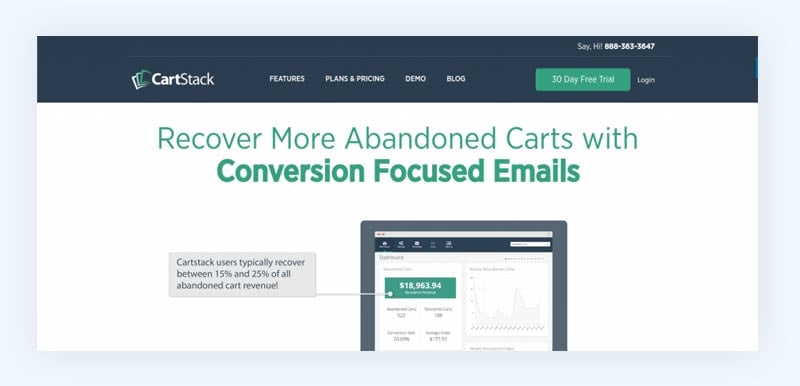 4. Conversions on Demand
If you're serious about fighting cart abandonment, you may want to employ the services of more than one retargeting software.
An on-site retargeting software such as Conversions on Demand makes a great addition to retargeting ads and re-marketing campaigns.
Use Conversions on Demand to display special offers on your website and target customers before they leave your online store, fighting cart abandonment before it even happens.
Decorate your website with targeted pop-up notifications, display special offers as customers are about to leave, or show a countdown timer to instill a sense of urgency.
Conversions on Demand collects data on every visitor, then reminds them of products they once viewed when they return to your store. E-merchants can also use this retargeting platform to collect visitors email addresses, to later send email re-marketing campaigns.
Don't worry about these pop-ups damaging your visual branding. Conversions on Demand gives e-merchants hundreds of designs to choose between, to ensure that the on-site pop-ups and notifications perfectly suit the aesthetics of every online store.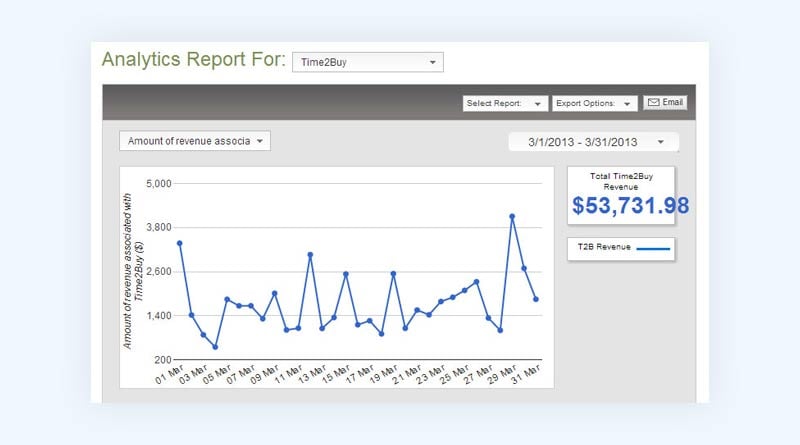 Carts Guru
Carts Guru is much more than just a cart abandonment software. It's a multi-channel marketing automation solution designed specifically for eCommerce.
Combine the power of SMS, email, and Funnels into one cohesive marketing campaign to maximize audience reach and find every customer on the channel they use to shop.
Carts Guru's multi-channel campaigns use a 'fall-back logic', which means that if a message doesn't send to a specific customer, you can automatically reach out to them over a different channel.
Users can also split the workflow between customers who have received, but not opened a message, and then try another channel instead.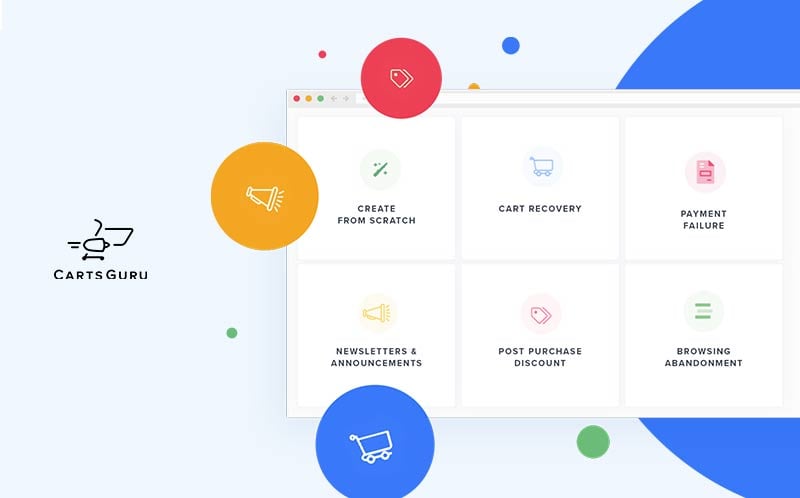 Carts Guru provides users with pre-built campaigns for all the most popular ecommerce use cases, ready to customize to perfectly fit your requirements and branding:
Abandoned cart retargeting campaigns
Post-purchase campaigns
Customer win-back campaigns
Order confirmation campaigns
Seasonal sales campaigns
Company newsletters
And many, many more.
You can also use Carts Guru to create and send discount codes, display forms and widgets on your online store, and segment customers based on a huge array of properties such as engagement with past marketing messages, behavior on your site, and past purchases.
Using multiple tools for eCommerce marketing can get messy. It quickly becomes difficult to analyze the success of separate campaigns, on different channels, and to schedule messages so that they complement each other.
Carts Guru solves this issue entirely. You can build, launch, and monitor all your eCommerce marketing campaigns in one place.