Written By
Louise
On Dec, 10 2019
5 minute read
After all the time and effort that goes into acquisition, losing an existing customer is a harsh blow to an e-merchant. Automated customer win-back campaigns are the first point-of-call in retaining existing customers long-term.
The ability to retain existing customers can have a huge impact on an ecommerce business's bottom line. In fact, it costs at least five times as much to acquire a new customer than it does to retain an existing one.
On top of that, the probability of selling to an existing customer is 60-70%, while the probability of selling to a new prospect is 5-20%. According to the same research, existing customers are 50% more likely to try new products and spend 31% more than new customers.
A study found that retailers who increased customer retention rates by just 5% saw a boost in profits by 25-95%. A follow-up study concluded that the same "loyalty economics" can be observed in e-commerce businesses. In fact, for online stores, acquiring new customers can be 20-40% more expensive than for traditional retailers.
Win-back campaigns are an imperative part of any e-commerce customer retention strategy in order to:
Prevent churn
Increase loyalty
Increase profits/ROI

What is a win-back campaign?
One key customer segment that needs urgent attention is the group of lapsed or inactive customers that have only made one purchase in your e-commerce store or have not purchased anything in a long time.
Win-back campaigns can be extremely effective at re-engaging these lost customers. Marketing automation sequences aim to give 'sleeping' customers a little poke on the shoulder. Wake customers up and convince them to buy from your e-commerce store again.
A customer win-back campaign is most effective when it's run across different messaging mediums. E-merchants who combine email and SMS marketing within one harmonious win-back campaign reap the benefits each channel brings.
Win-back campaign SMS
SMS is the most effective channel at discount code distribution. In fact, customers open and use discount codes sent via SMS 10x more than codes sent across any other marketing channel.
Discount codes are an integral part of any win-back campaign as they are one of the most effective ways to convince lost customers to make a purchase. An SMS with a discount code makes for a great first point-of-contact in a win-back campaign.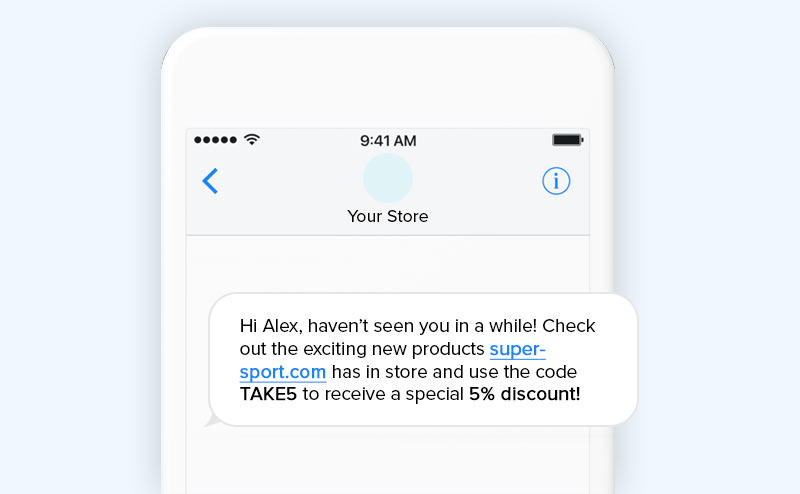 Win-back campaign email
Email is the best channel to send visually engaging content. A win-back email works to tempt lost customers with images of exciting new products and get them in the mood to buy.
Send a win-back campaign email a couple of hours after the initial SMS to inspire customers to spend their new discount code. When SMS and email work in combination like this, e-merchants make the most of the benefits offered by each channel and maximize the chances of re-activating the customer.
5 steps to create a customer win-back campaign
Ready to launch a multi-channel win-back campaign in your e-commerce store? Follow these 5 steps to increase customer retention and boost profits long-term.
Step 1: Identify inactive customers and create a contact list
E-merchants utilizing a marketing automation software can create dynamic contact lists that customers join automatically when they haven't made a purchase in a set amount of time. The amount of time between purchases is relative to each e-merchant and depends on the product they sell.
For example, an e-merchant who sells groceries may consider a customer 'inactive' if they don't purchase for two weeks, while an e-merchant who sells sporting goods may only expect customers to buy something every 3 months.
Step 2: Write catchy copy that will get the attention of inactive customers
Email and SMS are very different mediums and engage customers in a different way. The SMS messages sent through the win-back campaign need to be succinct, actionable, and fit within the 160 character SMS limit. The SMS should also include a small discount and a link directly to the online store to use the discount right away.
All win-back emails need to be visually stimulating and tempt customers with a selection of exclusive or popular new products. There is also more room for text in an email, so tell the customer you miss their business and show you're a brand that cares.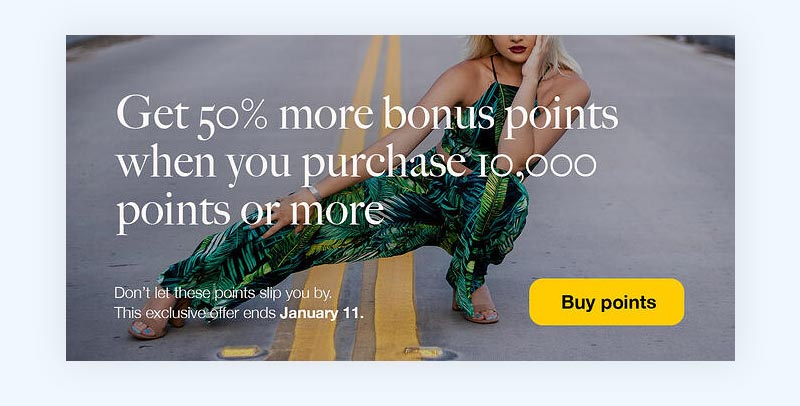 Step 3: Design a win-back campaign workflow with fall-back logic
E-merchants serious about winning back lost customers won't just send one message. Create a multi-channel campaign with numerous touch-points to maximize the chances of re-engaging the customer.
Start the campaign with an SMS offering a small discount to encourage the purchase. If that SMS fails to send, use 'fall-back logic' and automatically send an email instead. Then, for the remainder of the campaign, only use the channel that was initially successful.
Take this 'fall-back logic' one step further and split the workflow to identify customers who have received but not opened or engaged with messaging, then contact them on another channel. Insert time delays into a workflow to give contacts a set amount of time to engage with a message before reaching out again.
Step 4: Don't end communication once a customer makes a purchase
An e-commerce marketer's job is never done. Just because the customer made a purchase and the win-back campaign is over, doesn't mean it's time to sit back and relax. Automatically re-enroll the customer in an ongoing series of marketing campaigns.
Following the sale, e-merchants should send the customer an order confirmation campaign, then a post-purchase campaign, and finally, enroll them in a nurturing campaign to keep them engaged long-term.
A nurturing campaign involves brand updates, new product releases, and special promotions and sales to keep the customer engaged and ensure they don't end up back on the inactive customer list.
Step 5: Find out why your customers became inactive by analyzing data and conducting surveys
Don't accept inactive customers as an inevitability. E-merchants need to do some digging and find out why customers become inactive in the first place, then do whatever they can to rectify the situation.
Study the average customer journey on your site and pinpoint any stages in the cycle that customers tend to drop off. You could even send emails asking for reviews or testimonials to discover ways your brand can improve.
With enough research and constant improvement, one day you may not even need a win-back campaign! However, until that day, an automated multi-channel win-back campaign remains the best way to re-engage lost contacts and increase customer lifetime value.