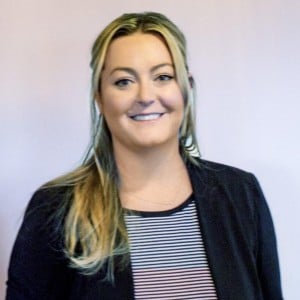 COVID-19 is putting customer loyalty to the test. Research from McKinsey shows that over 60% of global consumers have changed shopping behavior since the pandemic, many of them for convenience and value.
To make matters worse, customer acquisition costs are also rising. Global retailers are doubling down on digital ad spend, making it more expensive to compete online.
As a result, customer retention and engagement are a top priority for ecommerce businesses. Marketers are focusing on driving revenue opportunities through their existing customer base, and win-back campaigns are a key part of that strategy.
What is a win-back campaign?
A win-back campaign is an attempt to re-engage a customer after they are inactive, or haven't purchased from you in a while. What you consider to be "inactive" should depend on the buying pattern of your typical customers.
We also refer to inactive customers as lapsed customers. You'll want to take seasonality, budget, and buying motivations into consideration when setting the parameters for your lapsed customer segment.
Carts Guru's segmentation tools help you automate this part of the process. When a customer doesn't make a purchase on your site in a set amount of time, they automatically move to your inactive customer list.
Once on the list, you can work to develop win-back campaigns that do just what their name implies: win back the business of lapsed customers. These campaigns are a series of communications created to re-engage or entice inactive subscribers and past customers.
Why are win-back campaigns important?
In the wake of COVID-19, the cost to acquire new customers is higher than ever. The competition is heating up online, and retailers need to focus on getting the most out of their existing customers (instead of overpaying for customer acquisition.)
Win-back campaigns are a key piece of the puzzle. They help marketers compete with shorter attention spans, a vast availability of online options, and evolving needs.
Research shows that repeat customers are worth up to 10 times as much as their first purchase, and it can cost 5 times as much to acquire new customers as to keep current ones. Still, most marketers don't have the time to track down lapsed customers individually; they rely on automated workflows to trigger a win-back campaign when it's needed most.
Carts Guru makes it easy to create and customize campaigns with just a few clicks so that the programs are ongoing with minimal effort. This helps increase efficiency and effectiveness--a combination that retailers desperately need right now.
With Carts Guru, our customers usually earn a 15-30x return on investment with win-back campaigns in the first month alone. Especially now, ecommerce can't afford to ignore those types of returns.

Tips for successful win-back campaigns
Not all win-back campaigns are created equal. Fortunately, Carts Guru has tools that can help you to segment your database, as well as a campaign builder with proven templates. You can customize your win-back email campaign and even choose a trigger event, all using the intuitive tools on the platform. Here are some tips for crafting a winning program:
1. Take a multichannel approach
Successful win-back campaigns use more than one channel. Increase the impact of your message by reaching customers on the channel they're most likely to engage with.
Combining channels like Facebook and email increases customer engagement tenfold. It helps break through the clutter, creates urgency, and inspires people to return to your site now.
2. Schedule appropriately
While this will differ based on the type of product, we generally suggest triggering a win-back campaign 1-3 months from the customer's last interaction. Or, have the sequence begin when a certain milestone or subscription has passed.
Then each subsequent email should be spaced about one to two weeks apart. Check out this email from Grammarly. They send it once a specific membership has lapsed, so it's timed perfectly without being pushy: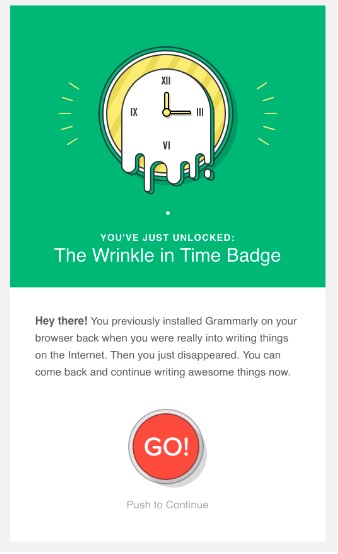 3. Use concise copy with a clear CTA
Keep things short and sweet, but let people know exactly what the next step is. Consider something like this email from Nordstrom, where the action they're asking people to take is obvious: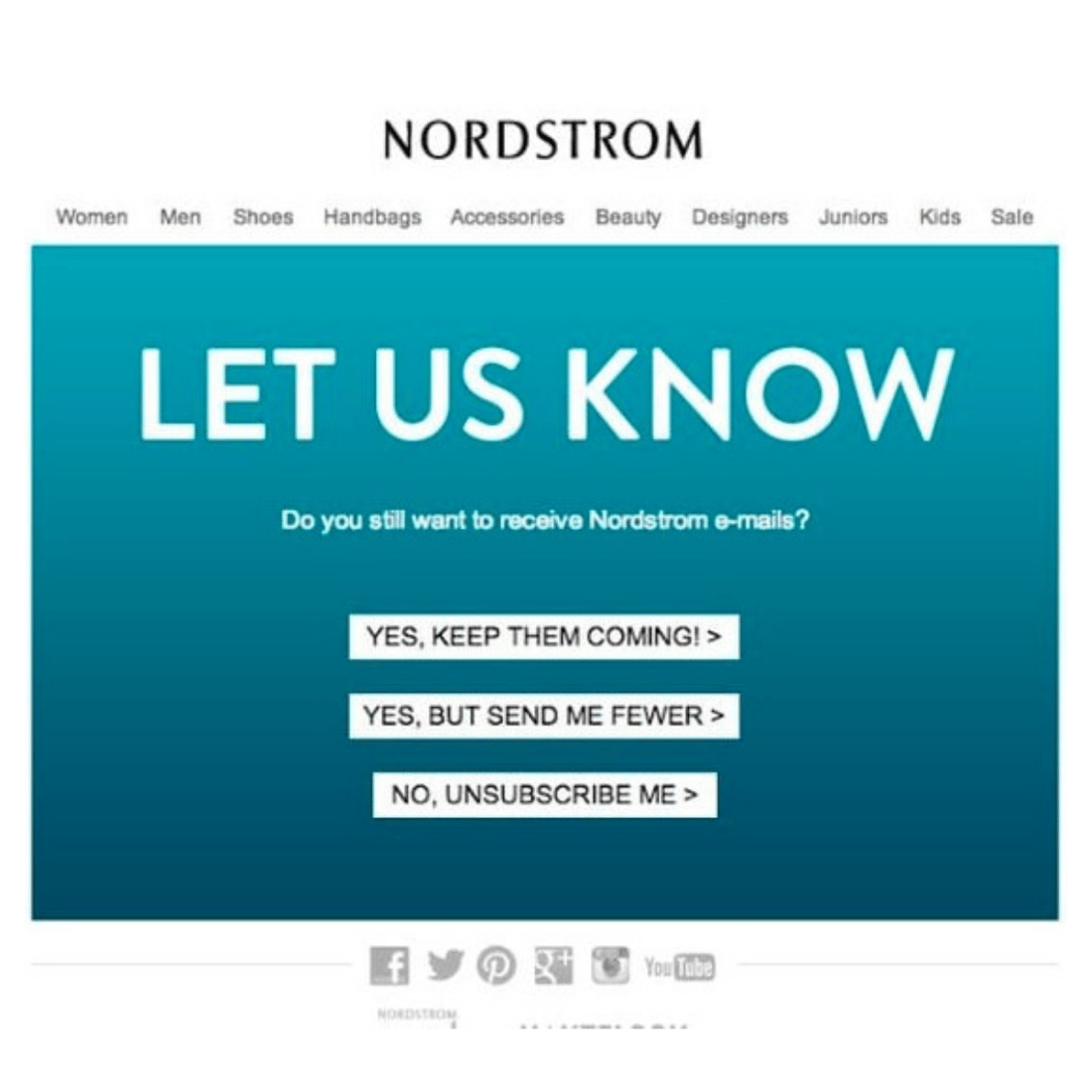 4. Write great subject lines
As with any email marketing, your subject line is the first impression and matters a lot. We've seen some great options, like:
Hey, remember us/this?
Look what you're missing out on
Is this the end?
What happened? We miss you.
Last chance. We mean it this time.
5. Keep it visually appealing
Align with your branding, but don't over-complicate things. Simple and attractive emails allow your message to be the focus. We like this example from Bliss: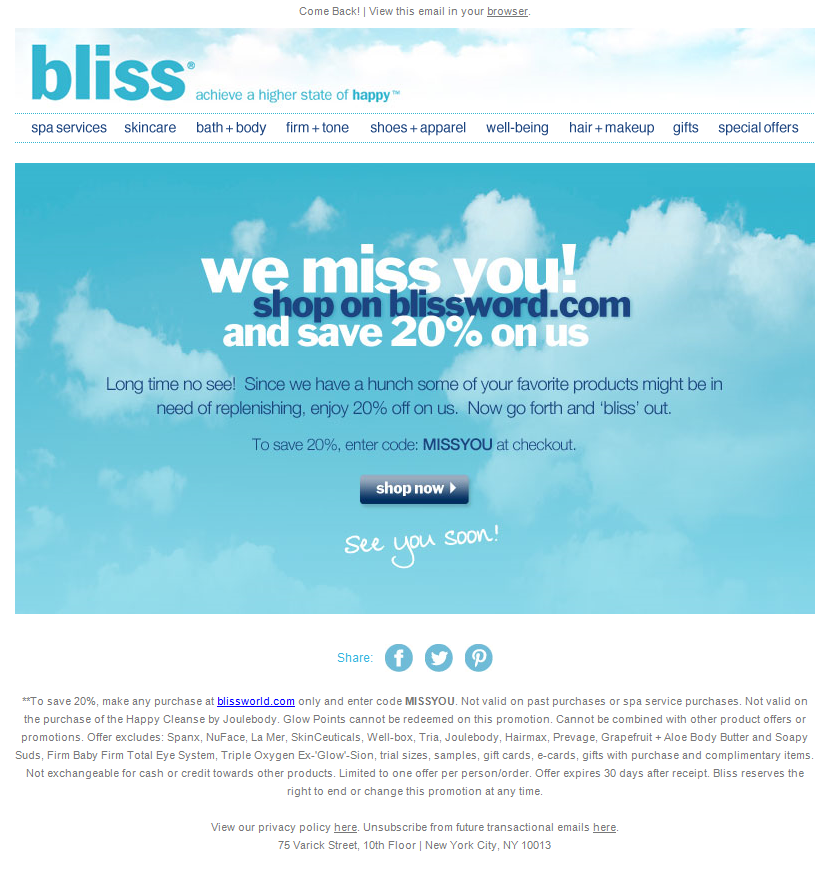 6. For "last-call" emails, add some urgency
Go big or go home, right? You don't want to be obnoxious, but if you're approaching the end of your win-back series, try an impactful offer with an attention-getting email. You can see in this email that the Gap means business with a hefty discount: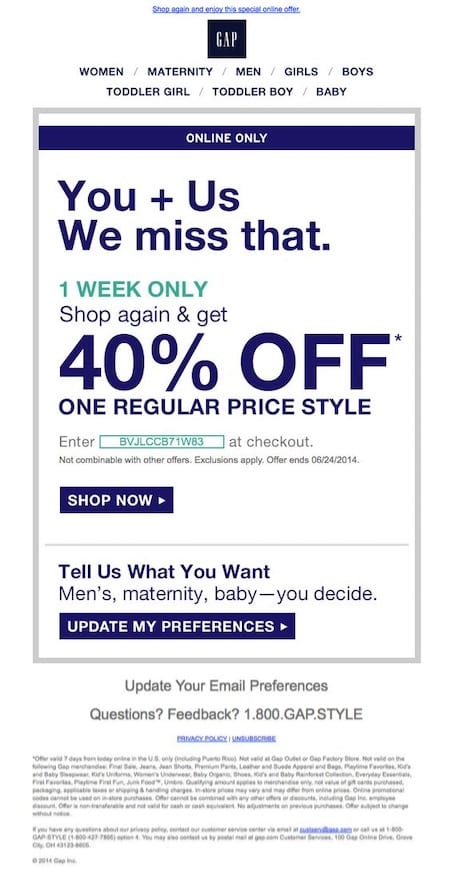 A win-back campaign can help you to re-engage with customers, recover abandoned carts, and otherwise nurture prospects through the sales funnel.
Create your first win-back campaign with Carts Guru
With Carts Guru, you can set up your first win-back campaign in minutes. Our intuitive workflows and drag-and-drop templates will fast-track your path to additional revenue opportunities.
Don't believe us? Try it out!