Written By
Louise
On Jul, 1 2020
8 minute read
When using SMS as part of your ecommerce marketing strategy, the potential for success is huge. SMS marketing boasts of a 98% open rate, a 20% click-through rate, and an average opening time of under 3 minutes, making it the best channel to get your message across fast.
SMS is also a great channel to drive customer interactions, with almost 30% of consumers responding to marketing SMS and nearly half of these responders making a purchase.
If you want to send discount codes to your customer, SMS is without question the channel to use. Discount codes sent via SMS are used 10x more than discount codes sent across other channels.
When done right, the many pros of SMS marketing are indisputable. That being said, SMS can be a tricky medium to master. You need to consider the different regulations and restrictions around the world, the type of SMS sending number you use, and the timing and the content of your messages if you want to succeed.
This article identifies some of the key SMS marketing mistakes to either rectify immediately or avoid altogether and bolster the success of your future SMS marketing campaigns.
Top SMS marketing mistakes, and how to avoid them
Don't send SMS without customer consent
A common theme found in marketing regulations around the globe is the requirement for customer consent before sending any marketing SMS messages. A customer must give explicit consent or 'opt-in' before they are sent marketing communications.
The TCPA regulations in the USA and the GDPR enforced throughout Europe have very similar requirements when it comes to obtaining customer consent - making it easier for e-merchants to formulate one opt-in procedure for their global marketing strategy.
Companies who fail to obtain a proper opt-in risk a fine of up to €20 million in Europe, and $500 for every SMS in breach of the regulations in the USA.
If this isn't enough motivation to formulate a solid opt-in policy, obtaining an opt-in is a great way to filter out customers who aren't interested in your marketing, and specifically target those who are. Research shows that 75% of consumers are happy to receive messages from brands after they've opted-in.
By only messaging contacts who have opted-in, brands can stop wasting their time and effort reaching out to contacts who are not interested. Instead, they can focus their attention on contacts who have actively shown interest through an opt-in.
Always obtain a legally valid SMS opt-in
When obtaining an opt-in there are a few additional rules for businesses to follow. Both the GDPR and TCPA regulations dictate that when obtaining an opt-in a company must:
Gain express written consent or invitation to receive advertising materials
Make it very clear which business is gaining access to their data
Fulfill the promise that was made to obtain the opt-in
Provide an option to opt-out at any time
The last of these rules, providing an option to opt-out, is where many e-merchants slip up. It's the responsibility of marketers not to just provide an option to opt-out, but to ensure that it's as easy to opt-out as it was to initially opt-in. If it took just one click to opt-in, you need to offer a one-click opt-out.
One of the easiest ways to obtain legally valid opt-ins fast is with a marketing automation software like Carts Guru. Carts Guru provides users with pre-built, customizable pop-up widgets to acquire opt-ins on your company website.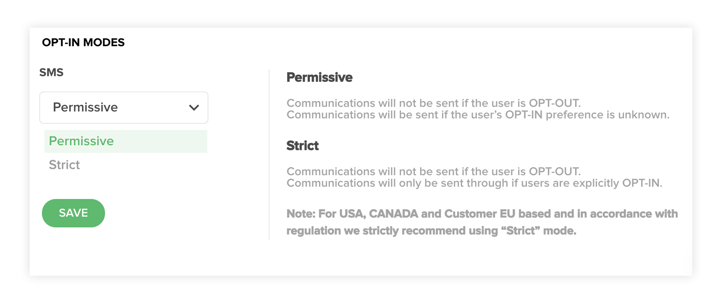 Send your marketing SMS at the right time
The main reason SMS marketing is so effective is that it allows businesses to contact consumers immediately and in a very personal way. 82% of consumers keep their SMS notifications switched on at all times, giving businesses with an opt-in the power to reach their audience whenever and wherever.
Don't abuse this power. E-merchants need to respect the medium and not disrupt consumers at inappropriate times, such as late at night, early in the morning, or on the weekend.
In the USA, Canada, and France there are sending time restrictions placed on business SMS. In these countries, messages can't be sent:
Before 8 am
After 8 pm
On Saturday or Sunday
It's a good idea for e-commerce marketers to apply these sending time restrictions to your global SMS marketing efforts to ensure you don't annoy your customers with messages at inconvenient times.
If you're utilizing a marketing automation software such as Carts Guru the work is done for you. Your messages will only be automated and sent at the optimal times.

Make sure your marketing SMS are personalized
SMS is a highly used channel for blast campaigns sent to a generic 'all contacts' list. In some cases, such as promoting a seasonal sale or sending a special discount code, a generic SMS blast can be hugely effective. However, in cases where you are not offering a discount or special deal, customers can be easily annoyed by these generic mass messages.
By segmenting contacts into relevant lists e-merchants can reach out with personally relevant SMS messages and build a relationship with customers.
Contact lists that every SMS marketer should utilize are:
VIP customer list - to thank your most prized customers for their loyalty, and reward them with special deals or insights into your brand
New customer lists - reach out to customers after their first purchase and start to build a relationship
Lost-contact list - re-engage customers who haven't shopped with you in a while and tell them you miss their business
Location-based lists - ensure that the messages you send are relevant to each customers climate, season and national holidays
Prospect activation list - specifically target those almost-customers who have shown interest in your brand but are yet to purchase
By segmenting customers into such lists, e-merchants can send personally relevant SMS marketing that customers engage with, rather than mass-SMS which may annoy them.

Choose the right type of SMS sending number for ecommerce
One of the first decisions e-merchants are faced with when creating an SMS marketing campaign is what type of 'sending number' to use. There are three options, each with their own pros and cons:
Long-code number
Pro: the cheapest sending number of the three.
Con: you can only send one message per second, which is a real problem for anyone with a decent-sized contact list.
Con: technically, long-code numbers aren't meant to be used for marketing purposes. This means that you have to phrase your text so that they don't look like marketing, and if your carrier so much as suspects that you're sending marketing SMS, they may be blocked.
Toll-free number
Pro: are initially very cheap.
Con: hidden costs lurking below the surface. Customers can reply to toll-free-numbers without incurring any costs themselves. So who pays for these replies? You do. This often invites a lot of unwanted spam that your company then needs to pay for.
Short-code number
Pro: allow users to send marketing messages, in bulk.
Pro: no hidden or extra fees.
Con: they are more expensive than the other two options, but if you're serious about SMS marketing they are the only real choice.
The type of sending number you use will have a huge impact on the overall success of your SMS campaign, so choose wisely. If you need any extra information on the three options, check out this blog post.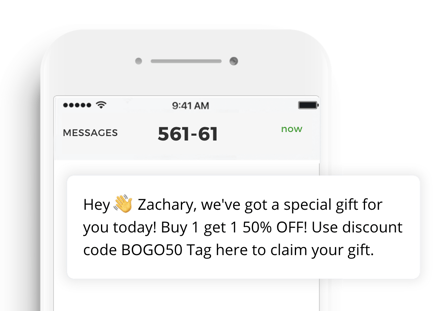 Stick to the 160 character SMS limit
SMS is a channel to use sparingly. The messages themselves should be short and punchy, and the sending frequency should be relatively low.
When writing the content for a marketing SMS, it's important to remember the 160 character limit. If you go over 160 characters your message will be split in two, and thus cost double the amount to send.
160 characters might seem like a lot, but remember you need to include a link back to your online store and potentially some special characters such as emojis (which occupy more than just one character in your limit).
With the right content, a short SMS can be much more effective at grabbing the customer's attention than long, drawn-out prose. Make the most of the characters you're given and direct customers to the next stage in their journey.
If you're looking for inspiration to model your own SMS marketing on, check out our article on SMS messaging templates for e-commerce.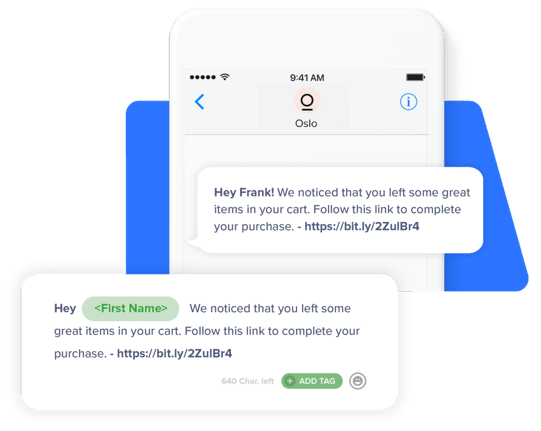 Don't overuse the channel
The power to alert customers immediately with a notification is a double-edged sword. When done well and sparingly it can be a hugely successful way to engage customers fast, but over-do it and customers will be annoyed fast.
As a general rule, don't send more than 2-3 marketing SMS to a customer in any one week. Even if the messages you send are personally relevant and beneficial to the customer, no one want's to be bombarded with marketing announcements every day.
E-merchants that over-do it with SMS risk high levels of unsubscription. In fact, studies have shown that once a business surpasses 10-15 SMS per month, their unsubscription rate starts to sharply increase. By 20 SMS per month, marketers reported unsubscription rates as high as 60%.
Always direct customers to the next step in the buyer's journey
Every marketing SMS you send needs to be actionable. There needs to be a clearly defined next step for your customer to take toward making a purchase. This call to action can come in the form of:
A link to your website
A link to a product they just purchased
A link to a shopping cart the contact abandoned on your site
This CTA needs to be straightforward, concise, and visible even to customers who only glance at the message. Clickable words such as: "finalize purchase", "discover more" or "shop now" work well to encourage the customer's next action.
In most situations, marketing SMS's are sent to encourage customers to make a purchase. To maximize the likelihood of a customer making a purchase, the transition from reading the SMS to clicking 'confirm payment' needs to be seamless.