Written By
Louise
On Apr, 8 2020
10 minute read
SMS has long been the most divisive e-commerce marketing medium. Some e-merchants swear by it, the statistics for open-rate and response-rate definitively show how effective it is, yet SMS marketing is still underutilized by marketers all over the world.
In this article, we'll explain the benefits of SMS marketing, provide tips on how to use the medium effectively, then give you some easy to follow campaign examples that you can create and launch yourself!
So let's get started.
Why use SMS to market your e-commerce store?
If you want to reach the greatest audience in the shortest amount of time, it's hard to look past SMS marketing. Recent statistics show that a whopping 270,000 SMS messages are sent every second worldwide - so why not add your own marketing messages to the mix!
The younger generation are glued to their phones
Grandparents all over the world have been harping on about it for years, and they're absolutely right. Kids these days are so connected to their smart-phones it's like they've grown an extra limb. In fact, 79% of millennials sleep with their phones in their bed, and over half wake up to check it at least once per night.
SMS marketing is the obvious way to reach this generation of shoppers, wherever and whenever. And connecting with younger shoppers is absolutely imperative to any e-commerce store owner, as in 2019 millennials accounted for a massive 60% of all e-commerce purchases.
The connection younger generations have with their phones goes beyond just constant close proximity. Millennials use their phones to talk with their friends, so they have a really positive association with messages received through the device. This makes SMS a great way to build trust and loyalty with this hugely important customer base.
Open and response rates are through the roof!
All the metrics agree: SMS marketing is the best way to reach a large audience fast. Take open-rate for example. Not only does SMS boast of a 98% open rate (compared with just 30% for email), 90% of these messages are opened by customers within just 3 minutes.
This makes SMS the ideal medium when you need to reach a customer fast. Let's say a customer browses your site but leaves without making a purchase. They're likely looking for similar products on a competitor's site, so you need your message to reach them immediately and bring them back to your store. If you choose SMS as the medium for this message, chances are the customer has opened it within 3 minutes, and with the right motivation will head right back to your site.
The response rate of SMS marketing messages is equally impressive. Nearly 30% of recipients will respond to an SMS message, and nearly 50% of these responders will make a purchase on your site. This response rate is 209% higher than either phone, email or Facebook messenger, so if back-and-forth communication with the customer is what you're after - SMS is the medium for you.
Mobile shopping needs mobile marketing
Mobile commerce has grown in market share by almost 30% every year since 2015, so e-merchants need to adapt their marketing to target m-commerce shoppers (if they haven't already). M-commerce shows no signs of slowing down, it's predicted that in 2020, the market share held by m-commerce will grow to 45%, that's $284 billion spent shopping on mobile devices in the US alone.
One of the major reasons for this rise of m-commerce is that the number of people using mobile devices has almost doubled in the past four years. More people with mobile phones = more purchases made using mobile phones.
Another reason for this rise in m-commerce is that many social media sites (Facebook, Twitter, Pinterest, etc) have introduced "buy buttons" that let shoppers make a purchase without even leaving the platform. All they need to do is enter their information while they make their first purchase, then all future purchases can be completed in just one click.
It makes sense for marketers to reach their customers on the same medium they use to shop. It streamlines the journey from marketing to purchasing, which increases the chance of conversions. This means SMS marketing is a must if you want to attract mobile shoppers.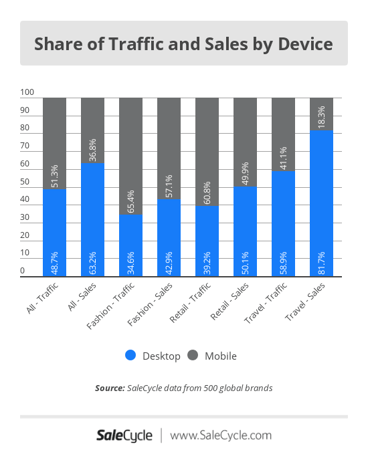 It's 2020 and everyone has a mobile
Unlike strictly youthful mediums like Instagram or Tik Tok, SMS has a wide generational reach. I stressed earlier that the younger generations are glued to their mobile phones, but this isn't to say that the older generations aren't also huge users of the medium. In fact, the average American checks their phone 47 times a day, while only checking email an average of 15 times a day.
SMS is not just multi-generational, it's global. While not everyone owns a smart-phone (about 50% of the world's mobile phone users have a smartphone), 5 billion people in the world have a phone that can send and receive SMS messages. That's just about everyone over the age of 12.
If you want your e-commerce marketing messages to reach potential customers of every age or nationality - SMS is definitely the way to go.
Our key tips for using SMS marketing for e-commerce
Surely by now, we've convinced you to embrace SMS marketing. But it's not as simple as just blasting your contact list with content and hoping for the best. Here are our tips for nailing your e-commerce SMS marketing.
Keep it short and sweet
When creating an SMS marketing message, remember to stick within the 160 character limit. If you send your SMS through a marketing automation software they will alert you when you go over this limit, however, if you're sending them yourself you need to keep count.
That being said, if budget is no issue and you really want to send a long message then go for it, as most smart-phones these days will automatically re-build a split SMS once it reaches the device. However, you will still be charged for sending two messages rather than one.
Short messages aren't just the cheaper option, they are often more successful in capturing the customer's attention, so there are two reasons to keep your text short and punchy.
Shortcode SMS is worth the investment
One of the first questions you will ask yourself when creating an SMS marketing campaign is 'what type of number should I use?'. The three messaging options you'll be presented with are long-code, toll-free, or short-code.
Long code numbers are cheap, for a reason. The first downside is that you can only send one message per second, which is a real problem for anyone with a decent-sized contact list. The next issue with long-code numbers is that they aren't meant to be used for marketing purposes. This means that you have to phrase your texts so that they don't look like marketing, and if your carrier so much as suspects that you're sending marketing SMS, they may be blocked.
Toll-free numbers are initially cheap, but beware of the hidden costs lurking below the surface. Customers can reply to toll-free-numbers without incurring any costs themselves. So who pays for these replies? You do. This often invites a lot of unwanted spam that your company then needs to pay for.
Short-code numbers are the only real option for anyone who is serious about SMS marketing. They allow you to send marketing messages, in bulk, without any of the restrictions or extra fees that come with the other two options. If you're willing to spend a bit more you can also purchase a 'vanity short-code' so that your number is personalized and easy to remember.
If you're keen to learn more about the different types of SMS numbers, we wrote an entire blog post on the topic, have a read.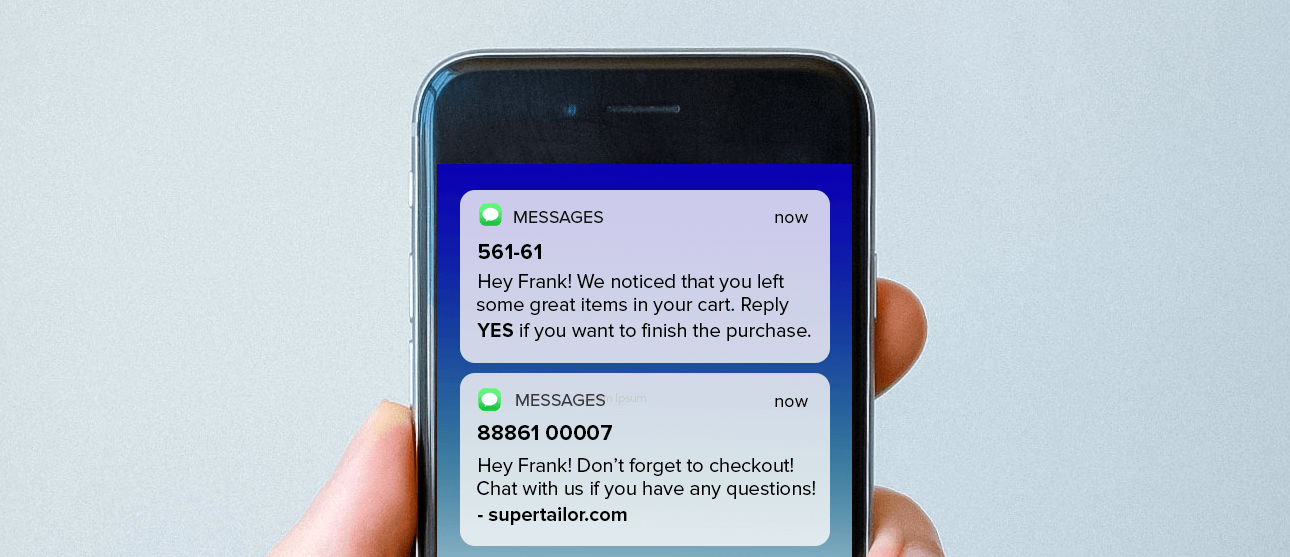 Don't only use SMS marketing
As great as SMS marketing is, choosing the right marketing channel for your e-commerce store doesn't have to be an either/or situation. Combine SMS with other mediums for maximum audience reach.
E-merchants need to understand that their audience is made up of individuals who spend their time using different communication channels. If you want to reach them all, why not include multiple channels into the one campaign! That way you can work out which medium works best for each customer and reach them on their preferred channel.
With a multichannel marketing automation software, businesses can create dynamic multichannel workflows. This means that if a customer doesn't open your initial SMS you can automatically try reaching them through email or Facebook messenger.

Beware of the many regulations
One of the biggest pain-points with SMS marketing is that strict regulations dictate who you can message and when you can message them. Different countries and regions around the world have their own regulations in place, and businesses need to understand and abide by them or face a hefty fine.
Be sure to take note of each countries sending-time regulations. In the USA, Canada, and France for example, marketing SMS messages can only be sent from Monday to Friday, between 8 am and 8 pm. It's a good idea to adhere to these time-restrictions regardless of which country you're messaging to avoid annoying customers at inconvenient times.
Another important regulation to take into account is the need for opt-ins. Many global regulations such as the TCPA require businesses to obtain written consent before sending any marketing SMS messages.
While the need to obtain consent from every customer before messaging them may seem like a downside, it can actually be beneficial to both e-merchants and customers. Obtaining an opt-in ensures that you're only messaging customers who are actively interested in your brand, which is a much better way to engage with customers than by wasting your money sending unwanted spam.
Obtain opt-ins with widgets
So how do you gather these customer opt-ins? With opt-in widgets of course! These widgets pop-up on your online store and ask customers for their permission to send them messaging in the future.
With an all-in-one marketing automation tool, you have a range of widgets to choose between. There are widgets that appear as a customer tries to exit your site, those that appear when a customer adds something to a cart, even gamified widgets that ask customers to spin a wheel and win a prize in return for their opt-in!
Offering visitors a prize or incentive has proven to be a very successful method of obtaining opt-ins. In fact, incentivized opt-in forms win 600x more opt-ins than those without an incentive.
Don't see the need for an opt-in as a downside, see it as a challenge! After all, it's predicted that 48.7 million people will choose to receive business SMS messages in 2020, that's a pretty big potential audience!
Get started with these 5 SMS marketing messages
1. Abandoned Cart
Thanks to their speedy open-rate, SMS messages are great for time-sensitive situations such as when a customer abandons a cart on your site. Automate an SMS message to be sent immediately after a customer leaves your online store reminding them of the product they considered. You could even offer a small discount or free shipping as an extra incentive to complete the purchase.

2. Exclusive VIP deals
If you want to send your customers a special discount or coupon code, send it over SMS. Customers who are sent discount codes over SMS are 10x more likely to redeem them than customers who receive coupons on any other medium.
Create a list of your VIP customers and send them regular SMS messages with discount codes or free shipping to thank them for their loyalty to your brand. You'll increase your sales and retain these valuable customers long-term.
3. Customer engagement
It may seem simple, but a great way to stop customers opting-out of your messaging is sending them interesting or funny content. The purpose of this content isn't to market a specific product or alert customers to a sale - it's to create a dialogue.
A great example of this is juice company Snapple, who send their customers regular SMS messages that contain fun random facts such as:
Emus and kangaroos can not walk backward
A snail breathes through its foot
A sneeze travels out of your mouth at over 100 miles per hour
Messages such as these encourage customers to subscribe to your SMS messaging. They also help build a relationship between brand and customer.
4. Holiday sales
Alert your customers to upcoming special deals or holiday sales with an SMS. A quick SMS is a great way to instill a sense of urgency and get your customers excited to shop. For example, you could send a pre-Black Friday SMS that says:
"Hey <customername>! Only 5 hours until <companyname>'s Black Friday sales start! Products will run out fast so get in early!"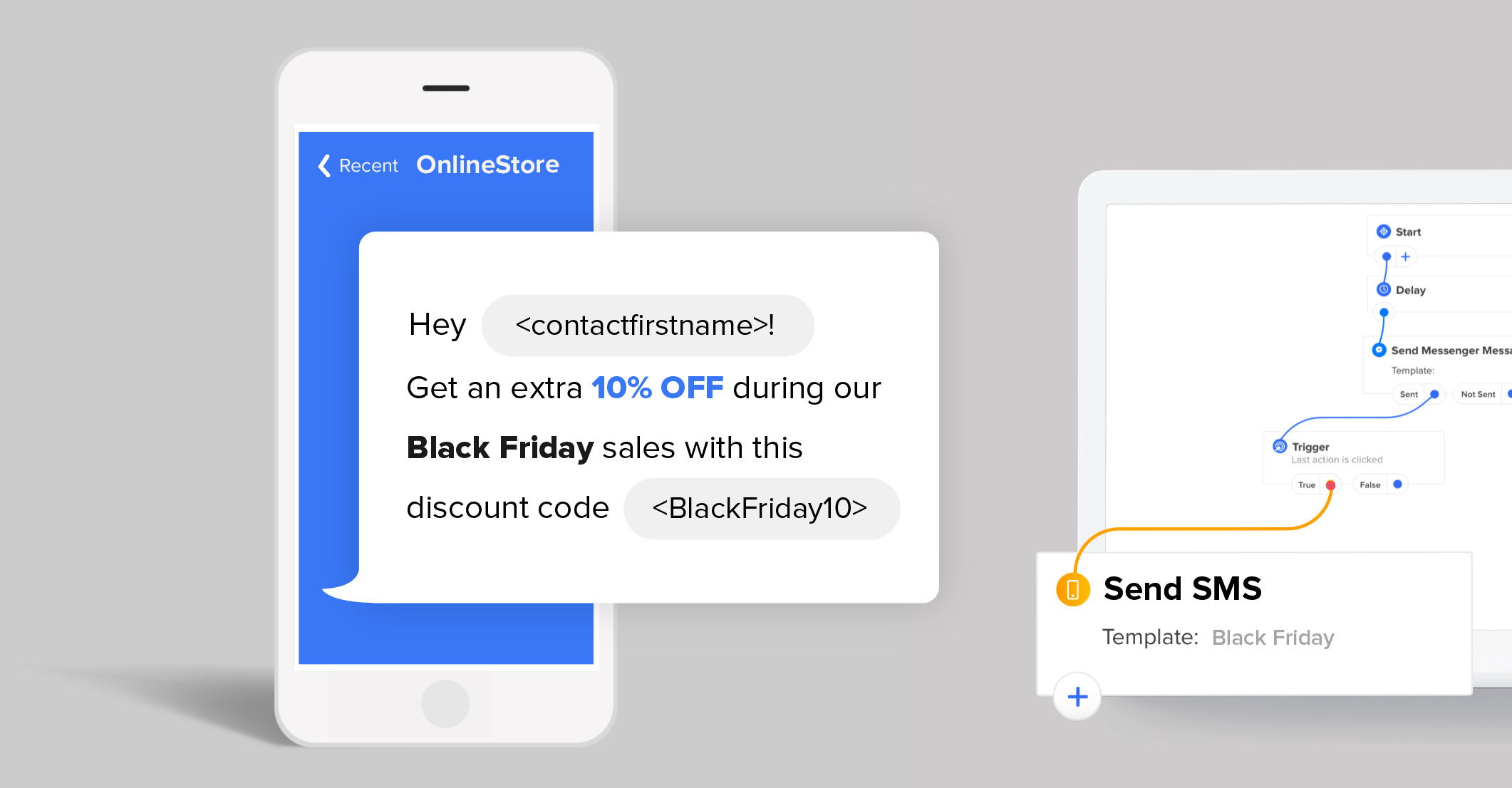 5. Happy Birthday
The best way to build a lasting relationship with your customers is to treat them like a friend would. One SMS message that all good friends send each other is a happy birthday message! Go one step further and offer a special birthday discount to bring the celebratory customer straight to your online store to spend their birthday money.
If you're using a marketing automation software, automate the message to be sent early in the day to ensure that your message is one of the first 'happy birthday' wishes your customer receives, it shows that you care.