Written By
Louise
On Jan, 20 2020
7 minute read
Building a successful SMS marketing campaign for ecommerce takes much more than blasting a contact list and hoping for the best. SMS marketing is a highly personal medium and the potential for ecommerce growth is huge. But it's important to be aware of the specific dos and don'ts before launching an SMS marketing campaign.
To help simplify the process, we've compiled a list of the top SMS marketing best practices for sustained e-commerce growth.
Include SMS marketing in multi-channel campaigns
Multi-channel marketing campaigns allow e-commerce marketers to send tightly timed, smart messages on different mediums. Coordinating each message perfectly is critical to a successful marketing campaign.
Let's say a customer opens a beautifully designed email with visuals of a new product range, then 30 minutes later, just as they're considering the purchase, they receive an SMS offering them a discount code. It's a sure-fire way to boost conversions.
A great SMS marketing tip is to use a marketing automation software. Marketing automation allows e-merchants to combine multiple channels so they can perfectly time the gap between the contact receiving the first message and sending the second. E-merchants can even 'trigger' the second message to be sent after the first message was opened or clicked, guaranteeing a cohesive campaign flow, and an optimal response rate.
Including SMS in a multi-channel marketing campaign also drastically improves audience reach. Every ideal customer base contains individuals who spend their time using different communication channels, and the goal of e-commerce marketers is to engage with them all, so why not include multiple channels into one campaign?
Then, work out which medium works best for each customer and reach them on their preferred channel.
Better yet, use fall-back logic to create dynamic multi-channel workflows. If a customer doesn't receive or open an SMS, automatically try another medium such as email or Facebook Messenger.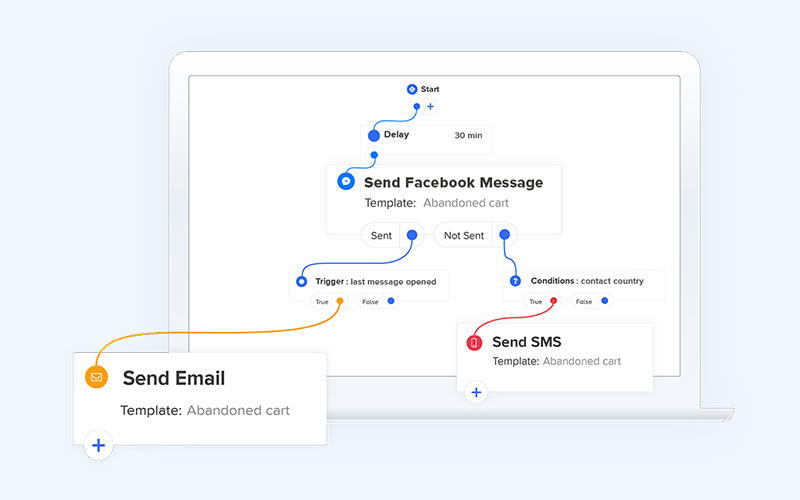 Marketing SMS should be short and punchy
One of the most important SMS marketing best practices is to remember 'less is more'. When creating an e-commerce SMS marketing message, remember to stick within the 160 character limit. A marketing automation software will alert users who go over this limit, but e-merchants not using such a platform need to keep count.
If an e-merchant has a massive budget and really wants to send a long message, that's not a problem. Most smart-phones these days will automatically re-build a split SMS once it reaches the device. However, the sender will need to pay for two messages rather than one.
Short messages aren't only the cheaper option, they are often more successful in capturing the customer's attention and driving e-commerce conversions, so there are two reasons to keep a marketing SMS short and punchy.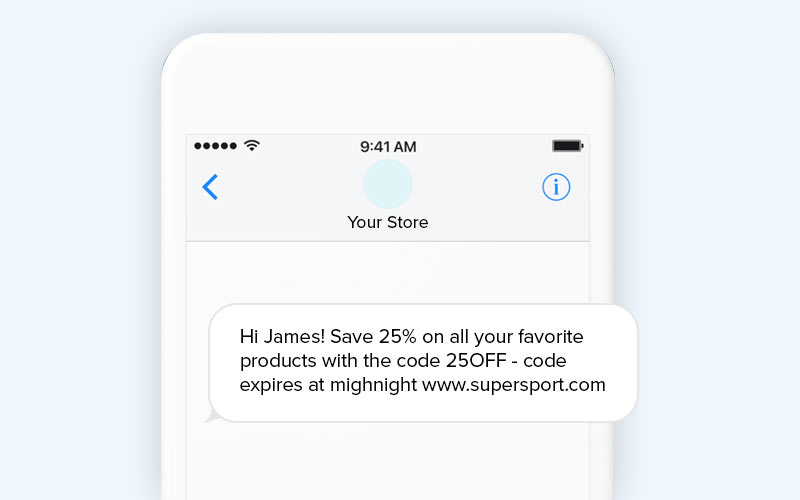 Take note of the global SMS marketing regulations
This next point goes beyond an SMS marketing best practice, it's an SMS marketing necessity.
Different countries and regions have their own SMS marketing regulations in place, such as the TCPA in the U.S. and GDPR in Europe. Both of these require businesses to obtain written consent from contacts before sending marketing text messages. Businesses need to understand these regulations and abide by them or face a hefty fine.
While the need to obtain consent may seem like a downside, it can actually be beneficial to both e-merchants and customers. Obtaining an opt-in ensures that e-merchants only message customers who are actively interested in their brand. This is a much more effective way to engage with customers than through unwanted spam.
E-commerce marketers must also take note of each countries sending-time regulations. In the USA, Canada, and France for example, brands can only send marketing SMS messages:
Monday to Friday
Between 8 am and 8 pm.
SMS messages are powerful things. Unlike email, which sits quietly in a contact's inbox, a text message announces itself loudly, no matter the time of day or night. It's a good idea to adhere to these time-restrictions regardless of country or region to avoid annoying customers at inconvenient times.
For a more detailed explanation of the regulations and other SMS mistakes to avoid, check out this article.

Obtain SMS opt-ins with forms and widgets
Another useful SMS marketing tip is to obtain customer opt-ins with on-site forms and widgets.
These widgets pop-up on an e-commerce website and ask for customers' permission to receive marketing messages.
E-merchants using a marketing automation tool will be given a range of widgets to choose between:
Exit-intent widgets that pop-up when a customer's mouse heads to exit the page
Widgets that appear when a customer adds something to a cart
Gamified widgets that ask customers to spin a wheel and win a prize in return for their opt-in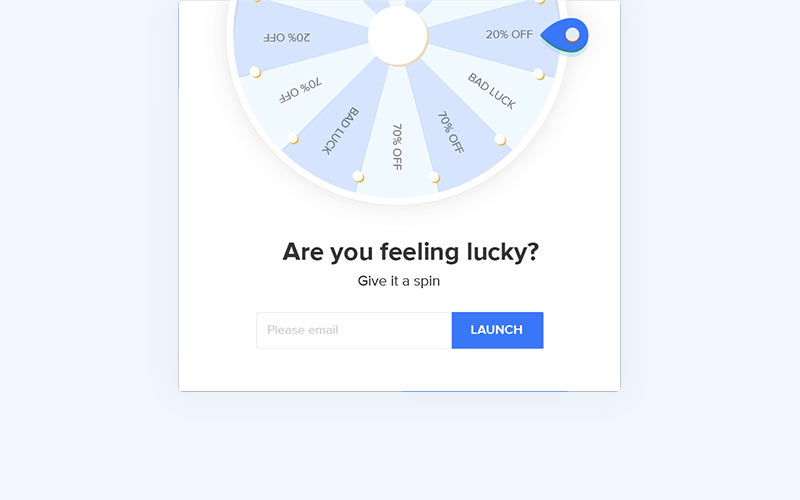 Offering visitors a prize or incentive is a proven method to obtain opt-ins. In fact, incentivized opt-in forms win 600x more opt-ins than those without an incentive.
Don't see the need for an opt-in as a downside, see it as a challenge. After all, it's predicted that 48.7 million people will choose to receive business SMS messages in 2020, that's a pretty big potential audience.
Shortcode SMS is worth the investment
This next SMS marketing best practice will save e-merchants from having to ask 'what type of SMS number should I use? The three SMS number options are long-code, toll-free, or short-code, and the best option is about to become glaringly obvious.
Long code SMS numbers
Long code numbers are cheap, for a reason. They look like regular US phone numbers, consisting of 10-digits, making them hard for customers to remember.
The first downside is that e-merchants can only send one message per second, which is a real problem for anyone with a decent-sized contact list.
The next issue with long-code numbers is that brands aren't allowed to use them for marketing purposes. This means that if a carrier suspects an e-merchant sending marketing SMS, they may block the messages.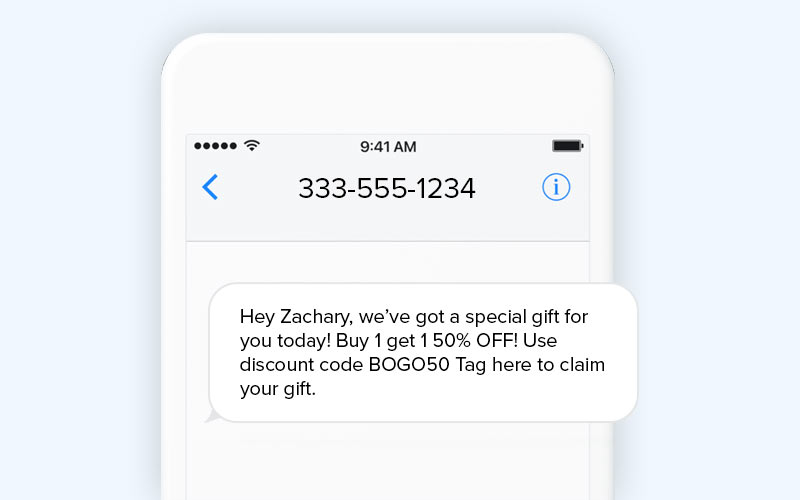 Toll-free SMS numbers
Toll-free numbers are initially cheap but beware of the hidden costs lurking below the surface. Customers can reply to toll-free-numbers without incurring any charges themselves. So who pays for these replies? The sender. This often invites a lot of unwanted spam that e-merchants then need to pay for.
Short-code SMS numbers
Short-code numbers are the only real option for anyone who is serious about e-commerce SMS marketing. They are 5-6 digit numbers that allow e-merchants to send marketing messages, in bulk, without any of the restrictions or extra fees that come with the other two options.
There are two kinds of short-codes number: shared short-codes and dedicated short-codes. Shared short-codes are more economical; instead of having an exclusive number, e-merchants split the one number. Customers then interact with a specific brand by texting unique keywords selected by each brand.
Dedicated short-codes are only used by one company, making them more expensive. E-merchant's willing to spend a bit more can also purchase a 'vanity short-code', a personalized number that is especially easy to remember.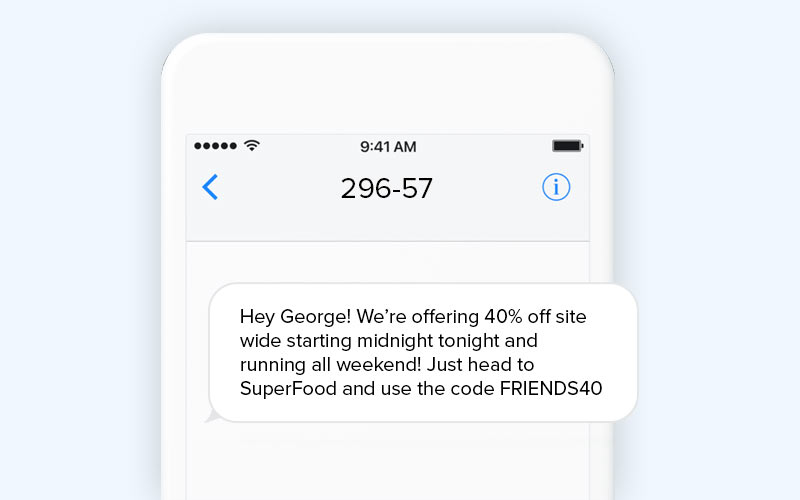 How can I implement short-code SMS marketing in my ecommerce store?
Arranging a short-code SMS service is a lengthy process.
First, e-merchants need to lease a short code or long code from their current provider. Vanity short-codes will set users back $1000/month on average, regular short-codes around $500/month, though fees will, of course, vary depending on carrier, country, and region.
Next, e-merchants need to register their short-code so that the wireless carriers know it's purpose. This is often done through a third-party provider to guarantee a successful application.
Finally, e-merchants need to set up their short-code. Before they can launch an SMS campaign e-merchants need to host it on an SMS aggregator, a service that actually distributes messages. This will have its own approval process, which, once completed, will allow e-merchants to operate their new number.
Our final SMS marketing tip is to avoid the hassle and time it takes to set up a short-code and use a third-party business SMS platform.
Follow these SMS marketing best practices and you will be well on your way to e-commerce success with SMS marketing.