Written By
Louise
On Jan, 7 2020
4 minute read
The holidays are a wonderful time for many retailers. Shopping in the last quarter represents about 20% of a store's annual sales - and, in 2019, things are looking even better for e-commerce players. According to the 2019 Deloitte holiday retail survey, digital sales in the US are expected to hit between $142 and $149 billion. That's an uptick of 14-18% from 2018. On top of this, 59% of consumers say they'll be spending more online.
But how can retailers keep up this momentum after the traditional shopping holidays have come to a close? We share our tips on how to run a successful post-holiday marketing campaign - and keep customers tuned into all your brand has to offer in the new year.
Focus on aspirations
Come January, many people are trying to eat healthier, be better organized, or save more money. Why not help them along? Post-holidays sales campaigns are a great opportunity to inspire your customers to reach their goals.
Many brands decide to market e-commerce products that will inspire customers to be the best versions of themselves. Think workout gear, agendas, water bottles, or even items to help organize the house. It's a good idea to follow this lead if it's in line with what you sell.
Most importantly, you should develop marketing messaging that motivates customers to grow personally or professionally in the new year. Honing in on aspirational lifestyle growth will make consumers feel like they'll be better for using your product. If you sell hiking gear, for example, a post-holidays marketing campaign featuring a woman walking Spain's famous Camino de Santiago would be suitable.
We love this list of aspirational travel marketing campaigns. They might not be focused on e-commerce specifically, but they're definitely inspiring!
Organize a post-holiday contest
Hosting a contest is an excellent way to keep existing customers engaged after the holidays and acquire some new ones in 2020.
There are plenty of ways to get creative, but before you get started, you'll need to consider your end goal. Do you want to get rid of extra stock? Do you want to keep loyal customers engaged? Or, is it more of a priority to bring in new customers?
Once you've defined your end goal, you can decide on which methods will engage your customers best. Here are a few contest ideas to get you started:
Host a social media photo contest. Ask customers to share photos of them using your product to fulfil a New Year's resolution. This can be an excellent way to drive sales and collect some awesome user-generated content.
Partner with another brand or influencer to organize an aspirational giveaway contest - like a trip or another unique experience. Enter customers into the contest each time they make a purchase from your brand. This will help drive repeat sales and acquire new customers.
If you're a smaller e-commerce brand, put together a gift basket. Ask your followers to produce Instagram stories about why they deserve to win it and have your followers vote.
These are just a few examples; the list could go on and on! Just remember to have clear terms and conditions on your website for any competitions you do decide to run.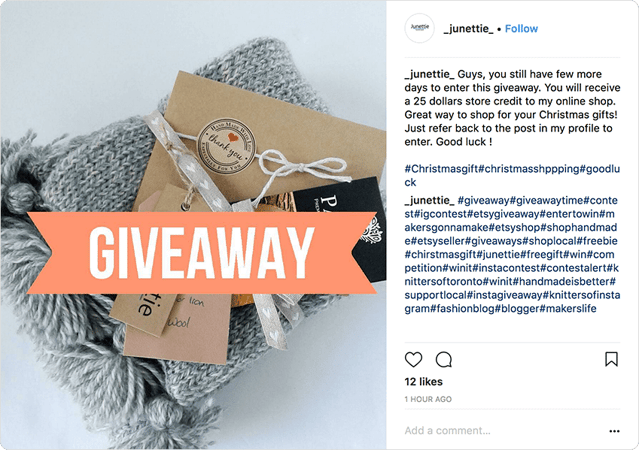 Run a clearance sale
Expecting to have extra stock come January 15th? Organize a clearance sale to get rid of extra inventory - and make way for next season's products.
It's important to determine which type of post-Boxing Day, Hanukkah, Kwanza or after Christmas sales campaign will work best for your e-commerce store. Has it been more profitable to run a BOGOF sale in the past? Or did you do better by offering 20% off the entire store?
If you're not sure, Q1 2020 is a great time to test out which deals your customers respond to best. It will also help you prepare for larger shopping holidays throughout the year.
Target the right audience
It goes without saying: your post-holiday sales campaign needs to reach the right audience. Customer segmentation will help you target customers with the right post-holiday products and sales, based on where they are, their demographics, interests, and past shopping behavior.
Customer segmentation also helps you reach your audiences on the right platforms, such as via email, social media, SMS, and mobile. It can also help you run a successful multichannel retargeting campaign.
And while you're segmenting, keep mobile shopping top of mind. That's where the big spenders are, according to Deloitte. Almost two-thirds of high spenders plan on shopping via smartphone this holiday season - meaning they'll likely to continue doing this in 2020.
Retarget, retarget, retarget
Here's the reality: most customers who visited your e-commerce store during the holidays didn't make a purchase. Now is the chance to retarget them with your post-holiday marketing campaign and point out that the products they looked at a few weeks before are still on sale. Or better yet, tell them you have new products to offer them!
There's plenty of tools to help you do this. They can help you identify customers needing to be retargeted using a powerful multichannel approach. You can then remind them about all the great products still sitting in their carts!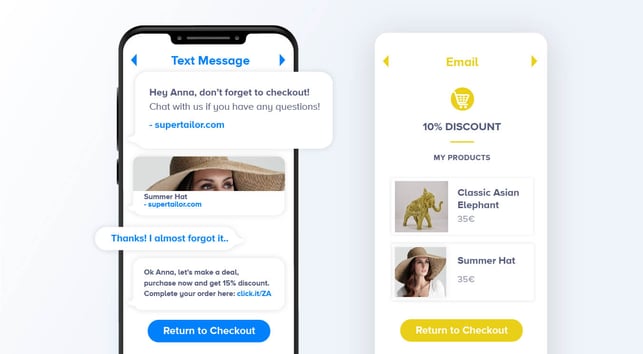 Turn returns into something positive
Returns are part of the post-holiday rush and they can be a real pain point for retailers. It's never fun having to send a sale back. However, returns don't always have to be negative. On the contrary, you can think of returns as an opportunity to show off your customer service skills, which in turn, may very well encourage customers to shop with you again.
It's important to have a clear returns policy. At the same time, it's important to make e-commerce returns hassle-free - creating a positive and fair experience is important. Make sure to train customer service staff to treat returns kindly, ask questions about why they no longer want the item, and make recommendations about other products customers may like. You might also consider including a return envelope with the original product should the customer decide to send back their order, for example. After all, returns can be a stress-point for customers too.
Is taking your e-commerce marketing campaigns to the next level one of your New Year's resolutions? We've got you covered.