Written By
Louise
On Aug, 8 2019
4 minute read
Multichannel marketing is a must for any business that wants to succeed in e-commerce. When it's time to touch base with customers who haven't finalized their purchases, retargeting on a variety of channels can be the key to increasing conversion rates.
But how do you create an effective multichannel retailing strategy? Let us take you through it step by step.
What is multichannel marketing, and what are its benefits?
Multichannel marketing is a strategy that involves interacting with your customers in a consistent way on more than one channel, such as a mobile app or a website, email, text message, social media, PPC, etc. Implementing a solid multichannel marketing strategy is crucial for e-commerce businesses. It can help boost conversion rates by giving the customer a choice of when and where they want to make their purchase.
According to research, it takes at least six touchpoints for the average consumer to make a decision and go through with a purchase. Yes, your customers are playing hard to get, but the more channels you use to communicate with them, the sooner that sixth, definitive touchpoint will come.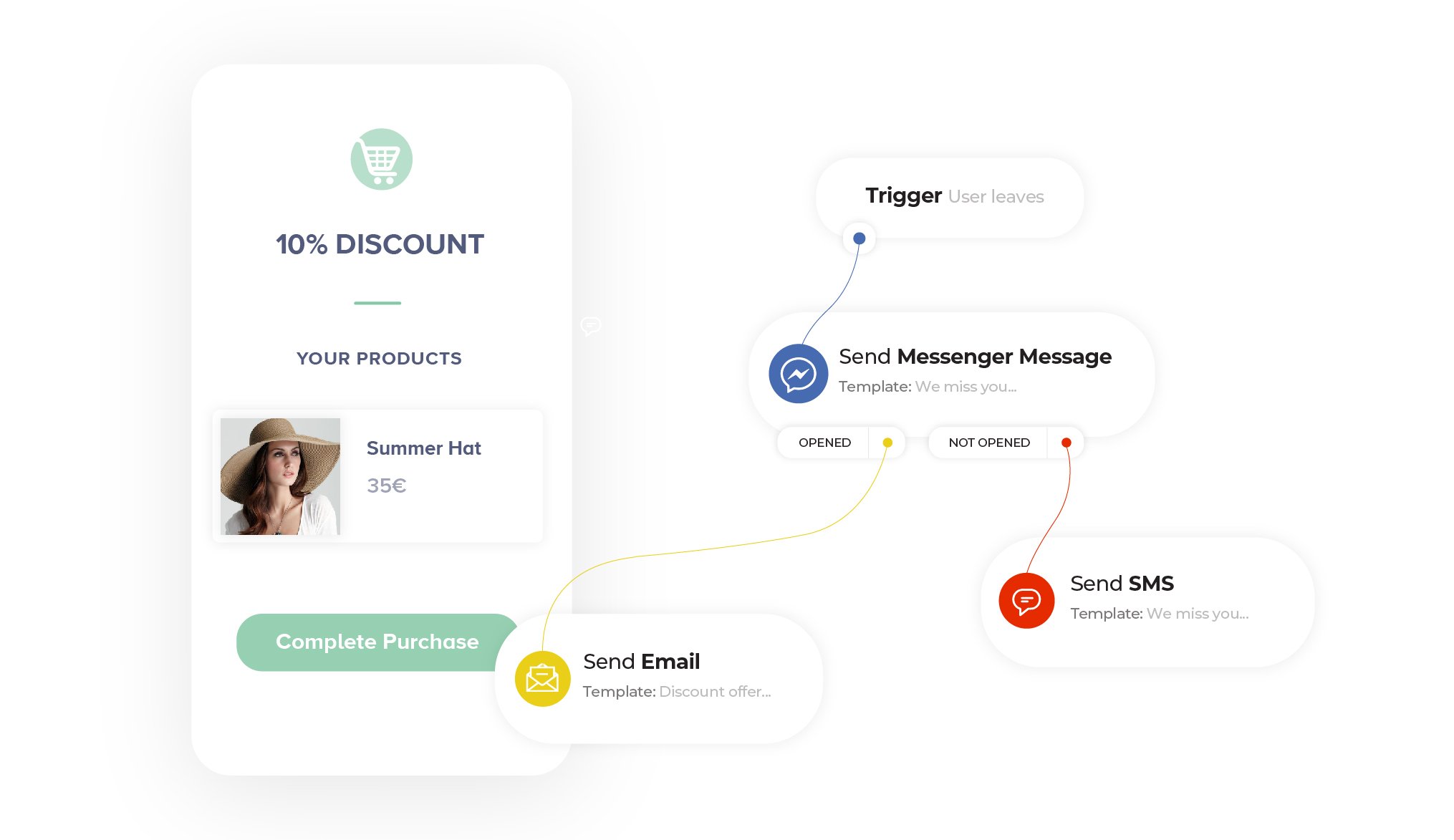 To give you an idea of the potential benefits: brands using a multichannel marketing strategy (on 4 or more channels) see a 300% increase in ROI over single or dual-channel marketing campaigns. Business to business (B2B) campaigns using multichannel marketing also see a 24% increase in conversion rates.
When it comes to retargeting, meeting your customers on their preferred channels and providing them with an integrated cross-channel experience can mean the difference between a lost sale and a recovered cart.
Here are five ways to maximize your reach and increase your conversion rate with a state-of-the-art, multichannel remarketing strategy.
How to build an effective multichannel retargeting strategy
1. Get on the same page with your customers
Everything you ever do in marketing should start with getting to know your target audience. Who are they? What are their shopping habits? Why do they abandon their carts? What channels do they spend the most time on? Once you have done a few user interviews, built your buyer personas, run some tests and looked at your data, you can start drawing up a retargeting strategy tailored to the needs of your customers.
2. Choose a powerful retargeting platform
If you have more than a handful of customers, chances are that you won't be doing your retargeting manually. As you might imagine, you're going to need a high-tech retargeting tool that helps you understand the behavior of your customers. This should also allow you to create personalized multichannel retargeting campaigns so you can reconnect with them.
The platform you choose should allow you to:
collect and centralize data;
run test campaigns;
reach your audience on their preferred channels;
easily automate personalized, one-to-one messaging;
track the performance of your campaigns.
If you're ready to take multichannel retargeting seriously, such a tool is indispensable.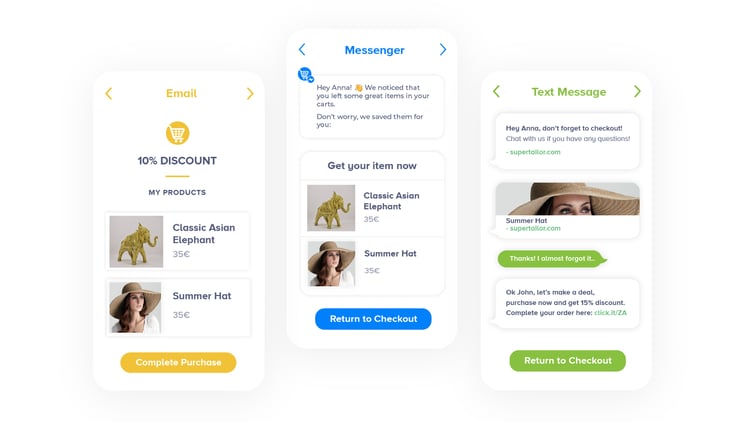 3. Pick the right channels
We don't recommend stalking your customers, but we do recommend focusing on the channels they use the most. Here are some of the most effective places to retarget your clients:
Master email retargeting
Love it or hate it, email has its place as a part of a well-crafted multichannel retargeting strategy. In fact, email retargeting is one of the most common ways to get back in touch with e-commerce shoppers. It's especially good when your content is personalized and your offers or recommendations are based on their purchase history. Remember, the more touchpoints, the more likely it is that you'll recover that missed opportunity!
Dip your toe in text message marketing
You would think that SMS is an old-school way of communicating with customers, but you'd be mistaken. In fact, text message marketing can be hugely effective; not only is it a less crowded channel, but also people feel more compelled to look at messages they receive on their phones.
In fact, according to Crazy Egg, sending three or more text messages increases conversion rates by over 300%.
Learn more about a 98% text message open rate and using this marketing channel to increase conversion rates.
Don't ignore messaging apps
Research says that the average adult in the US spends around 29 minutes using WhatsApp, 16 minutes on Skype, 9-and-a-half-minutes on Facebook Messenger, and 8 minutes on Google Hangouts per day. No wonder chatbots in messaging apps are becoming a thing: businesses are starting to realize that they need to meet their customers where they spend a large chunk of their time. Pick a multichannel retargeting tool that lets you send messages to your customers via apps like Facebook Messenger and WhatsApp, and you've added a compelling channel to your repertoire.
4. Get cozy with retargeting pixels
Social media ads are an integral part of any e-commerce multichannel retargeting strategy. But it can be tricky to work out if a new client has come via an ad or through another channel. Nevertheless, whether your audience hangs out on Facebook, Instagram, Twitter, Youtube or Snapchat, you want to know exactly how they're responding to your ads.
There are tools that can give you invaluable insights; if you want to track the success of your Facebook Ads retargeting campaigns, for instance, you need to familiarize yourself with the Facebook Pixel.
The Facebook Pixel is a snippet of code that you - or your developer - places into the backend of your website. You can use it to a) track visitors coming from Facebook Ads and b) drive conversions by building Custom and Lookalike Audiences:
Custom Audiences are rich profiles of your current users, which are made using information from the pages with your Facebook pixel.
Lookalike Audiences are new target clients, which Facebook identifies using your current audience characteristics.
The Facebook Pixel will automatically create both for you, so you can show your ads to more relevant users and increase your conversions. So, if you're getting into multichannel marketing, make sure you jump aboard the pixel train, too.
5. Ensure a consistent brand experience
Finally, as you're creating your campaigns on all these different channels, make sure you're keeping your brand messaging consistent. The key to a successful multichannel marketing strategy is to provide a seamless, unified and engaging experience. Keep your teams focused and define a very strong voice for your brand that you can use on all your different channels.
Learn how to build a six-figure e-commerce business by following our six steps to success