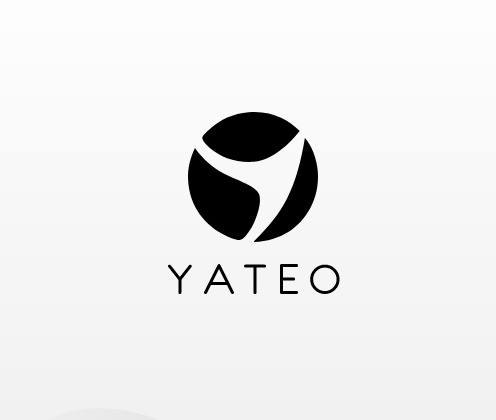 Spring has finally arrived, which means the next big day on every ecommerce marketer's calendar is fast approaching. Pre-order some flowers and buy a card because Mother's Day is right around the corner!
Mother's Day is a great opportunity for ecommerce stores to boost their visibility and increase sales with Mother's Day ad campaigns. If you haven't already planned your Mother's Day marketing campaign, it's time to start!
In this article we will show you how a Mother's Day marketing campaign can:
- Engage your community
- Improve your overall communication strategy
- Bring attention to your products and brand
We will provide you with sure-fire methods to boost your e-notoriety and consequently, your sales.
We'll show you how to re-think your websites, social networks, e-mailing, SEA, etc. Let's dive straight into "marketing for Moms" mode.
What is "Smart Targeting"?
To begin "Operation Mother's Day", first of all, you need to decide on your target audience and develop a precise plan to reach them. After all, there is not just one type of mother. Every mother has their own traits, parenting style, likes, and dislikes.
When planning your Mother's Day marketing it's important to remember that it's not the mother you're addressing in the first place. Any other time of year, the person who wants/needs the product should be your main focus. While she may have some influence through giving "hints" to those buying a gift for her, she's not your main target. Your marketing efforts should above all focus on her family and friends because it will be these loved ones who ultimately buy the gift.
In marketing, we call these ultimate buyers the "targets", so now is the time to start thinking about who your targets are.
The more you know about your different targets, the better you will be able to "speak" to them. Think of it like throwing a dinner party: if you know the tastes of the people you invite, you can make sure that you're serving dishes that they love. This is a bit like marketing: you want to know the tastes, wants and needs of the people your marketing is aimed at, so that you can offer them exactly what they want.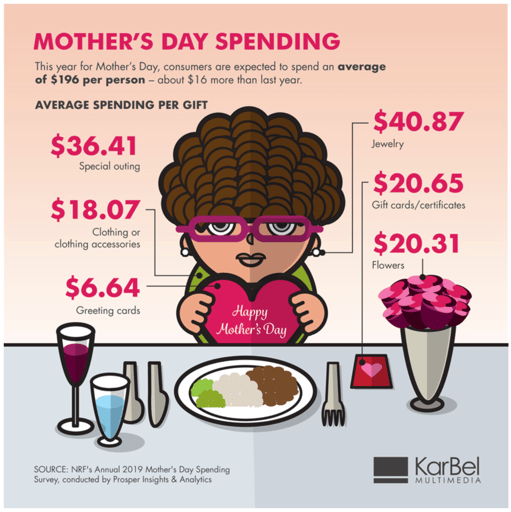 How to target your audience effectively
Targeting your audience shouldn't be complicated. All you need to do is ask the right questions, then answer them as accurately and simply as possible. To do this, you will need to split your audience into different categories or "profiles" of all the various types of people you would like to engage with your marketing. Here are some examples of the right questions to ask:
Who am I talking to?
The spouse who wants to find a gift for his or her wife: If so, how old are they? Where will you find them on the web?
The children who want to give their Mom a gift: Ask yourself, how old are the children? How will they find my brand online?
Mothers themselves: who want to give a gift to their own mother or mother-in-law
Mothers themselves: who want to give a gift to themselves.
Try to produce several profiles of different types of people you want to reach, then create a buyer persona and customer journey for each of them. Focus on determining which medium (email, SMS, social networks, Google, ads, etc.) will most effectively get their undivided attention.
What are their needs?
Each target will have his or her own wants and needs. Your goal is to understand the needs of each different profile through customer research. You can even take an educated guess at what each profile desires. This is, in fact, your true objective. Once you know what the person wants from your brand, you should be able to create an ad campaign that reaches the right audience with the right messaging.
Writing Your Marketing Content
Once you know who you're talking to and what you're talking to them about, it's time to write up the marketing content. The aim of this is to find the optimal way to present your product so that it grabs the attention of the people you are targeting.
When creating this content it's important not to just create one generic message for everyone, but a separate message for each target audience. After all, you wouldn't speak in the same way to a child who wants to please their Mom, as you would to a Dad who wants to spoil his wife. Each target has its own spin and its own messaging.
Put yourself in the place of your target audience as much as you can and adapt the tone, the visuals and of course the content itself. For example, you can:
Build your campaigns around a product you create specifically for Mother's Day
Design special packaging specifically for each target audience
Give customers the possibility to personalize the product they purchase
Develop a partnership with another brand that your target audience loves
Choose to give a percentage of proceeds to associations your audience supports
Which of these ideas you implement depends on your specific brand on the product you're trying to sell. To that end, remember to address the needs of the target audience as much as possible, and to create a marketing message that engages with your target audience.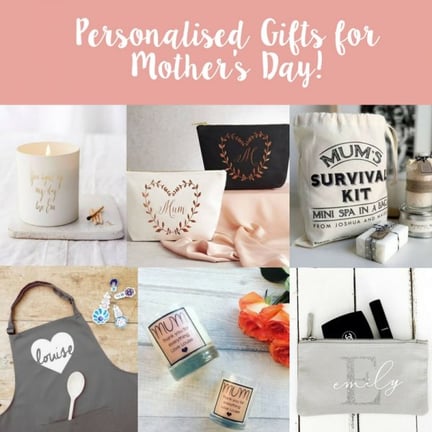 Promote Your Mother's Day Campaign
As soon as your campaign is ready, it's time to promote it. A great way to do this is by working with a Google Ads agency. Remember that you have several promotional means at your disposal, and it's important to utilize them all. Without promoting your ad, it won't have much of an impact on your e-commerce store. At most, your usual customers will make an appearance to purchase their gifts from you. If you do not do any external outreach, your brand will be invisible, which is the last thing you want. The competition for consumers before this kind of holiday will be formidable, so you need to promote your campaign well if you want your brand to be front of mind.

Plan well in advance
When marketing for an e-commerce holiday as popular as Mother's Day it's important not to start your outreach too early or too late. There are many steps you need to complete before your campaign is ready to send (targeting, writing, etc), so set aside enough time to be fully prepared.
Without anticipating, you won't give yourself enough time and your campaign could be rushed and careless. A rushed campaign would mean that your return on investment of your Operation Mother's Day will be very low. If you plan your campaign well in advance, you will be able to carry out and distribute a first-class campaign without going over budget or running out of energy.
Design Eye-Catching Content
The first big step in developing your Mother's Day communication is to create all the visuals for your upcoming campaign.
Visuals to consider are:
The banner(s) of your website,
The banner(s) of your social networks,
Product visuals for your store,
Visuals for publications on social networks, e-mailing, etc.
You need to design graphics that are visually appealing. In just a few seconds, your target must be drawn in and focused on your campaign. In general, keeping it simple is more effective. People don't have time to waste trying to work out what you're selling. The clearer and simpler your message is, the better it will be understood by as many people as possible. Avoid overthinking, innuendoes, and all the guesswork. Otherwise, not everyone will understand you, and you will miss potential customers.
Put Mother's Day in the spotlight on all your media, and start talking about it early enough that organized gift-givers haven't done their shopping yet.
You can also plan to put Mother's Day call to actions on the pages of your website. Or, go one step further and create a special "Mother's Day" section on your menu. This works especially well if you have several products that would make great Mother's Day gifts. By pre-selecting the best products for the occasion you direct customers to the exact products you want to sell and save them time.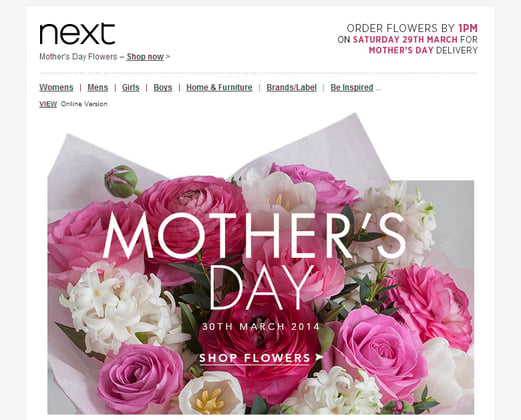 How do I start my "Mother's Day" marketing campaign?
Create an E-mailing Campaign
The first step in your special Mother's Day campaign could be e-mailing all your existing customers. They'll be thrilled that you're reminding them about the upcoming holiday and helping them get organized. Offer customers a special Mother's Day coupon or deal, and of course, a sneak preview of the products you'll be selling. Give existing customers the "hot" scoop on the event. By doing so, you will better understand why retro planning is crucial... An e-mailing campaign will allow you to get all your customers excited about doing their Mother's Day shopping on your site.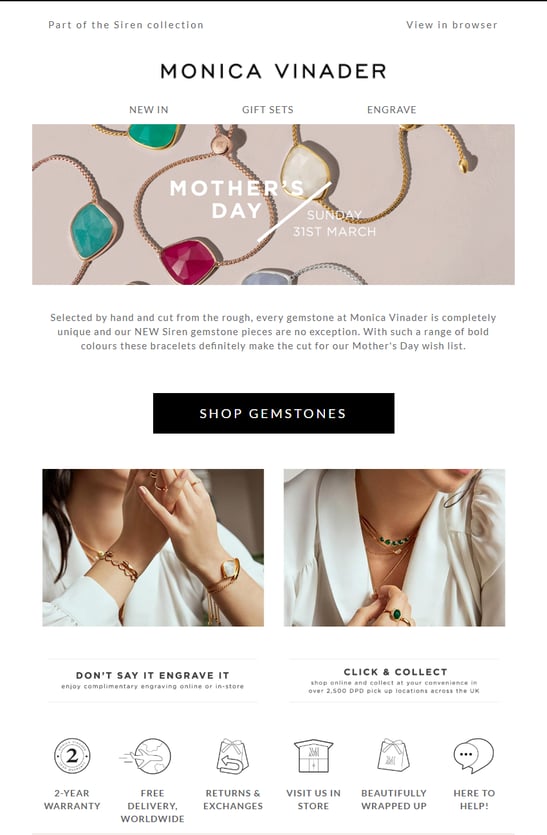 Using Social Networks on Mother's Day
A great way to get your customers excited and instill a sense of urgency is with a countdown tease on your social networks: "__ Days Before Mother's Day!". Encourage people not to procrastinate until the last minute; help them find THE ideal gift for their Mom, something meaningful that they can have personalized or custom-made. In a nutshell, you're teasing your audience about the exciting event to come.
Then, throughout the period leading up to Mother's Day, you will continue to promote your ad and products on your social networks. Don't forget about targeting and adapting the tone and graphics to suit your targets.
You can also accompany your publications with advertising campaigns on social networks. I'm not talking about simply "boosting" your publications; I'm talking about using the advertising tools of the different social networks to carry out real advertising campaigns. Facebook, in particular, offers a very powerful business management tool, with very precise targeting options.
You can also launch a contest on social networks. In terms of contests, try to offer a game where people really have to engage with your brand or even produce their own content. For example, a mother/daughter or mother/son photo contest. This pushes people to interact with your content, which within a few days can go viral and reach thousands of other people. This is precisely the effect you want to achieve with this type of game. Be careful though, there are rules you need to respect, specifically on Facebook.
Put moms in the spotlight in general in your social network communication strategy. You can invent a special "Moms" quiz (possible themes: cake mom, comedic mom, soccer mom, protective mom, rebellious mom, biker mom, etc.), propose a checklist of fun activities to do with Moms, find "vintage" photos of moms with their children, etc.
You sprinkle the subject across all the content you publish on social networks and accompany it with eye-catching visuals (which you have previously prepared since you planned for the holiday well in advance).
Also, think about creating specific content for all latecomers. Every year there are a lot of people who, time and time again, wait until the last minute to find a Mother's Day present. These particular "chronic late gift-buyers" may be of interest to you. For example, you can create a special "last minute" visual and a selection of products for Mother's Day. A gift card to spend on your site or a discount voucher will be particularly pleasing to them.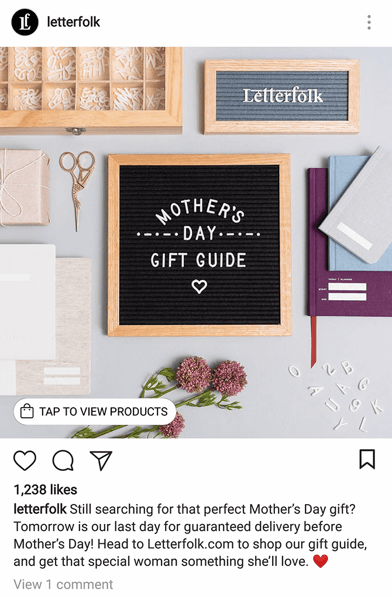 Using the ASP for Your Mother's Day Campaign
E-mailing and social networks are two very effective ways to bring customers back to your website. Of course, we have already said that your site must be ready for people to easily find what they are looking for (Mother's Day banner, Mother's Day category, etc.).
One last way to bring people back to your e-commerce is to set up an SEO campaign on Google Adwords. This is called a SEA campaign. It's a very effective way to promote your products with key search words related to Mother's Day.
Of course, you will need to budget for this. The competition will be significantly higher around popular e-commerce holidays, and chances are the keywords will cost you a lot more than usual.
To sum up, there are many marketing actions you can implement for a seasonal event such as Mother's Day. Anticipate your strategy to make sure your business is as visible as possible so you can boost the profits of your e-commerce store. Think of planning ahead as the insurance necessary for you to make sales and achieve a successful marketing campaign.
Yves ATTIAS is the CEO of French digital marketing agency YATEO. YATEO is among the only Google Partners Agencies that offers website creation and SEO / SEA / SOCIAL ADS campaigns with performance based invoicing.