Written By
Louise
On Aug, 7 2020
9 minute read
In this article, we'll run through 5 marketing automation tools each of which operates as a solid Klaviyo alternative. But first, let's briefly run down the software at hand. Klaviyo is a globally prevalent email and SMS marketing automation software providing e-merchants all over the world with a single platform to create and coordinate their online marketing efforts.
Primarily known as an email marketing software, Klaviyo also provides features such as in-depth customer segmentation, automated marketing workflows, and a customizable email template builder.
The main issue e-merchants and e-commerce marketers have with Klaviyo is the cost of the tool. While it does offer a lot, many Klaviyo alternatives offer similar (or better) products for significantly less.
Klaviyo pricing plans
The Klaviyo pricing plan is twofold, the email pricing which depends on the number of contacts in an e-merchants data bank, and the number of SMS messages sent per month.
Down the affordable end of the spectrum, Klaviyo pricing begins with a free plan. Sounds great right? Not when it means you can send a mere 500 emails to a maximum of 250 contacts every month. This may suit a brand new e-commerce business with a tiny contact list, but as soon as that business starts to scale the situation changes drastically.
For e-merchants only using Klaviyo for email marketing, Klaviyo pricing jumps $25 for every 500 contacts added after the initial 250. Once you surpass 3000 contacts, the $25 price jump slows a bit, occurring every 1000 contacts.
To get a general idea, with Klaviyo pricing you'll be paying:
$45 for 1001 contacts
$110 for 5001 contacts
$175 for 10001 contacts
And that's just for email marketing. Throw SMS marketing into the mix and prices get considerably steeper.
Klaviyo's SMS pricing depends on how many SMS messages you want to send. Say you want to send 1000 SMS messages per month, which will set you back an additional $10 per month. This is pretty standard SMS pricing across the board (with one notable exception mentioned later).
This contact-based pricing means that all features are available to all customers, no matter how much they pay.
With an understanding of what Klaviyo offers and how much they cost, let's compare a selection of Klaviyo alternatives, and decide whether their features, price, and functionality stack up (or surpass) those offered by Klaviyo.
Carts Guru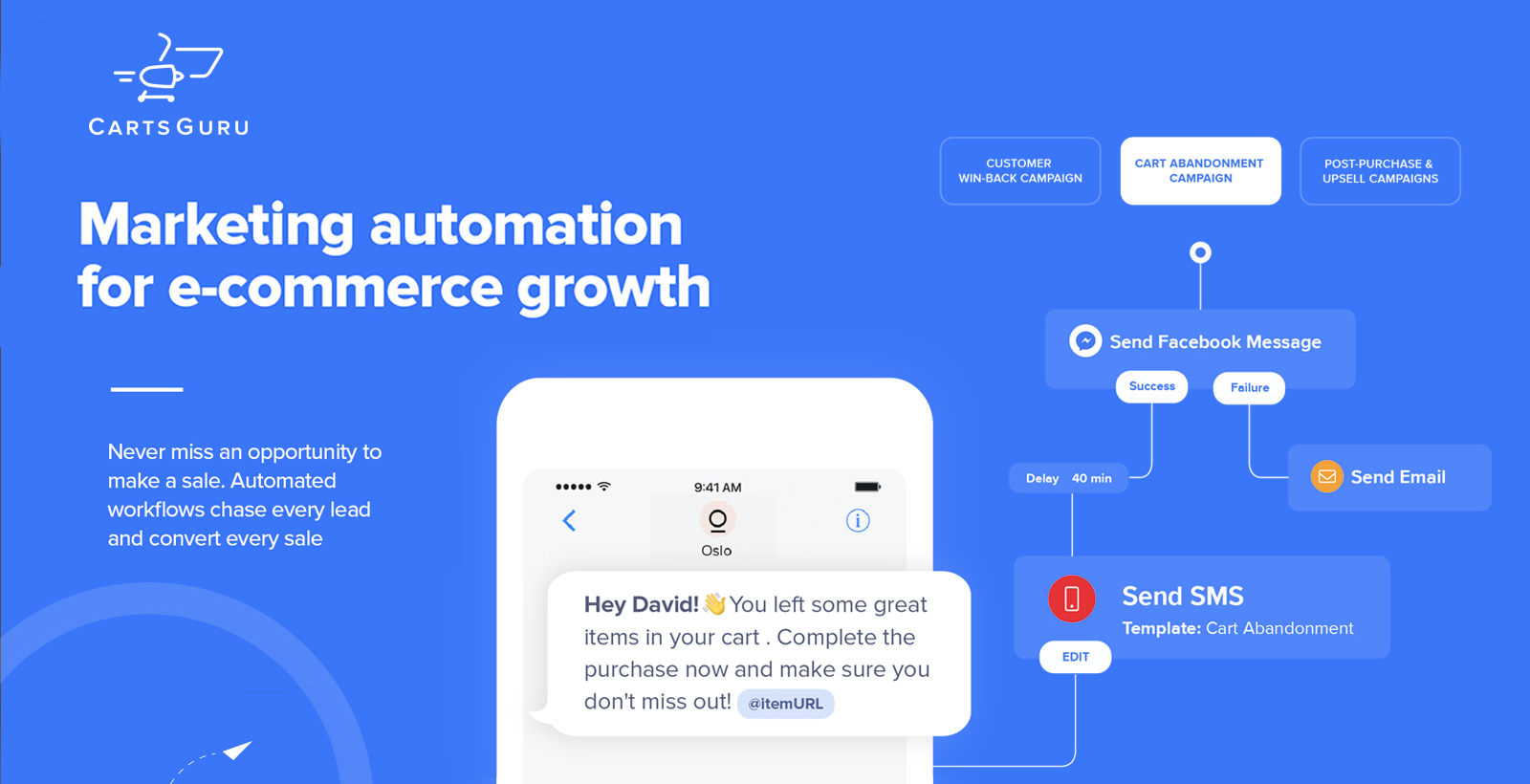 Carts Guru is a multi-channel marketing automation tool designed specifically for e-commerce stores offering 3 marketing channels: email, SMS, and Facebook Messenger.
Each of these channels comes with specific benefits:
SMS has an open rate of 98% and is the best channel to send discount codes, with codes redeemed 10x more when sent via SMS than over any other channel
Email is the most eye-catching medium and the best way to showcase both products and a brand's visual identity
Facebook Messenger is perfect for brands with a Facebook store, allowing them to reach customers on the same channel they use to shop and eliminating any potential barriers to purchase
The thing that makes Carts Guru not just a Klaviyo alternative, but a superior tool, is that it combines these three channels into a truly multi-channel approach.
Let's say you send an email with images to get contacts excited about a new product line, then 10 minutes later send an SMS with a 5% discount code to use before midnight. Businesses are able to reach contacts when their intent to purchase is highest, using the channel proven to be most effective for the task at hand.
Carts Guru utilizes these three channels to create a 'fall-back logic' to maximize the audience reach of every campaign. Dynamic campaign workflows mean users can send an initial Facebook Message, then split the workflow between customers who received the initial Facebook Message and those who didn't, then automatically try contacting those who didn't receive the FBM via either SMS or email.
Users can split the workflow between customers who opened, clicked, or unsubscribed from the initial message. This means that if you send an email but it isn't opened within 2 days, you can automatically send an SMS to maximize the chances of reaching that customer on the channel they regularly check.
Similar to Klaviyo, Carts Guru's pricing is contact-based with SMS messages charged additionally and all features and channels available to all customers. Carts Guru is notably cheaper and offers more dedicated customer service.
Mail Chimp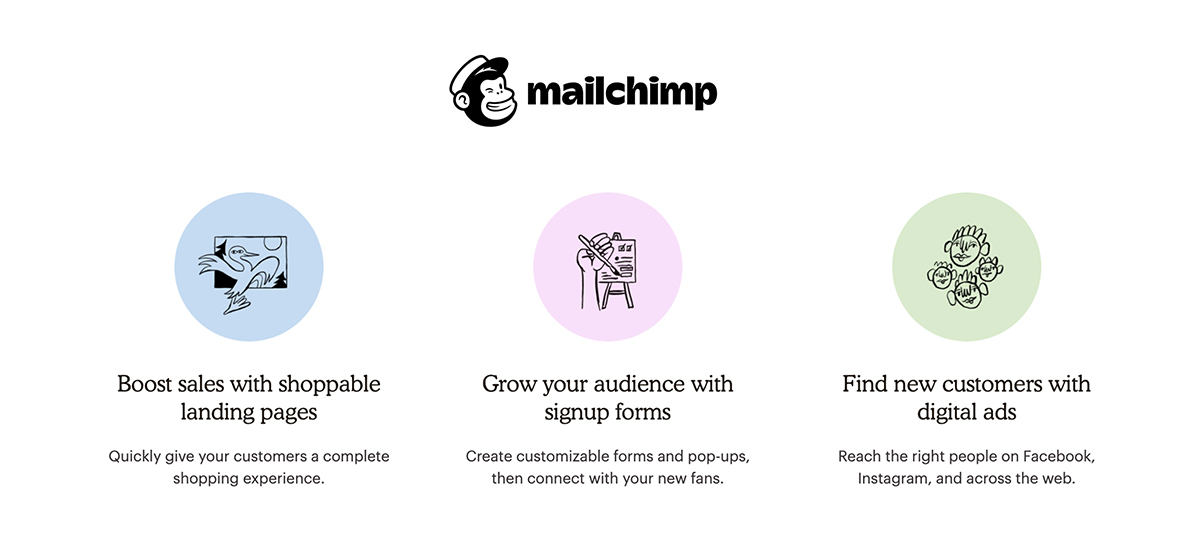 One of the first email marketing platforms on the market and the best-known globally, Mailchimp has expanded its offering to include Instagram ads, Google ads, and Facebook ads. That said, Mailchimp does not offer SMS or Facebook Messenger marketing and is still primarily an advanced email marketing service.
To assess Mailchimp as a Klaviyo alternative, let's break the software down into pros and cons.
Mailchimp excels in three key areas:
Simple and intuitive UX - Mailchimp is easy to use even for the most inexperienced marketers with clear product tutorials to help new users navigate the platform like a pro

First-class email template editor - users can easily create professional, elegant emails that fit perfectly within existing brand imagery

Affordable pricing plans - significantly cheaper than Klaviyo (although somewhat confusing), Mailchimp's pricing plans make it easy to scale your e-commerce business without any huge jumps in price
Contrastly, Mailchimp has two notable lacks:
No direct integration with Shopify stores - since the two software parted ways back in 2019 it has become very difficult for Shopify stores to integrate with Mailchimp (it's possible, but a time-consuming task)

True multi-channel marketing capabilities - with a huge 98% open rate, the lack of SMS is a huge downside for e-commerce marketers wishing to maximize audience reach
To properly compare and contrast Mailchimp and Klaviyo, we need to dissect their individual pricing plans.
Mailchimp pricing comes in four plans: Free, Essentials, Standard, and Premium. Of these plans, Mailchimp recommends users start with the Standard plan, costing $14.99/month.
However, this does not take into account the number of subscribers you have, which can be confusing at first glance. The Standard plan, listed as $14.99, jumps to $49.99 when you have 2500 subscribers, and gradually increasing from there.
The difference in price grows significant once you have a substantial contact list. An e-merchant with 25,000 contacts will pay $219 for a Standard MailChimp plan, or $400 with Klaviyo (more if they want to utilize SMS).
Pricing confusion aside, Mailchimp remains the cost-effective email marketing tool for e-merchants who want to scale their plan as their business grows.

Active Campaign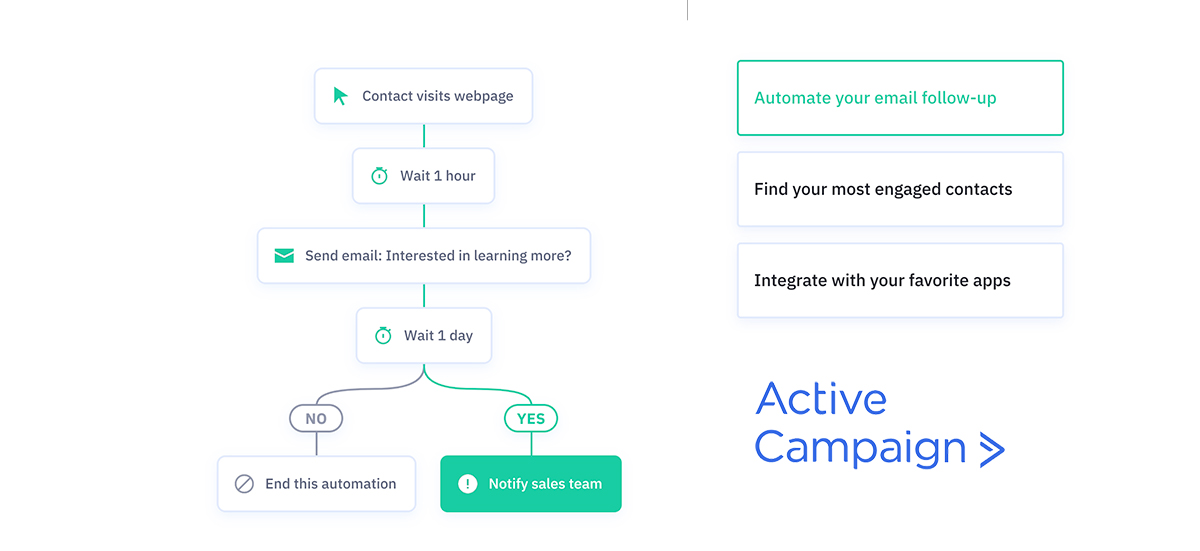 If you're looking for a Klaviyo alternative with a similar range of features and channels available, Active Campaign is a great place to start.
Active Campaign boasts of true marketing automation features such as website tracking, dynamic campaign splits, and event tracking, capabilities that go well beyond a basic email marketing software.
The marketing automation provided by Active Campaign makes it easy for e-merchants to run their online store, taking care of simple tasks and saving time and effort while also ensuring that e-merchants chase up potential customers at the moment they're closest to making a sale.
Similarly to Klaviyo, Active Campaign offers email and SMS, however, it falls short of true multi-channel marketing as you can't combine SMS and email in one campaign to use the channels in a complementary way.
Active Campaign's pricing model takes two key factors into account: the number of contacts and features available.
They have 4 available plans, with base rates ranging from the $9/month Lite plan to the $229/month Enterprise plan. The price of these four plants depends on the features offered, with more complex features such as the mid-workflow split only available in the Professional and Enterprise plans.
From the base rate, the cost of each plan increases the more contacts you have. Because of this, it's tricky to properly compare the pricing plans of Klaviyo and Active Campaign - it all depends on which features you want to use and how many contacts you have.
One key point to be aware of when considering Active Campaign is that it's a complex software similar in many ways to a CRM. If you're not a seasoned technical marketer, it will take a while to navigate the platform like a pro.
SendinBlue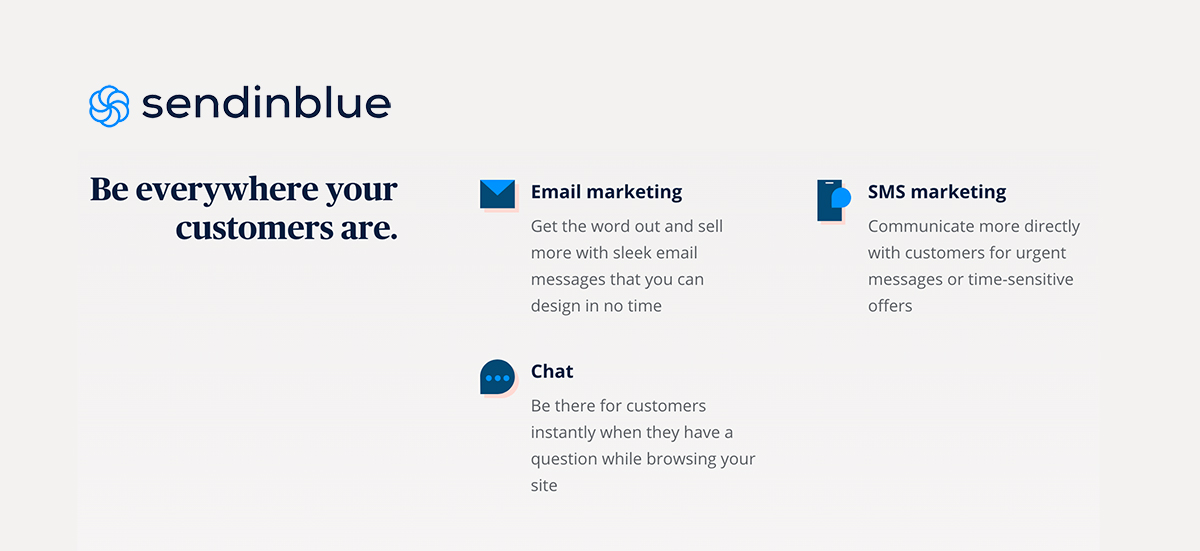 SendinBlue makes for a great Klaviyo alternative. They each provide a similar level of technological simplicity and easy user experience and focus primarily on email marketing. However, when you delve deeper into the features of each software you notice some stark differences.
As both platforms focus heavily on email marketing, let's start with email template creation.
When creating an email marketing template, both Klaviyo and SendinBlue offer pre-built templates and full customization. One difference you notice immediately is that SendinBlue, offers approximately 200 pre-built template options, while Klaviyo offers around 50. SendinBlue also offers HTML customization within their template builder, while Klaviyo does not.
Turning to each software's automation capabilities and there's less of a difference between the two. Both offer pre-built customizable campaign workflows and full email automation. Both also allow users to include SMS in their workflows, but neither provides the 'fall-back logic' discussed earlier in the article.
The similarities extend to contact collection and segmentation. While neither tool would classify as a CRM, both succeed in creating deeply personalized marketing messages thanks to relevant e-commerce properties and mid-workflow splits.
The major difference between Klaviyo and SendinBlue lies in the price. As mentioned earlier, Klaviyo calculates their pricing on contacts, while SendinBlue has based theirs on the number of emails sent. This makes it somewhat difficult to fully compare the pricing plans of Klaviyo and SendinBlue.
But let's say you have 20,000 contacts and want to send them each 3 emails over one month. With Klaviyo this would cost you $375, while with SendinBlue you'd pay only $29.
On top of that, SendinBlue allows you to send 300 free emails every day on their Lite plan, while Klaviyo's free plan allows 250 contacts in your database.
It's much easier to assess SendinBlue as a Klaviyo alternative in regards to SMS as each software charges per SMS sent as an additional price to the original plan. In this regard, Klaviyo comes out on top (just), charging $20 to send 2000 SMS messages compared to $24 with SendinBlue.
Omnisend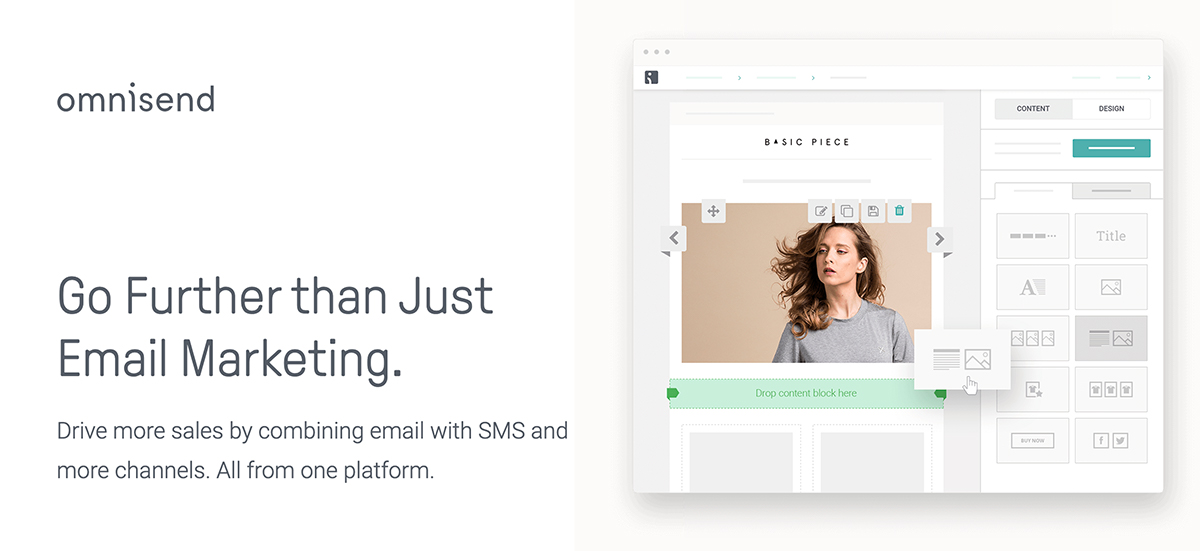 A globally known Klaviyo alternative, Omnisend offers multi-channel marketing automation for e-commerce stores. Omnisend allows users to combine email, SMS, Facebook Messenger, push notifications, and Google Ads into a single campaign workflow for full spectrum marketing automation.
Such a platform is optimal for any e-commerce store selling across multiple channels, giving e-merchants an increased opportunity to reach potential customers on the same channel they use to shop.
When you look at Omnisend as a direct Klaviyo alternative you find more similarities than differences. Both offer in-depth segmentation of contacts and full-tilt marketing automation. Where they differ slightly is the capabilities of each email template builder.
Klaviyo offers a wider range of base templates to customize, whereas Omnisend offers more detailed customization features. One such feature that would be particularly useful for an e-commerce marketer is that users can pull products directly from their online store into an email template. Omnisend also offers HTML customization, which, as mentioned earlier, Klaviyo does not.
Finally, let's look at how Omnisend stacks up against the Klaviyo pricing plan. Omnisend's pricing takes a few different factors into account. First, you input the number of contacts you have, and then the cost of each feature-based pricing plan rises to account for your number of contacts. Because Klaviyo offers all features at all levels, we'll use the Omnisend Pro Plan for a proper comparison.
With such similar features on offer, it's no huge surprise that each platform's general pricing plan is almost on par. An e-commerce store with 10,000 contacts would pay $150/month with Klaviyo and $210/month for Omnisend.
The main difference with pricing lies in SMS, Omnisend SMS cost 50% more than Klaviyo. Say you want to send 10,000 SMS, you'd pay $100 with Klaviyo or $150 with Omnisend. Needless to say that if you're serious about SMS marketing, Omnisend is not a cost-effective Klaviyo alternative.