Written By
Louise
On Feb, 11 2020
4 minute read
For e-commerce brands, average order value (AOV) is undoubtedly one of the most important metrics to measure. Increasing AOV over time is crucial to growing e-commerce stores, as it tells brands how much their customers are spending per purchase so they can take action and come up with ways to incentivize customers to buy more.
AOV is simply calculated by dividing the total revenue by the number of orders. Boosting your AOV isn't always easy, especially when 68% of website visitors don't complete their purchases.
But don't worry, we're here to help. Here are 7 tips on how to most effectively improve your AOV and skyrocket your overall revenue
1. Use upselling campaigns
Increasing your AOV shouldn't start at check-out. Brands should take the opportunity to inflate their AOV relatively early in the customer journey. For those just starting an e-commerce business, it can be a great idea to run marketing campaigns focused on upselling products.
Within these campaigns, include a link to a complementary product, a sale item, or a coupon code to be used by customers if they spend a certain amount or more. This brings more people to the e-commerce site - plus, it gives them an incentive to buy! Overall, running upselling campaigns is a great way to find new customers and increase sales amongst existing ones.
2. Strategize with discounts
Every brand knows that one of the best ways to increase sales is by offering discounts. So why not use these discounts to incentivize customers to purchase even more?
Bundling items or providing customers with money off if they spend over a certain amount is a surefire way for brands to increase AOV, and make customers happy in the process.
Brands should advertise these discounts in their multi-channel marketing campaigns, on their e-commerce homepage, and throughout the check-out process - so at every consumer touchpoint, shoppers are being encouraged to put more into their carts.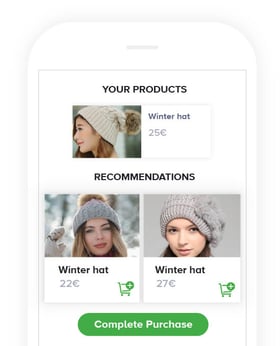 3. Recommend products
When customers are ready to check out, make use of a recommendation engine to share products that go well together - increasing the chance that customers will add more items to their basket. If someone purchases a bathing suit, why not cross-sell to recommend a beach hat or towel? Better yet, why not upsell by recommending designer sunglasses at a higher price point?
It's important to make sure these new items can be added to the cart in just one click. If too many steps are required to purchase the product - like re-entering their payment details - the customer may just leave it by the wayside.
4. Increase the pressure with other buyers
Have you ever pondered over a purchase, then felt the urge to buy when you noticed other customers were looking at the same product? It works, doesn't it? The hotel and accommodation industry is famous for using this technique, often encouraging customers to quickly book by showing how many others have recently visited the site.
For e-commerce brands low on certain stock, it can be a great idea to show customers how many people have visited the product page lately, as well as how many items are left. When they realize they may miss out on an item, customers will be more likely to make a purchase. This can be a great tactic to use during the busy holiday shopping season or when brands are trying to clear out stock.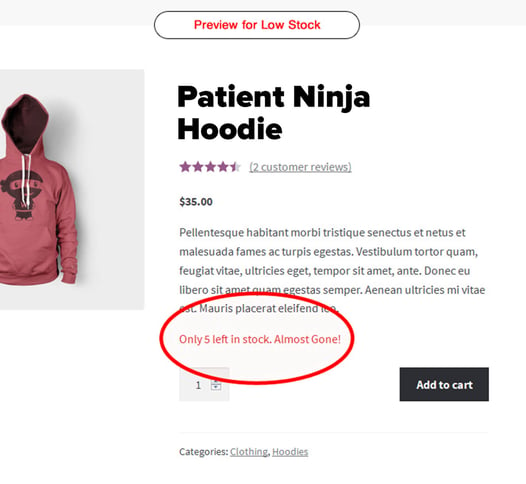 5. Offer free shipping
Search 'free shipping memes' on Google and you'll come across plenty of funny results. Many of them feature people pondering whether they should spend an extra $5.99 on shipping when they have $100+ worth of items in their cart. While these memes are meant as a joke, they certainly ring true in the e-commerce world. In the age of Amazon Prime, it's hard to justify paying extra for shipping. E-commerce brands can capitalize on this by offering free shipping of their own - after a certain threshold.
To increase AOV, it's a great idea for e-commerce companies to offer customers free shipping after spending say, $50 or $75. Should a customer find themselves just under the threshold, you can rest assured they'll add some extra items to their carts to make up the difference.
6. Don't forget to retarget
Do customers keep abandoning their carts in your online store? Don't worry! This doesn't mean you can't still increase your AOV. It's important for brands to retarget these customers on multiple channels - including social media, text, and email - to win them back.
Carts Guru provides brands with the ability to retarget carts through email campaigns, text messaging and Facebook Messenger. Through Facebook Messenger, brands can even target unidentified shopping carts with personalized messages, helping merchants convert more than 20% of abandoned carts into sales.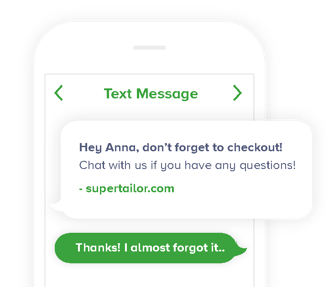 7. Benchmark using analytics
Use Google Analytics or similar tools to understand how and why your AOV is changing and get a glimpse into which one of the above tips has worked best for you. Perhaps offering free shipping caused your AOV to skyrocket, but strategizing with discounts didn't work as well as you'd have liked. Whatever the case, it's important for brands to always keep a close eye on their analytics - and then pivot quickly if something's not going as planned.