Written By
Louise
On Apr, 28 2020
5 minute read
Ready to get started with SMS marketing? You're in luck. In this article, we provide our top 10 SMS marketing examples. Customize to fit your brand, personalize to engage customers, and grow your ecommerce profits.
Done right, SMS marketing is a powerful tool. It brings e-merchants and customers closer together and facilitates the easy spread of information about orders, sales, new product releases, or general company news. However, there are a few important things to remember before you click 'send'.
Personalize the following SMS templates to create relevant content that your e-commerce customers will be happy to receive
Always address contacts by their first name
Send offers on relevant products - ie. products the customer has either previously shown interest in, or something that would perfectly complement a previous purchase
Include a clear call to action that directs customers to the next step you want them to take
Stick to the 160 character limit with concise, persuasive copy that drives e-commerce sales
Don't overdo it - choose a few important SMS e-commerce templates and use them sparingly, customers will unsubscribe in a heartbeat if your messages are too intrusive
Now that's out of the way, let's look at our top 10 SMS marketing examples for e-commerce:
1. New customer welcome SMS
If a customer has opted in to receive SMS messages from you, that's excellent news. They have given a highly valuable piece of information, their personal phone number, and permission to use it.
Why not thank them with a friendly welcome message and throw in a discount to sweeten the deal?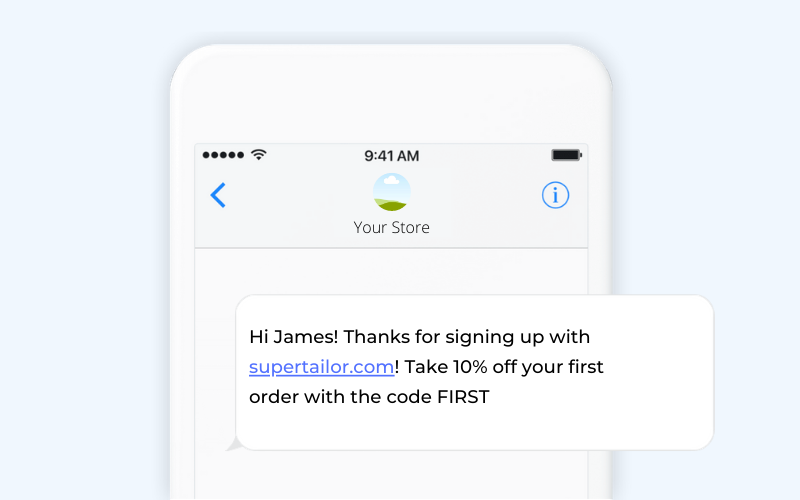 2. Abandoned cart SMS template
SMS retargeting is an important tactic if you want to avoid lost sales and increase e-commerce conversions. It's crucial to personalize your retargeting text messages. Include a direct link to the cart and remind the customer if they have any unclaimed discounts.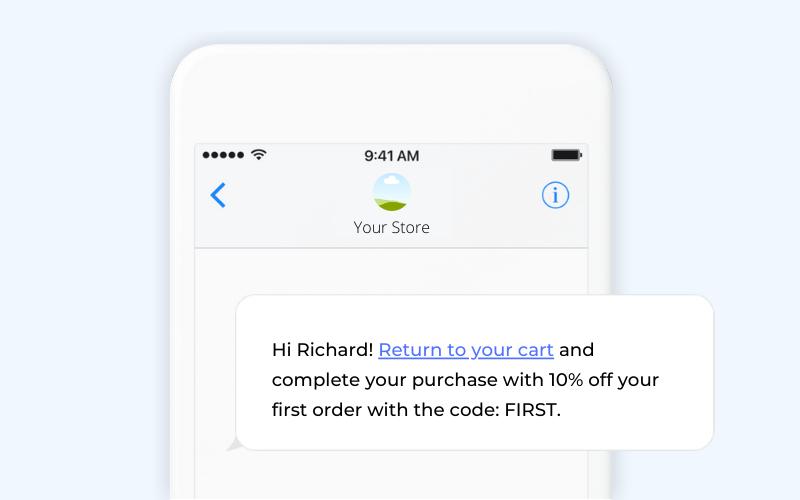 Whenever someone abandons a cart, chances are high that the potential customer is looking for similar items on competitors' sites. Time is of the essence, so use a marketing automation tool to send an abandoned cart SMS immediately after a customer abandons a cart.
3. Customer win-back SMS
Did you know that it's 5x harder to win a new customer than retain a current one? Reengage old customers and remind them how great your brand is. Send an SMS every time a customer goes a set amount of time without buying a product to keep them active.
Include information about new products, a link to your online store, or a discount code to encourage the sale.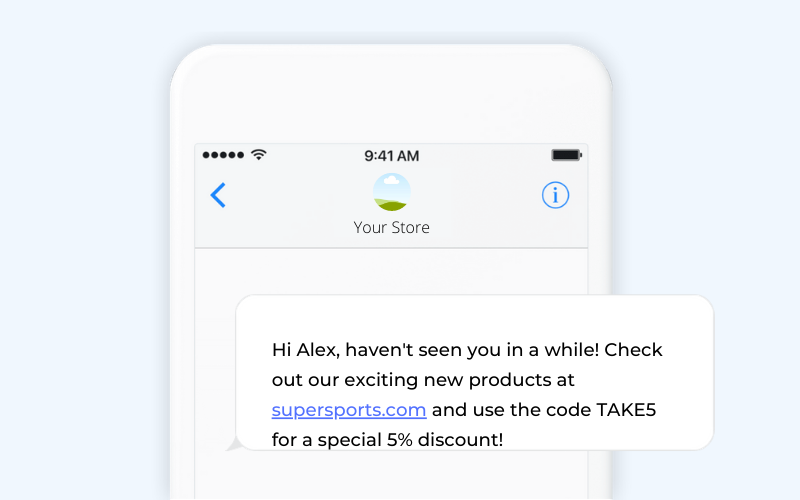 4. Promotional discount SMS
Discount codes sent via SMS are opened 10x more than codes sent over any other marketing channel. To boost e-commerce profits fast, a promotional SMS is key.
Customers can easily unsubscribe from SMS marketing, and they will if it's not worthwhile for them to stay. Exclusive deals and discounts just for SMS subscribers are also a great way to retain hard-won opt-ins.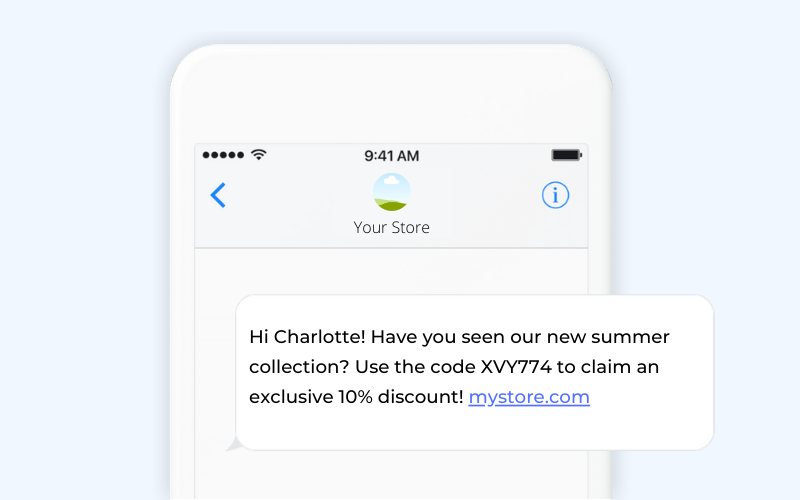 5. E-commerce loyalty program SMS
SMS is a great channel to inspire your customers to enroll in a loyalty program. Combine a tempting offer and an easy sign-up process to encourage potential VIP's to join the program.
Such an offer will only be relevant to high-value customers, so create a contact list that specifically targets customers who have spent a certain amount of money on your site, or who have made over a certain number of individual purchases.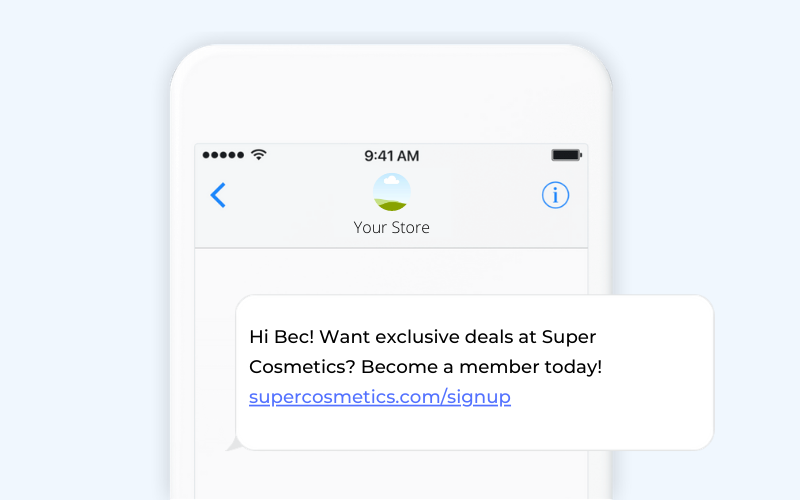 6. Upcoming sales SMS
Who doesn't get excited by the word "sale"? Blast all your contacts every time a sale starts and have them scrambling to add products to their cart.
Turn up the pressure with a sense of urgency, emphasize that the sale is only for a limited time, and use words like now and hurry.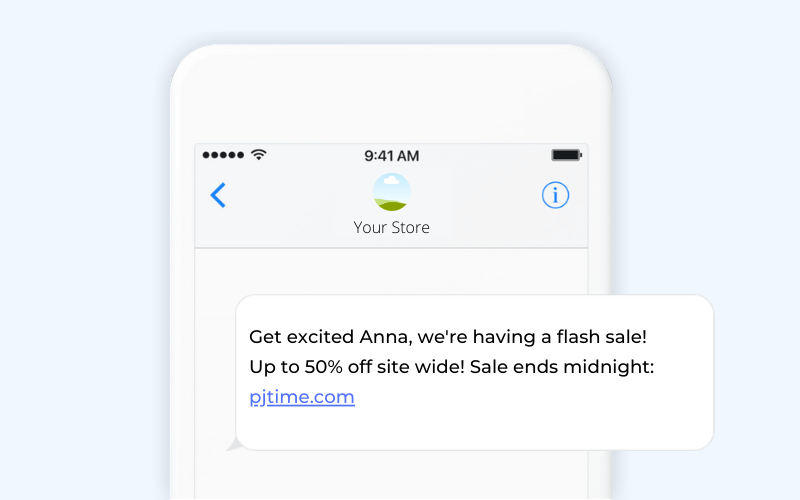 7. Order confirmation SMS
Whenever a customer makes a purchase, automate an SMS to thank them for supporting your brand, providing a reference number, and a link to track the status of their order.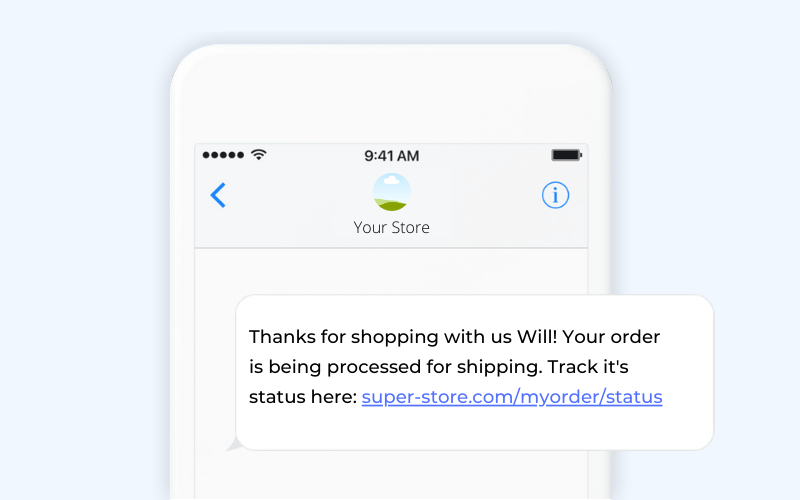 After you ship the product, send a shipping confirmation via SMS to get your customers excited. This also increases the chances of a successful, stress-free delivery.
8. Use SMS to ask customers for feedback
Your customer's opinions are valuable, so try and get feedback as much as you can. After every purchase, why not send customers a personal thank you SMS? While you're there, ask for feedback on their last purchase.
Not all customers will bother to go to your website or an external site to write a review. However, SMS can be a great way to get some valuable feedback about your e-commerce store. Remember to make it super easy for customers to give their opinion via SMS.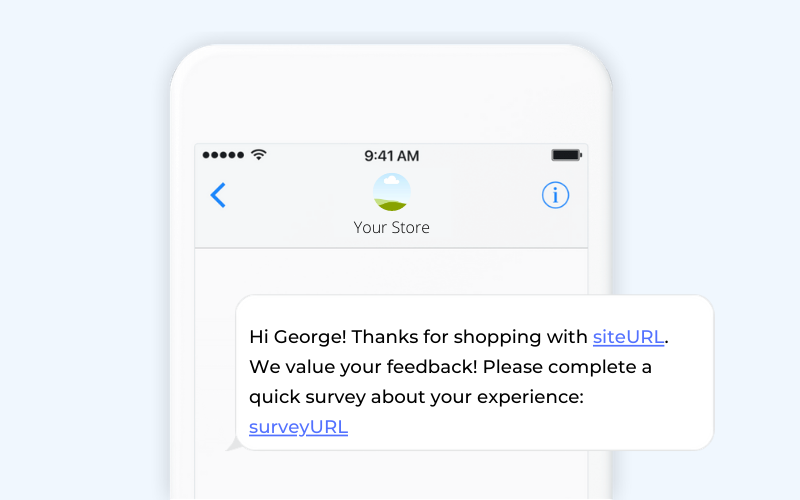 9. Anniversary or birthday SMS
Show your customers you care about them and appreciate their business.
When you gather client data during registration or first purchase, ask for their date of birth. Then, create an SMS campaign to align with each customer's birthday.
A highly personalized promotion like this will show your customers that your brand goes the extra mile to make them feel special.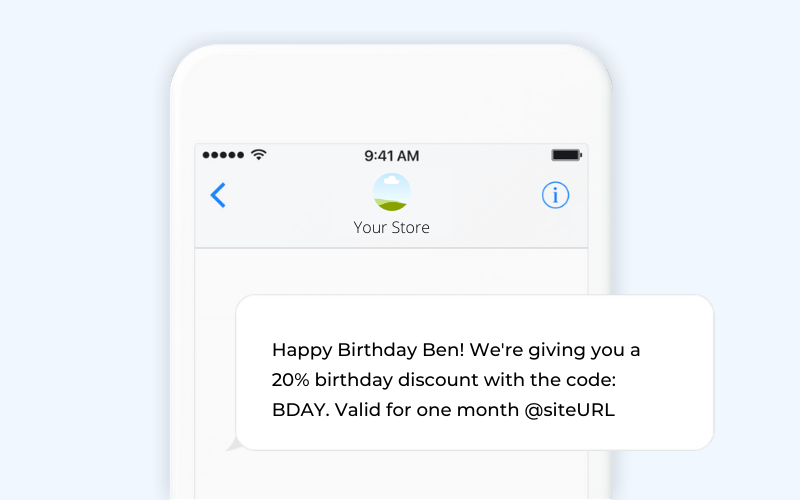 Take this one step further and offer rewards to celebrate other milestones such as the anniversary of their first purchase.
10. Upcoming holiday SMS
People receive tons of special offers and marketing materials around important shopping holidays like Valentine's Day, Easter, Black Friday, and Christmas.
The vast majority of those messages will land in their email inbox. Stand out from the competition and send an SMS instead.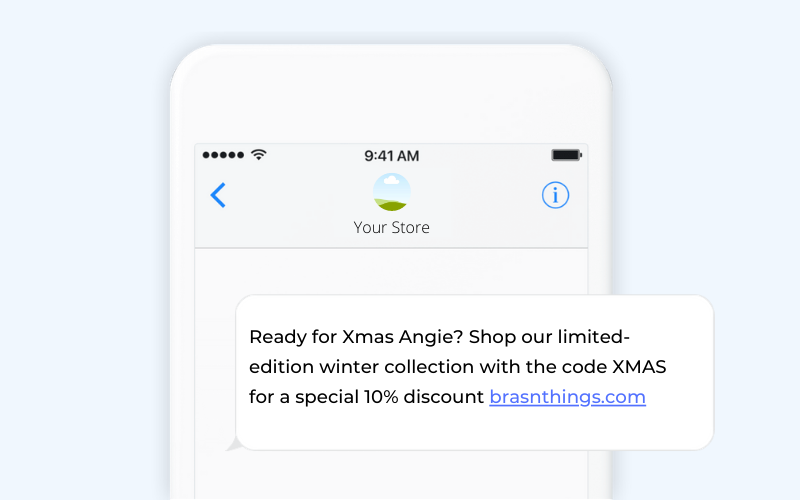 You could also send an SMS to complement a holiday email. Trigger an SMS to send 5 minutes after a contact opens the initial email, offering a discount code to encourage the purchase.
And there you go, 10 e-commerce SMS marketing examples you can customize and personalize today, so what are you waiting for?