Written By
Louise
On Mar, 5 2020
7 minute read
An ecommerce product launch is both exciting and trying, but with a strategic mindset and lots of preparation, e-merchants can definitely lessen the stress and have an all-round enjoyable experience.
So, are you ready to learn how to launch a product online? We've broken the process down into three easy-to-follow phases: pre-launch preparations, product launch, and post-launch assessment. Let's get started.
Ecommerce product launch phase 1: Pre-launch preparations
Step 1: Pick the best product to sell
Choosing the right product to sell in an online store is a crucial first step in any ecommerce launch strategy. It doesn't matter how great an e-commerce product launch is: if the product in question doesn't speak to the audience, all the effort put into marketing will be for nothing.
That said, selecting the best products is easier said than done. Focus on market research and understanding customer's pain points. After all, it's imperative that e-merchants offer a product that responds to customers' needs and wants.
Gauge customer interest by searching for common keywords and queries typed into either a search engine or the store's in-site search bar. There are loads of SEO tools out there that can simplify this process, for example, the Moz Keyword Explorer or the SimilarWeb market intelligence tool.
To discover what interests your existing contacts, try doing customer interviews or sending out a survey. There's no better way to find out what products customers would like to buy than by asking them directly.
E-merchants need to understand not just what interests their existing audience, but potential future customers as well. Reddit's /r/technology, GoogleTrends, and Trend Hunter are all good places to start discovering trends. Keep an eye out for product trends but remember to steer clear of fads.
It's imperative that all this research is relevant to the current global situation. The significance of Covid-19 on the e-commerce industry cannot be understated, so select a product that has grown in popularity since the lockdowns began.

Step 2: Beta-test products and get feedback
Before the e-commerce product launch, take some time to test it on a small circle of existing customers, friends, and family. Send them a few examples of your product to have them beta-test it, then gather and analyze their opinions.
Once they've been using it for a few weeks (the ideal time frame may vary depending on what type of product you're launching) ask them for feedback and iron out any potential issues before proceeding to the big product launch.
Similar testing is also useful when designing a new product page on a website using an A/B test. The concept of A/B testing is well known in email marketing and website design, but it can also be useful to optimize product selection. At its most simple, it means offering different product pages to customers arriving from different sales channels. It's an experimental tactic for retailers that can be of great help when trying to optimize sales.
Step 3: Secure sufficient inventory
When launching a new product in an e-commerce store, the worst thing marketers can do is hype it, only to realize there isn't enough inventory to fulfill all the orders. Prepare for the rush using data from past launches of similar products to estimate how many units should be in stock.
E-merchants who have stocked up a new product as much as they can afford but are still worried it'll sell out fast can give customers the option to pre-order, and warn them the new product is likely to go quickly.
How easy it is to secure this level of inventory depends heavily on how e-merchants source their products. There are three main methods of product sourcing to consider:
Self-made products - produced in a home or artisan environment, meaning more control, but keeping up with demand and storing inventory become key costs
Dropshipping - means e-merchants can sell products without storing inventory and the main product costs will often involve "drop fees" and transactional costs
Products purchased from a wholesaler or manufacturer - gives you a balance of control and flexibility, but also higher overhead than the other two options
Consider the margins associated with each sourcing method, and pick the optimal product with all these costs in mind.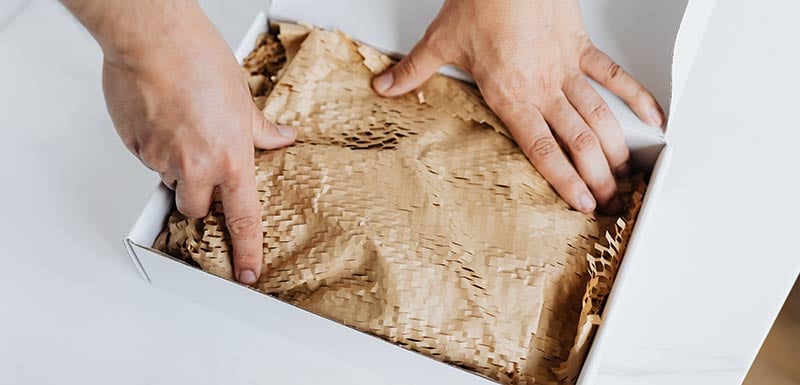 Step 4: Build a marketing strategy
An e-commerce product launch cannot be successful without a strategically planned marketing campaign to build a groundswell of excitement around the product and get customers ready to buy.
The first job of an e-commerce marketer is to design a great message. What sort of language and messaging will best get through to customers? What's going to engage them and get them interested in the product?
Storytelling is a good strategy. Customers want more out of a shopping experience than just a transaction: they want to buy from brands that understand them. They want to feel connected to products. Craft a story around the new product - share why you created it, how you made it, and how it will benefit customers.
The second job is to identify the best marketing channels to use to broadcast the product release. Past experience will tell marketers which channels work best for each of their audience segments. Build a multi-channel launch campaign and use a marketing automation tool to alert customers via email, SMS, and funnels.
Step 5: Create the content
An e-commerce product launch relies heavily on the quality of it's accompanying content. Write impeccable copy, create eye-catching creatives, and optimize CTAs for conversions.
Create all content in the format that's ideal for each marketing channel, be that email, SMS, or social media. E-commerce stores can also partner with influencers and reshare the content they create.
Step 6: Prepare the customer service team
No product launch ever happens without a spike in customer support calls - whether it's to do with shipping or the product itself, customers will always have questions.
Prepare the customer service team ahead of the launch. Make sure they know the product like the back of their hands. Coach them on how they should communicate and what message they should send about the new product.
E-commerce product launch phase 2: Product launch
Step 1: Build the hype
Release day is the perfect opportunity to capitalize on the excitement surrounding the e-commerce product launch.
Host a giveaway or contest to build hype around the product release. Take the opportunity to thank VIP customers and loyalty-program members with exclusive discounts. Organize an event and invite the press, existing customers, and social media influencers (within your niche). The more coverage around the launch, the better.
A proven method to gain traction early is for a product launch to coincide with a big international sales day like Black Friday. The e-commerce product launch will benefit from shoppers' increased willingness to purchase during the holiday season.
Step 2: Launch your campaign
This is the moment you've been waiting for. It's time for the e-commerce product launch!
E-merchants using a marketing automation platform just need to sit back and enjoy the ride (and hope that your servers can take the sudden upsurge in traffic).
A marketing automation platform will not only schedule and send the pre-planned launch campaign, but also handle lead capture and customer follow-up. Automatically thank customers who made a purchase and send necessary information about the delivery with an order confirmation campaign.
Better yet, automatically chase up visitors who didn't make a purchase with a cart abandonment or browse abandonment campaign to bring them back to complete the order and increase overall conversions.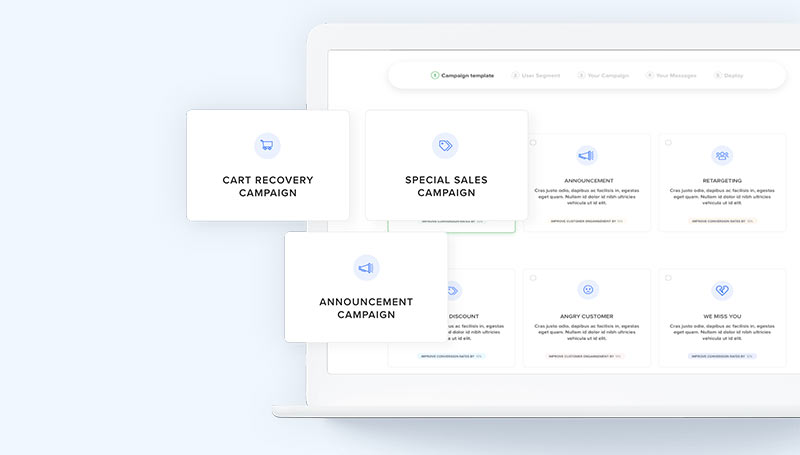 E-commerce product launch phase 3: Post-launch assessment
Step 1: Keep in touch with customers
A successful e-commerce launch strategy does not end with the product launch itself. Once you have processed and sent all the orders, follow up with everyone who bought the new product to nurture them, and retain their business long-term.
Automatic post-purchase campaigns are a very important element of customer care. Send customers an email asking for feedback on the product or the shopping experience. To drive repeat purchases and increase each customer's lifetime value, e-merchants can also tempt them with a selection of personally recommended products.
Step 2: Reach out to customers who didn't buy the new product
The next concern for e-commerce marketers should be the customers who did not take part in the product launch.
Send these customers an automated message telling them what they missed out on, and maybe you will make a few late purchases. Or, if your new product sells, inform your customers of an upcoming restock date.
Step 3: Ask for reviews and testimonials
The social proof gained from reviews and testimonials is an invaluable asset to e-merchants. Strike while the iron is hot and follow up a successful delivery with an email asking for a testimonial or review.
To incentivize customers to write these reviews, offer a special discount or free shipping to use on their next purchase as a thank you.
Step 4: Analyze the results
Looking back on an e-commerce product launch campaign and analyzing the results is vital to the success of any future product launches. Did your website crash? Did you run out of stock? Was your cart abandonment rate alarmingly high? Learn from any mistakes made, make adjustments, and, if necessary, modify your website, your messaging, or your product offering based on the results.