Written By
Louise
On Feb, 12 2020
8 minute read
Coordinating multiple marketing channels and countless ecommerce campaign types can be a confusing and time-consuming process, but it doesn't have to be. There are innumerable ecommerce marketing tools that will take care of the grunt work and make ecommerce marketing both pain-free and hugely profitable.
How to choose the right ecommerce marketing tools
There is an abundance of choice when it comes to ecommerce marketing tools. There are tools to help e-merchants with every aspect of their e-commerce marketing strategy, from building a beautiful and easily navigated online store and optimizing the customer journey, to engaging with customers over various mediums and nurturing them into loyal, life-long customers.
Each of the marketing tools listed below helps achieve sustained ecommerce growth in its own way. Don't just select one tool, use them in combination to perfect every stage of the customer journey, from awareness to purchase.
1. Prestashop - to build an e-commerce store
Before making use of any other e-commerce marketing tools on the list, e-merchants need to build an inviting and user-friendly online store. No platform makes this easier than Prestashop.
What sets Prestashop apart from the competition is the simplicity of the software. The Prestashop interface is so intuitive that even the most inexperienced e-commerce store owners will navigate it easily.
And e-merchants agree, Prestashop is already used to host over 300,000 e-commerce stores worldwide.
What makes Prestashop an e-commerce marketing tool is that businesses are able to completely customize their online store so that it fits perfectly within any existing branding.
The visuals of an e-commerce website are such an important factor in converting customers, and Prestashop makes building a beautiful e-commerce website easy.
E-merchants can use Prestashop to:
Manage their supply chain
Keep track of orders
Analyze all relevant statistics in one place
Sell products globally, with different languages and currencies natively integrated into the platform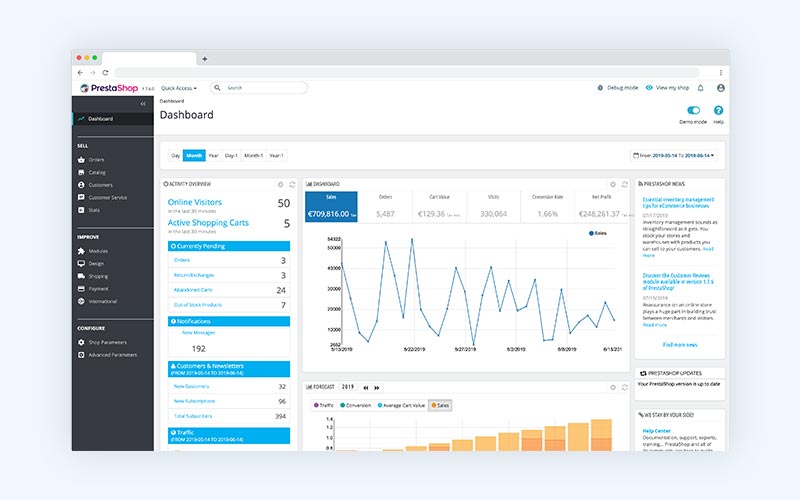 2. Hotjar - to understand visitors on-site behavior
It's imperative for e-merchants to understand customer behavior on their website. Analyzing visitor behavior such as which buttons they click, which they don't, what pages they view most often, or for the longest time, helps brands identify and solve any pain-points customers are facing.
That's why a heat-mapping software like Hotjar is so important. E-merchants are able to visually analyze customer's behavior on their website, then optimize their site accordingly.
Is there a button customers should click but don't? Make it bigger and bolder
Is there a point in the sale process where customers often get stuck? Optimize it
Do many customers exit the website at the same point? Find the problem and fix it
As an extra feature, Hotjar users can also add surveys and polls to their e-commerce stores to gather feedback from customers in real-time and react accordingly.
By analyzing customer behavior and fixing the problems they face, e-merchants can optimize the experience of future visitors and turn them into customers.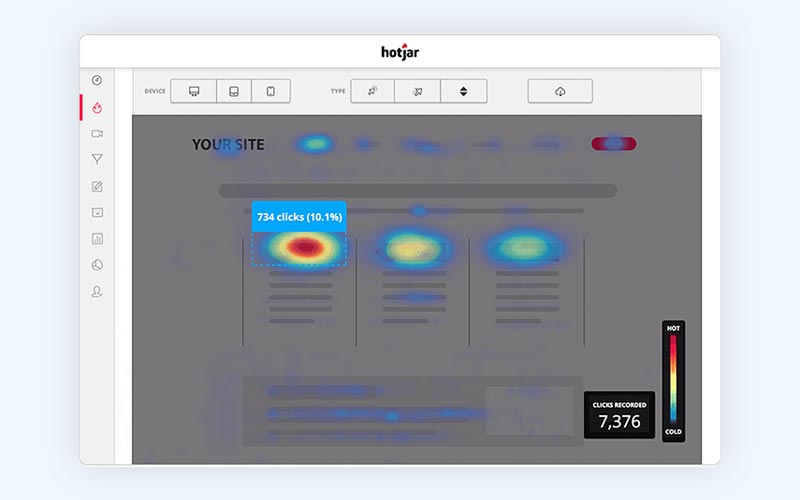 3. SEMrush - to increase website visibility
What good is a beautiful, user-friendly online store if customers don't find it? There are so many factors that determine the visibility of an online store, and only an SEO expert would even be aware of them.
Enter, SEMrush. SEMrush is an SEO assistant that helps e-merchants optimize their site and drive traffic.
With SEMrush, e-merchants can perform an audit on their site's meta-data, keyword frequency, backlinks, and many more factors. SEMrush then gives recommendations on how to solve any issues.
E-merchants can also use SEMrush to analyze competitor's SEO rankings, which keywords they use, and track their performance on a daily basis.
And it doesn't stop there. SEMrush doesn't only analyze websites, but also ads and marketing campaigns. E-merchants can ensure that all their messaging uses the right keywords to reach the ideal audience and make more conversions.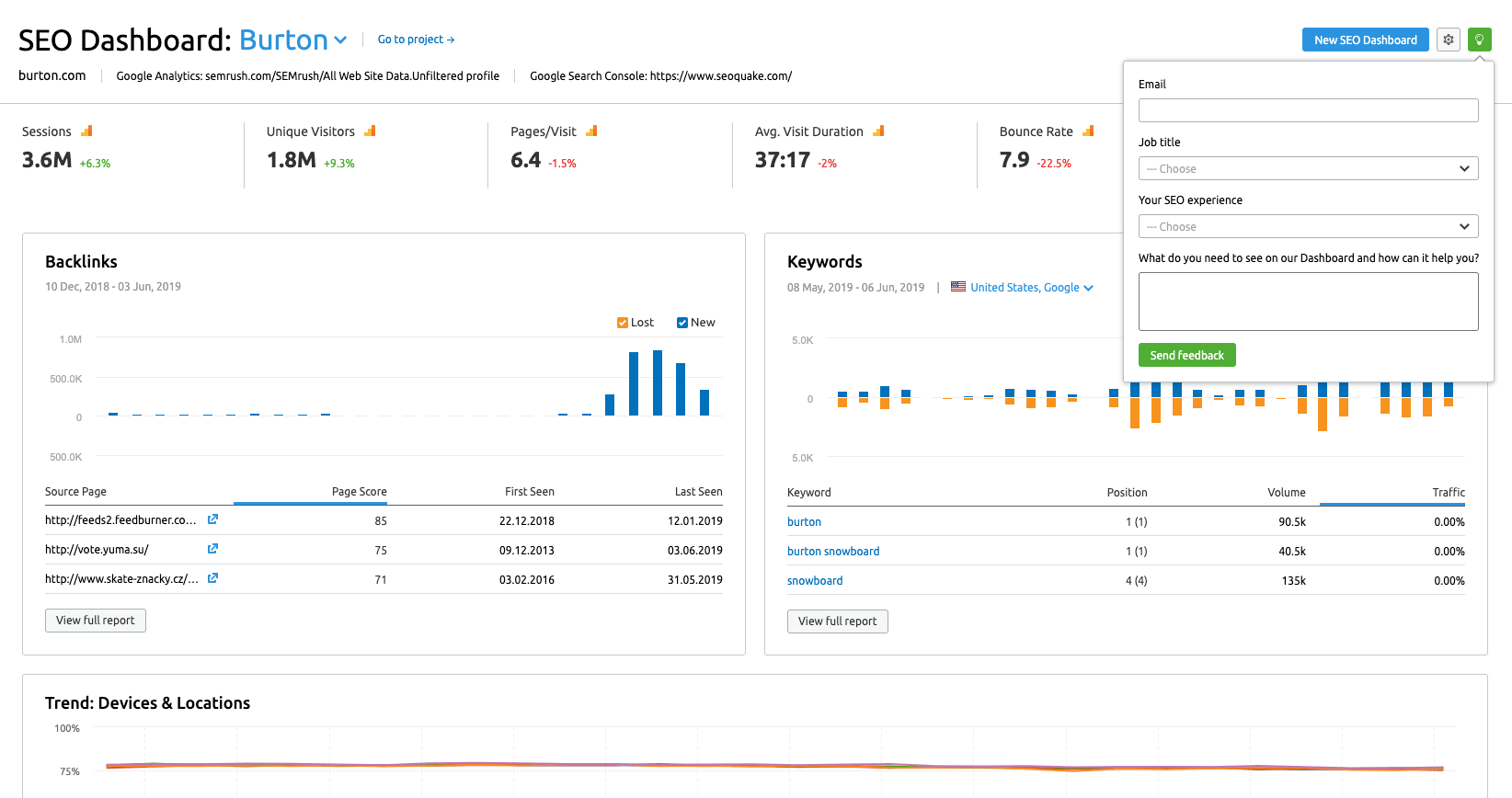 4. Google Ads - to place an e-commerce site front and center
What do customers do when they're looking for a product online? They 'Google' it.
By purchasing Google Ads, companies are effectively bidding for that top spot on a Google search page. While an ad is differentiated from the websites who appear organically, the fact that it appears at all (and so high up on the first page) is what really matters.
To put it simply: a pre-purchased Google ad will pop-up whenever a user is searching for a relevant product or brand. It's proven to be a very successful way to bring in leads.
When purchasing Google Ads, e-merchants are able to pre-define their monthly limit so they never go over budget, they can spend as much or as little as they please.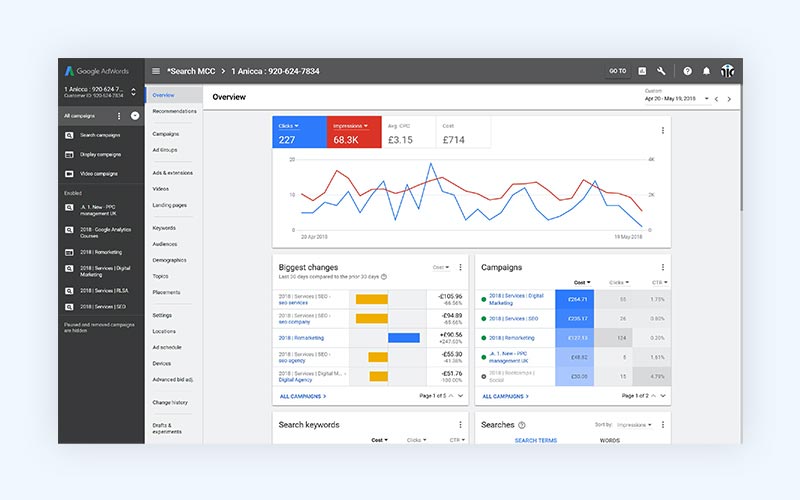 5. AdEspresso - to run social media campaigns
In 2020 alone, the world's internet users will spend a total of 1.25 billion years online. Social media accounts for over a third of that time. If a brand isn't visible across social media, chances are their ideal e-commerce customers will never find them.
Social media advertising platform AdEspresso helps e-commerce brands automate and optimize their social media campaigns across Facebook, Instagram, and Google.
Using one tool to manage accounts across the three biggest platforms is hugely beneficial for e-merchants, as it allows them to analyze and compare all campaigns together on one cohesive dashboard.
AdEspresso's automation goes further than just building and scheduling campaigns. They have an algorithm that analyzes the CPA of all ads within a campaign, then automatically pauses underperforming campaigns and re-allocates ad budget to the best performing campaigns.
No more money wasted on badly performing ads, no more time wasted jumping between different social media advertising platforms.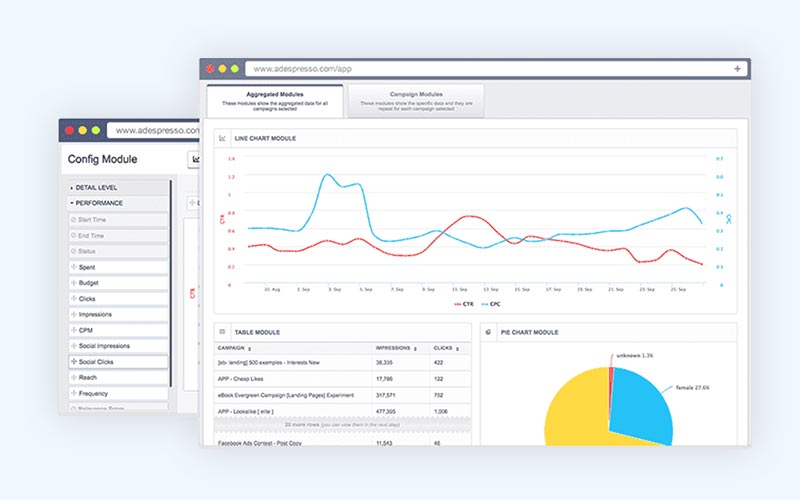 6. Buffer - to better understand e-commerce customers
Continuing with the social media theme, let's take a look at social media tracking app Buffer.
Buffer is a browser extension that e-merchants use to track customer behavior across social media sites. Using this information, brands can build an understanding of customers' likes and dislikes, their interest in specific topics, and their current wants and needs.
And it doesn't stop with analysis and behavioral tracking. E-merchants using Buffer can plan, collaborate with teammates, schedule, and publish content across Instagram, Facebook, Twitter, LinkedIn, and Pinterest (depending on your pricing plan). Then, view all upcoming content in the Buffer calendar and track the analytics of all channels on one simple dashboard.
Understanding the ever-changing interests of their customers is a must for any brand that wants to build a meaningful connection with their audience. For some e-merchants, social media is a world they know nothing about. Buffer makes planning and publishing meaningful social media content easy for everyone.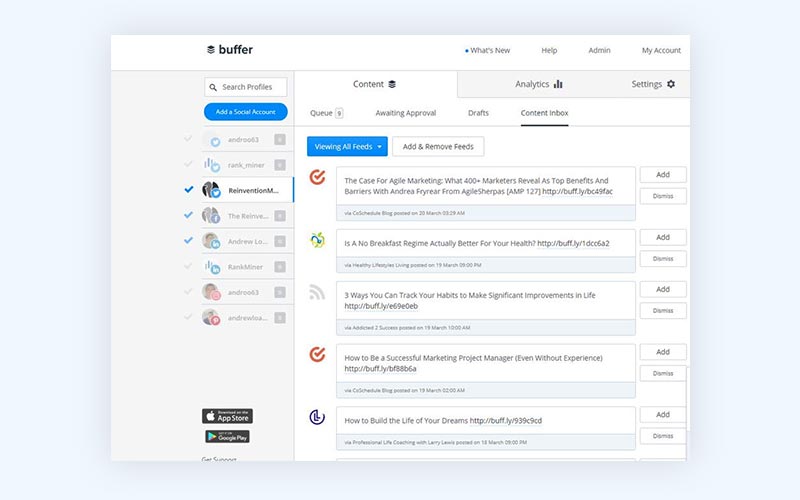 7. Feeds4 - to get your marketing content seen by the right audience
Content marketing for e-commerce is a tricky business. Even if an e-merchant picks the perfect topic, writes and designs first-class content, and displays it across all available platforms, there's still a high chance that it will go unnoticed.
Affiliate marketing is a great way for e-commerce businesses to get their content out there and seen by the right people (ie. potential customers). E-commerce marketing tools such as Feeds4 make affiliate marketing easy and accessible to everyone.
Feeds4 collects content directly from e-merchants, then distributes it to affiliate partners so that the right audience finds relevant content, every time.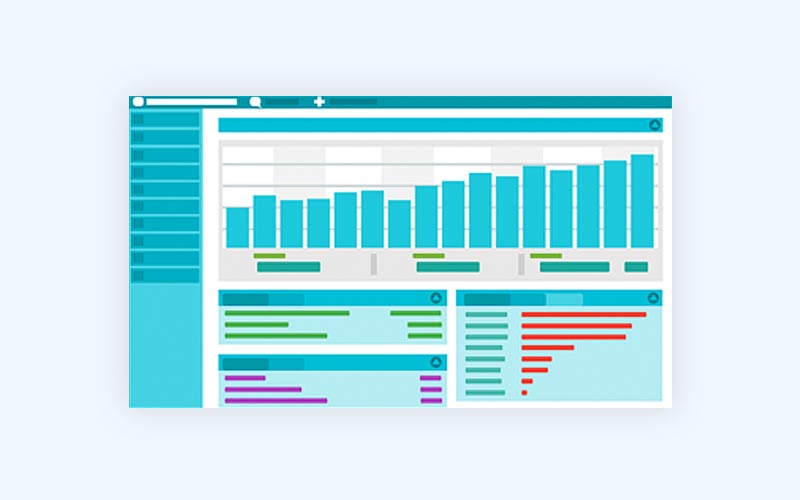 8. Omnistar - to promote a brand with affiliates and influencers
The power of social proof cannot be understated, particularly within the e-commerce industry.
More and more, potential customers are looking to their friends, fellow customers, or influencers' opinions on a brand before making a decision on what product to buy.
In fact, 65% of new business already comes from referrals, regardless of whether a brand has a referral program in place or not.
Omnistar is a referral marketing software that helps e-merchants recruit their loyal customers, affiliates, and influencers to promote their brand. E-merchants using Omnistar provide loyal customers with:
Pre-written posts and graphics about their brand that affiliates can share across their social networks at the click of a button
Promo-codes so that affiliates can pass on special discounts to everyone they refer
Plus they have a free survey tool e-merchants can post on their site to easily identify who their happiest and most loyal customers (ie, future promoters) are.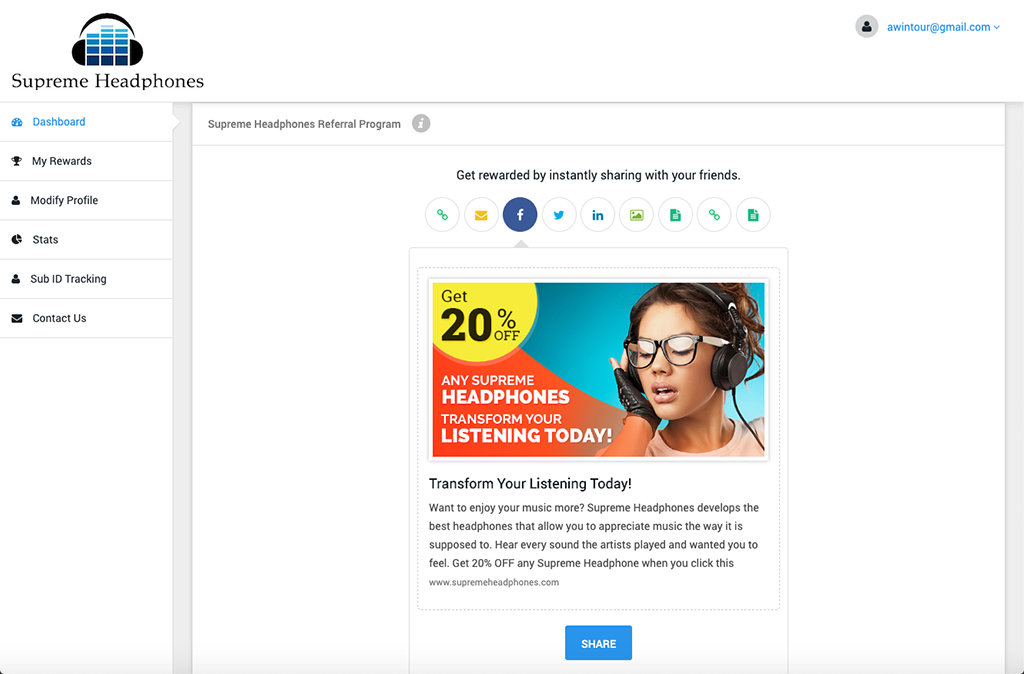 9. Smile.io - to turn loyal customers into brand ambassadors
Another tool e-merchants can use to encourage referrals from their most loyal customers is Smile.io.
Smile.io makes it easy to motivate a brands most loyal customer's with points and rewards every time they successfully refer a new customer. Using Smile.io, e-merchants turn their most loyal customers into their greatest marketing assets.
E-merchants using Smile.io's rewards system won't just bring in new customers, they will build lasting relationships with existing customers, turning them into passionate brand advocates who will stay loyal long-term.
Smile.io already has over 15,000 e-commerce stores using the software, and one-click integrations with BigCommerce and Shopify stores.
Smile.io is an easy way to bring in new customers and build lasting relationships with existing ones.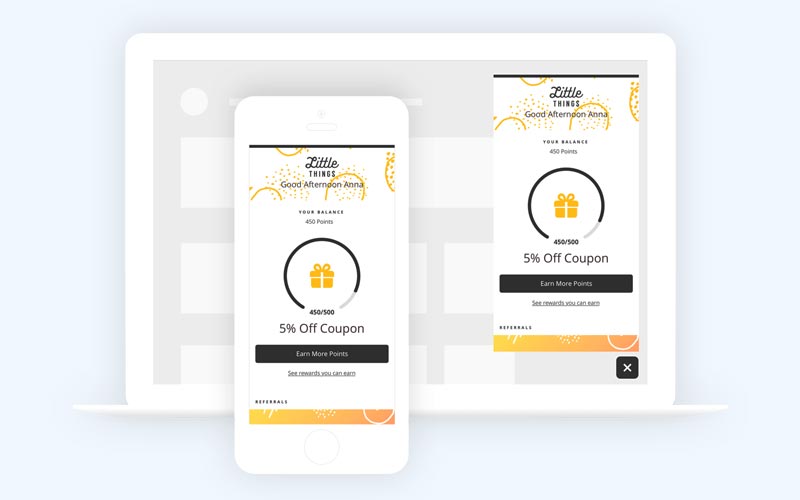 10. Carts Guru - to automate SMS, email, and FBM marketing
E-merchants looking for an all-in-one marketing automation tool need look no further than Carts Guru.
Carts Guru integrates with Prestashop, Shopify, Magento, and Woocommerce stores in one click. Then, e-merchants can combine SMS, email, and Facebook Messenger into one cohesive multi-channel marketing campaign to find customers where they respond best.
Grow e-commerce revenue with campaigns such as:
Abandoned cart campaigns - don't lose customers at the last hurdle. Automate a message to send the moment a customer leaves with tempting discount codes and links directly back to the cart.
Customer win-back campaigns - nurturing a customer you already have is so much more cost-effective than acquiring a new one. Remind old customers how great your products are and keep your brand top-of-mind.
Post-purchase campaigns - make relevant product recommendations at the right moment, automatically. Include direct links to complementary products or recently viewed items to increase revenue immediately.