Written By
Louise
On Apr, 21 2020
9 minute read
You're working all hours, putting your heart and soul into marketing your e-commerce business. Yet, you're not seeing the return on investment you dream of.
Now is the time to ask yourself: Am I doing something wrong?
The first thing you can do is check you're not making any of these common e-commerce marketing mistakes.
Let's go through the 10 most common mistakes that e-commerce merchants make, and how to fix them.
1. You don't know your customer well enough
It's often said that if you try to please everyone, you'll please no one.
Similarly, your e-commerce marketing efforts should be laser-focused on a very specific target customer.
Personalization is everything. When you know your customer you can speak their language, address their pain points and present your product as the solution.
Tailor your marketing to suit your ideal customer's tastes and behavior. If you have a few different customer personas, segment your marketing campaigns to cater to each.
How to learn more about your target customer:
Find out who's buying from you, who visits your site, and who abandoned their cart. Examine on-site behavior, click-through rates of ads, social media engagement and different channels and pathways that lead to sales.
Create a detailed customer persona by aggregating all your data into a very specific profile. Include lifestyle, behavior, values, interests, problems, goals and objections.
Create a customer journey map with our step-by-step guide to understand how people experience your e-commerce store.
Hang out with your ideal customers in Facebook groups, on Reddit, and over other social channels.
Find and read reviews of your products. Identify common questions and problems then work to solve them.
Talk to your customers! Design a short survey, asking them about their experiences with your brand and website.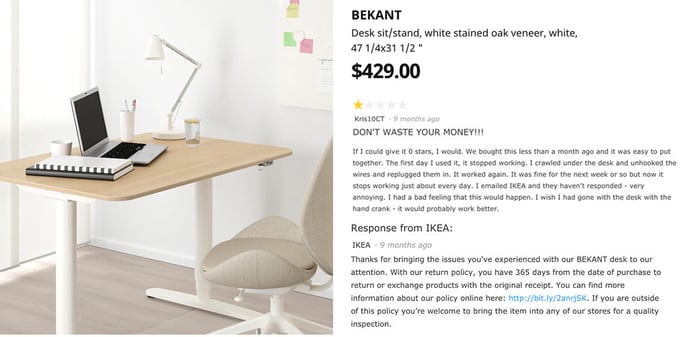 2. You haven't built a strong brand
Branding goes beyond visual aspects like color, design, and typography, though those things are all important.
We've said that e-commerce marketing success comes down to how well you can cater to your specific niche. Customers want to have a great experience with your brand and feel like part of a movement.
Your brand should reflect the same values and mindset as your target customer.
Think about an e-commerce store that sells eco-friendly makeup brushes. They aren't just selling beauty products - they are selling a value system and a lifestyle.
People also love to hear a good story. They want to know why you exist, why you care about what you do, and what change you want to make. In a saturated marketplace, this could become your unique selling point.
How can you make your e-commerce brand stand out?
Decide on a mission statement. Be clear about what you stand for and believe in.
Tell the story of your brand and the people behind it, make it relatable to your target audience.
Build a social community, engage with customers authentically and listen to their concerns.
Be consistent across all channels with logo, color palette, typography, and style.
Don't be afraid to express your personality and humor in your social posts, web copy and content.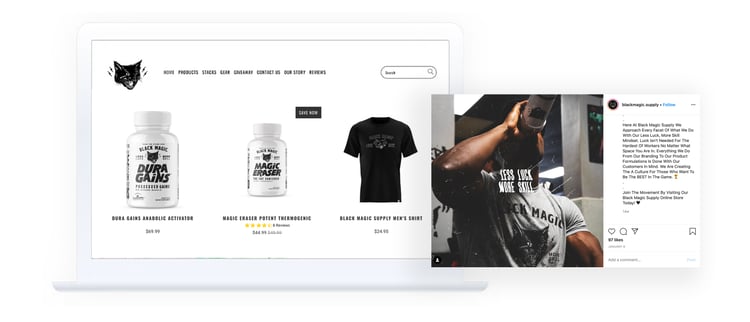 3. Your copy is weak (and not SEO-optimized)
How do you convert casual visitors into paying customers?
With powerful, persuasive copy.
In e-commerce marketing, every word must serve a purpose.
Customers don't have time to waste, so your ads, product descriptions, and web copy must describe products clearly, and show how they will benefit your customer.
Try following a formula like PAS: Problem, Agitate, Solution. First, paint a vivid picture of the problem. Then use emotional language to make it even more critical. Finally, you offer the solution - your product. If you can weave that into a story, even better.
Of course, your copy should also be SEO optimized to help you rank higher for relevant searches and attract quality traffic.
You don't have to be a super talented writer to produce good marketing copy.
Just remember the following tips:
Describe customer pain points in their words. Anticipate and overcome any objections they may have.
Avoid technical jargon.
Tell a story and play with their emotions using the PAS formula.
Make it all about them. The customer only cares about how your product will help them.
Create a sense of urgency. You can do this by offering a limited-time discount code and displaying a countdown timer. You can also notify visitors when many people are viewing an item, or it's running low on stock.
Use plenty of relevant keywords in product descriptions and website copy to boost your rankings.
4. You aren't mobile friendly
Mobile commerce, or MCommerce, is exploding. It's predicted to reach $2.91 trillion in 2020, a 25.4 percent increase from 2019.
As well as having a mobile-friendly site, expand your marketing efforts into mobile channels. E-commerce merchants using Carts Guru have an average open rate of 98% for text messages and a 15% click-through rate.
If you aren't optimizing your site for mobile and tablet and making use of mobile channels for e-commerce marketing, you will miss out on sales.
Here are a few quick ways to get more mobile-friendly:
Use Google's mobile-friendly website tester to see how your site measures up.
Increase loading speed - check your site speed with PageSpeed Insights.
Consider reducing image sizes and loading content above the fold first.
Make sure your site has responsive design. That means your site automatically updates for different devices.
Have a clear call to action and clutter-free, simple navigation suitable for smaller screens.
Set up SMS marketing. SMS can feel more direct and personal and help you stand out from the competition. We can help you get started.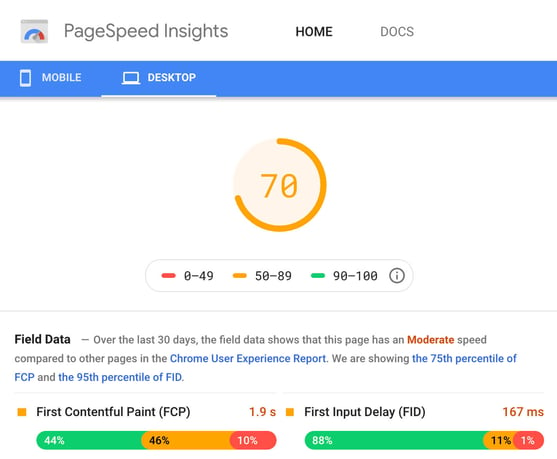 5. You aren't doing retargeting
There are many reasons an e-commerce customer might abandon their cart, and most have nothing to do with your product.
If your customer got distracted and left your site, it's up to you to do everything in your power to bring them back to your e-commerce store and finish the purchase.
The average click-through-rate for retargeting ads is 10x higher than regular display ads, and they cost, on average, 50% less than search ads.
Don't make the mistake of neglecting retargeting in your e-commerce marketing.
How can you create a successful retargeting campaign?
Focus most of your efforts on customers that show the most interest.
Personalization is key. Retargeting ads should be relevant to behavior, showing products viewed or added to a cart. Emails should include the customer's first name, and a message related to their actions.
Include actionable copy, a clear call to action, and a direct link back to their cart.
Get the timing right - don't let too much time pass and make sure your message doesn't arrive at unsociable hours.
Read our complete guide on retargeting and sign up for your Carts Guru free trial. We'll help you put together a highly effective retargeting campaign to increase your sales.

6. You're not running effective AB testing
Over time, marketing tactics that were once highly effective can become over-saturated and less impactful.
Therefore, as an e-commerce business owner, you should always be testing and optimizing your site to find out what works, and what you can improve.
Essentially, you test one variable on a web page by sending half of your traffic to the new one, and the other half to the original.
The goal is to find improvements that increase conversion rate on different actions, such as purchase, signing up or completing a survey.
Here are a few tips to remember when running an AB test:
Start with a hypothesis. For example, you might wonder if rewording the copy on your call to action will impact conversion.
Some things you can test: size, color, and wording of a call to action, adding images or a video, changing the navigation structure or route to checkout.
You must only change one thing at a time, otherwise, the experiment will not give a clear result.
Allow enough time to see results, but don't let the experiment run for too long.
Make sure you split your visitors evenly between two different pages.
7. You don't have a content strategy
Content marketing is one of the most budget-friendly ways to increase traffic and conversions.
Blogging is a great place to start. You can also create videos, and interactive content like quizzes to engage with your visitors.
Great content can boost traffic to your e-commerce site, show off your expertise, and create interest in your products.
It makes sense to create valuable content that helps your customers and positions your brand as an expert in the eyes of the customer.
It's important to remember which channels and types of content your customers enjoy and have a strategy.
Just follow these simple steps:
Look at your competition. Do keyword research to find out what your customers are searching for. Look for low competition, high volume keywords and try long-tail keywords.
Use your blog posts or videos to address real customer queries and problems, entertain and inform.
Offer value upfront. This will help you gain trust and establish yourselves as experts in your niche.
Cover topics that serve your customers' needs and solve their problems, making sure your focus is always on them.
Create high-quality content, consistently.
Repurpose and reuse your content. Written a great blog post? Don't forget to share on the right social media channels and promote it in your marketing emails.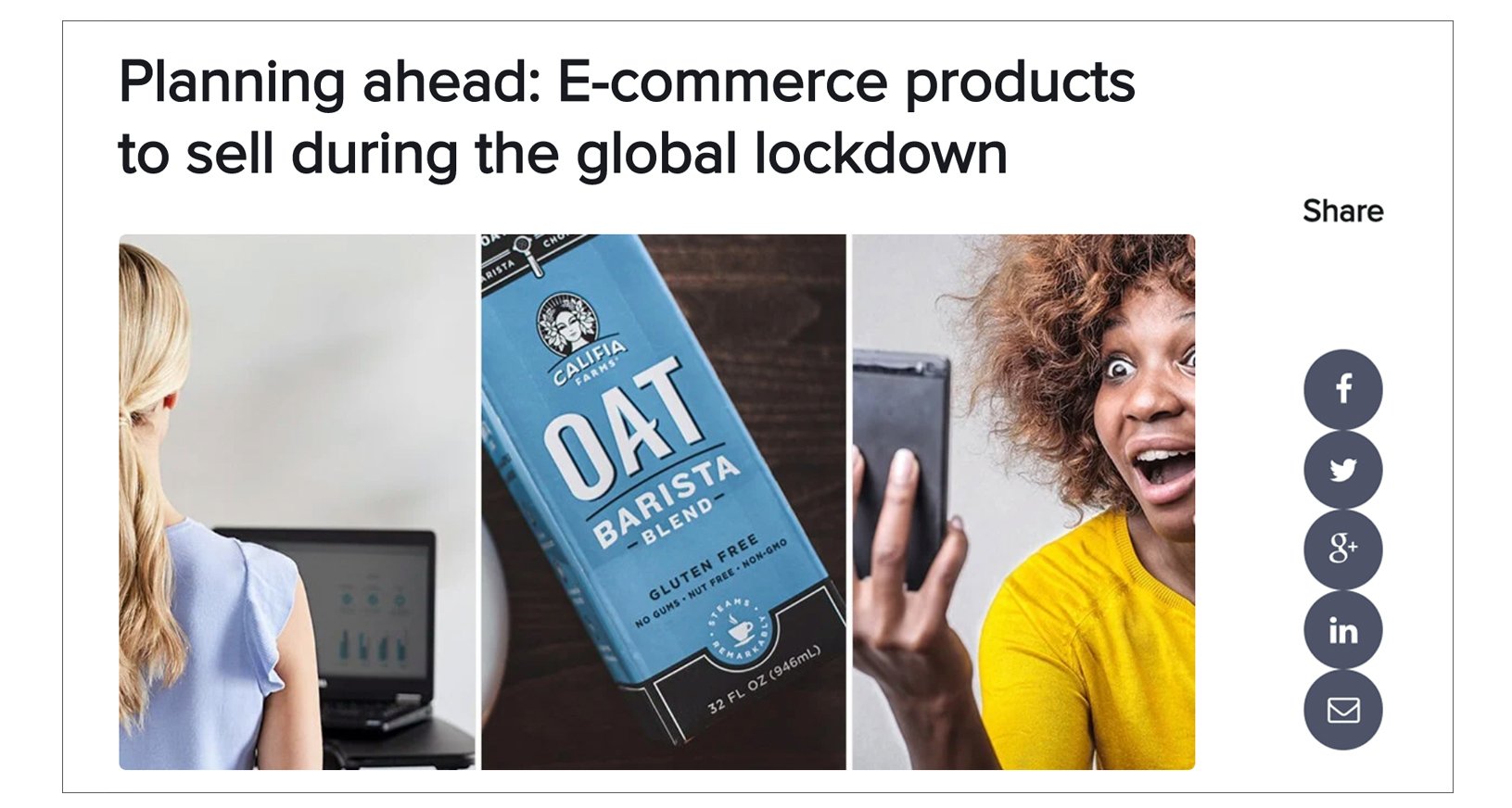 8. You aren't increasing AOV
Many e-commerce brands focus their marketing efforts on attracting new customers.
However, a quicker way to increase revenue is to boost your average order value.
Instead of relying on new traffic to increase your income, see if you can maximize your average order value and earn more revenue from each customer.
Here are a few ways to increase your average order value:
Offer incentives when a customer adds an item to the cart. This could be a discount with a minimum spend or free shipping with a minimum order amount.
Start a loyalty program. You can even give personalized offers based on past purchases.
Up-selling - nudge customers towards purchasing a more expensive product.
Cross-selling - recommend complementary products when customers get to the checkout.
Install a live chat feature so you can be present with customers while they shop and guide them through the buying process.
9. You aren't taking a multi-channel approach
Multi-channel marketing in e-commerce means meeting your customers across various channels, like mobile, email and social media.
Brands using a multi-channel approach can achieve a 300% increase in ROI compared to single or dual channels.
However, that doesn't mean you have to be everywhere. Focus on the most relevant channels for your brand, and the ones your customers use most.
Look back over your e-commerce customer journey. What channels are customers using at each stage in the journey, and for what purpose?
Here are a few tips to create a successful multi-channel campaign:
Choreograph campaigns to make sure they reach the right customer, at the right time, with the right message.
Customize your message to suit different channels. An email might be longer and more detailed, whereas a Facebook message might be short and informal.
Aim for consistency across all channels.
Constantly analyze which campaigns are working well and which are not.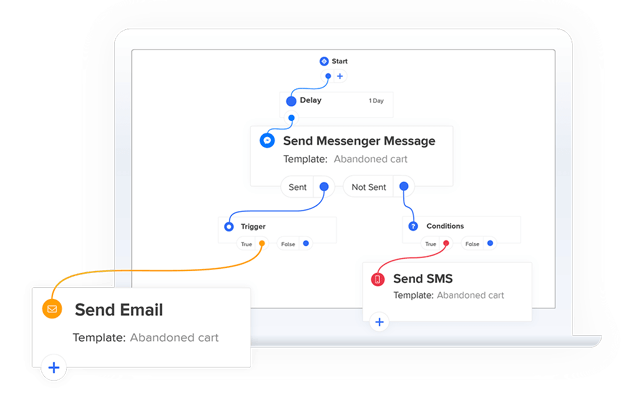 10. You aren't using marketing automation
It might sound overwhelming to keep on top of all your marketing efforts across multiple channels.
That's where marketing automation comes in.
Marketing automation allows you to schedule all your e-commerce multi-channel marketing efforts in advance. You can build automated campaigns, then send your e-commerce messaging based on timing activity triggers.
What's more, a marketing automation platform gives you access to a wealth of metrics about your business, so you can track the ROI and performance of email or SMS campaigns.
You can even segment your leads based on their activity, sending them through different marketing funnels that will work best for them.
If you want a complete marketing solution to maximize revenue, minimize your workload, and drive conversions, look no further than Carts Guru.