Written By
Louise
On Dec, 17 2019
6 minute read
Are you feeling the Christmas spirit yet? The holidays are just around the corner, Santa's elves are working overtime and, for e-commerce store owners, there's a lot of new business to compete for.
Returning clients are browsing for bargains and new visitors are searching for gift ideas. If you have a great selection of products and a solid digital marketing and email strategy, you can expect a surge in web traffic. So make sure your products are fully stocked, your website's optimized, and you're ready to snap up all this new business!
In this guide, we'll take a look at how you can increase your e-commerce sales and explore best practices for SMS and Facebook Messenger campaigns. We'll even throw in some Christmas promotion ideas too!
Christmas marketing best practices
If you've followed the advice in our recent article How to plan an effective e-commerce holiday marketing campaign, you will have already decided on a Christmas message, determined your discounts and set your marketing machine in motion. So now, let's take a closer look at the finer details you need to consider when planning your Christmas marketing strategy.
An e-commerce store fit for the ho-ho-holidays
Let's start with your online store, the most important part of a successful Christmas marketing campaign.
Above the fold
Above the fold is an old journalistic term that refers to the top section of a newspaper. It's where you find the headline and all the most important information. In internet terms, it refers to the top of each website landing page before you scroll down.
This section's job is to be eye-catching, relevant, and encourage your visitor to take action - and it's an important part of your Christmas marketing strategy. You will need to revisit this section and make sure it highlights your top offers, in your most popular categories. Ask yourself (and your team):
Is it eye-catching?
Is there a call to action?
Can people see all my top Christmas offers and products?

A Christmas menu
Depending on the size of your website, it may be worth adding a new section in the menu highlighting all the offers you have in store over Christmas. This will help people navigate to the deals and gifts section more easily and reduce friction when people are searching for a specific product.
Christmas time pressure
Time is a factor at Christmas. The last-minute rush to buy gifts can work to your advantage, as people are less likely to "come back later." Be sure to explicitly tell your clients the date they need to order by to get their presents delivered on time. For example:
"Order by December 14th to guarantee your delivery by Christmas!"
Unexpected Christmas gifts
Everyone likes getting presents. So what could be more fun than receiving a free gift from your favorite online store?
"Spin to win" wheels can be a nice addition to landing pages. Customers can click on these fun widgets and watch the wheel spin for a chance to win a free gift, discount, free-shipping or vouchers for future purchases. You can implement this on your website using Carts Guru's multichannel marketing automation platform.
See our article Re-engage unidentified visitors with our widgets for more!
Increasing AOV over Christmas
People love a bargain at Christmas. It's a great idea to introduce a free shipping option on orders over a certain amount or to offer a limited-time-only free shipping offer. These options not only encourage people to add more to their baskets but also reduce the number of people abandoning their carts when they see the final cost.
Christmas design work
While you shouldn't go too off-brand, don't be afraid to have some fun with your store design. You can add design details to your headers and footers (think snow and Christmas lights) and some brands even design special Christmas logos (with added tinsel or Santa hats).
Optimizing your Christmas email marketing campaigns
If you have a good-sized mailing list, it's important to invest some serious time and effort into your newsletter campaigns over Christmas.
Subject lines
Make sure these are sharp, to the point and have a good Christmassy message. Research shows you should aim for 41-characters or under for optimal results. Words like "sale", "%-off", or "deal" all work well to catch attention. Avoid using "free" as that can be caught in junk mail folders. Naming a best selling product in the subject line can also be a winner!
Using emojis
Christmas emojis are fun and help your emails stand out. Not all email clients support them, so we recommend putting them at the beginning or end of your subject lines. That way they won't cause formatting issues: 🎅 🎄💫 🎁 ❄️, etc.
Gift vouchers as a thank you
If your marketing budget allows, you can give customers time-limited discounts on future purchases as a thank you at Christmas time. Not only is it a nice gesture, it also encourages customers to come back and buy from you again!
Gift recommendations
Convenience is King at Christmas, which is why people are increasingly heading online to shop. If you can offer a one-stop-shop for your clients, you'll see a big uptick in orders. By recommending relevant gifts (for him, for her, for the kids) in your emails, you can encourage people to buy things they weren't even looking for! At the same time, you can recommend similar or complementary products, on the add to cart screen of your store.
Christmas email
Repeat customers are worth their weight in gold, frankincense and myrrh. Make sure you send out a Christmas email to re-engage your customers and get them excited for all your Christmas promotion ideas.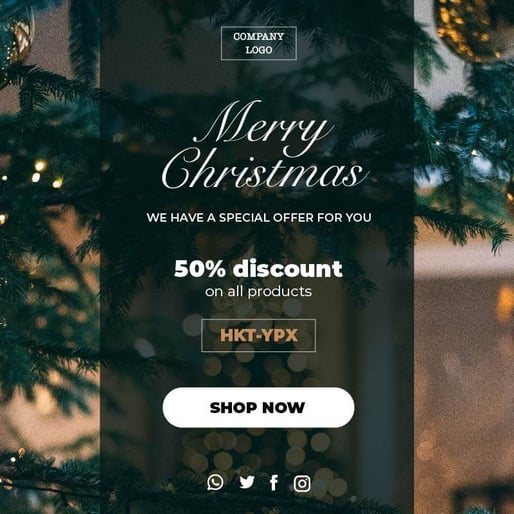 Delivering SMS at Christmas
Be personal
SMS is a direct, personal way to contact your clients. If you want to highlight a specific product, make sure you're offering something that is relevant to the recipient. You can do this by segmenting your customer database and only texting certain groups with the right offers.
Run a competition
It's a great time to create buzz and excitement around your brand, so why not offer your clients the chance to win something? For example:
"Text SANTA for a chance to win a special Christmas hamper worth $150!"
Wish them a happy holiday
While not all of your clients will celebrate Christmas, it's fine to wish them a happy holiday. It's a good way of staying top of mind when your customers are compiling their shopping lists. Just make sure you include a link to all your seasonal offers!
Have a clear call to action
Don't leave your clients in any doubt - make sure you include a link with a simple, easy-to-understand message, e.g.
"Click here for your free Christmas shipping offer!"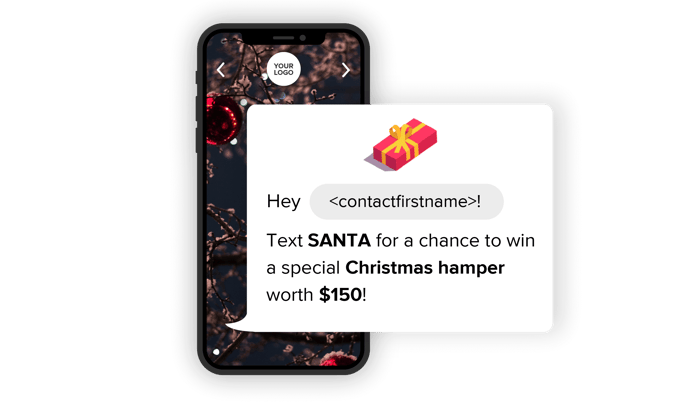 Bring a touch of Christmas to your Facebook Messenger marketing
Personal recommendations
If your clients have interacted with you on Facebook Messenger before, they know who you are. Don't be shy about sharing deals on their favorite products!
Make sure you re-market on messenger
If people have been window-shopping, launch some re-targeting campaigns on Facebook Messenger. You'll drive repeat traffic to your store and increase your chances of getting those conversions. You can see more about this in our blog: How to Jumpstart Your Facebook Messenger Remarketing.
Give customers options
Give people a selection of your online store categories. Tell them about all your Christmas deals and discounts - this will give them a great reason to click-through and visit your store!
Use click-to-messenger ads
Got a great campaign you want to inform your clients about? Click-to-messenger ads are an effective way to help prospects get from their newsfeed to your messenger. There you can show them your selection of Christmas offers and packages.
Have customer support on hand
People like to talk to humans online too, so make sure you have a good customer support team ready to help with any queries during the holidays. This is when you're most likely to receive questions from potential customers.
Of course, you can set up your Facebook marketing campaigns using our own multichannel marketing automation platform.
If you haven't already, we recommend checking out our post How to plan an effective e-commerce holiday marketing campaign, to help build your overall holiday marketing strategy.
Finally, here's a little gift for you - don't miss out on Facebook's own Holiday marketing guide for 2019!