Written By
Louise
On Sep, 1 2020
10 minute read
Black Friday 2020 is set to be the most lucrative yet for e-merchants, with the global lockdowns prompting brick-and-mortar bargain hunters to move online. This presents a massive opportunity that ecommerce businesses can not waste.
Black Friday weekend is the perfect occasion to boost sales, clear out old stock, acquire new customers, and re-engage old ones. To achieve this, e-merchants need to stand out from the intense competition, which is where a Black Friday marketing campaign comes in.
A solid Black Friday marketing strategy will boost an e-commerce store's visibility and place it ahead of rivals during this all-important shopping weekend. Developing such a strategy takes significant time and effort, so e-merchants need to plan and schedule marketing strategies well in advance.
In this guide, ecommerce marketers will find the essentials needed to launch a successful Black Friday marketing campaign.
Important Black Friday e-commerce statistics
Black Friday ecommerce sales records are continuously broken, year after year. Understanding the key statistics from the past few years will help e-merchants plan an expert Black Friday marketing strategy.
In 2019, online Black Friday sales increased by 19.6%, reaching a massive $7.4 billion and surpassing in-store purchases.
Black Friday also topped Cyber Monday as the busiest day for online shopping, with an estimated 93.2 million online shoppers on Black Friday, compared to 83.3 million on Cyber Monday.
Although there were fewer individual shoppers than Black Friday, Cyber Monday still brought in more revenue, making a whopping $9.2 billion, up 16.9% from 2018.
In the final hour of the Black Friday sales in the US, online shoppers spent an estimated $11 million per minute.
When building a multi-channel Black Friday marketing campaign e-merchants need to pay particular attention to the past success of each messaging channel.
A key figure to take note of is that last year 58% of all Black Friday traffic came from smartphones, up 7% from 2018. On top of this, 75% of consumers used their mobile devices to research products, compare products, or make a purchase.
However, people are still more likely to purchase on a computer, with 36% of purchases made on a mobile, compared to 59% on desktop. These desktop purchases were often driven by email marketing, with 39% of consumers regularly checking emails from e-merchants for deals and promotions.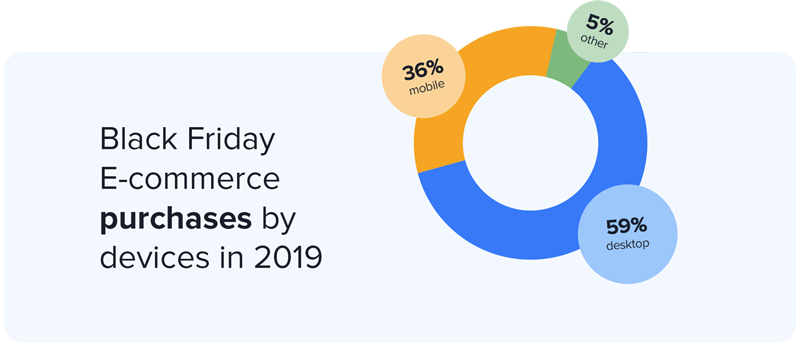 Black Friday marketing ideas to stand out from the competition
Preparing a successful Black Friday e-commerce strategy takes a lot of work, but there's no need to feel overwhelmed. Follow these helpful tips to create a first-class Black Friday marketing campaign, then on November 27th just sit back and watch the profits roll in.
Get organized early with a Black Friday marketing content calendar
Planning is key for a successful Black Friday marketing campaign. Some customers start considering their purchases weeks beforehand, so e-merchants need to have campaigns up and running well in advance.
A successful Black Friday marketing campaign utilizes various channels to send numerous messages that reach customers on the medium they respond with best. Such a complex campaign takes time and effort to produce, particularly for e-merchants not using a marketing automation platform.
E-merchants using a marketing automation platform can create and schedule automated email, SMS, and Funnel campaigns to get customers excited about upcoming deals. Accompany these messages with a link to a landing page with more information. This way, consumers can start to think about what they want to purchase on the big day.
A marketing content calendar is a great way for e-merchants who aren't using a marketing automation platform to organize their Black Friday marketing ideas.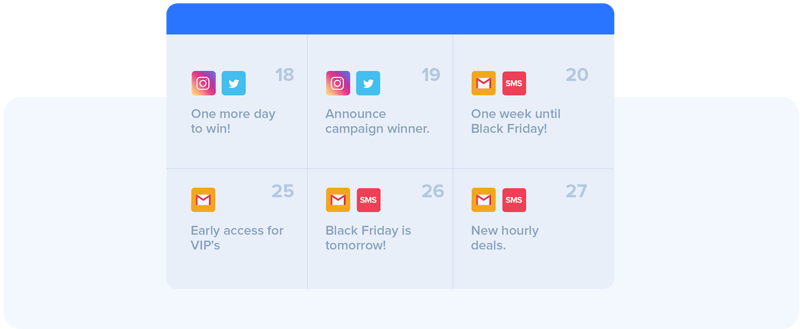 To stand out from the competition, a Black Friday marketing campaign needs to begin at least a month in advance, regularly message customers throughout the weeks leading up to Thanksgiving weekend, then hit hardest on Black Friday and Cyber Monday. That's a lot of messages to create, schedule, and send, so now's the time to get prepared.
Get customers excited with a calendar event
Calendar events can also be a great way to get customers excited about upcoming sales. Within a marketing email, give customers the option to add your Black Friday sale to their personal calendar.
A calendar event will notify customers when the sale starts, then remind them about it every time they check their calendar. Add a direct link to the website's sale section for a streamlined experience from marketing to buying.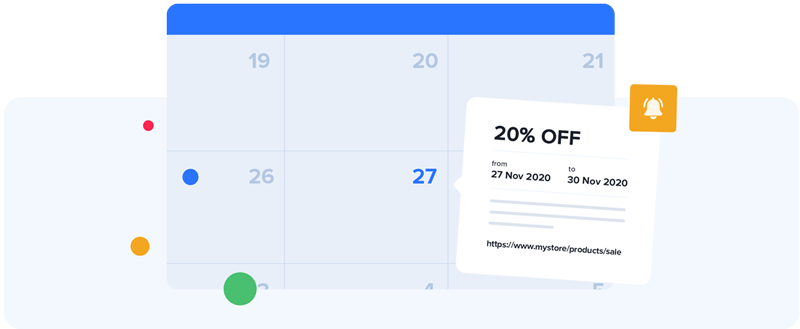 Reach the largest audience possible with a pre-built contact list
There's no point creating an outstanding Black Friday marketing campaign if no one's going to see it. Use the months leading up to Thanksgiving weekend to build a contact list full of existing, old, and potential new customers.
On-site widgets and pop-up forms are a great way to obtain customer opt-ins and grow a contact list. Widgets pop-up when visitors are on specific pages of a website and ask for contact information with a message such as 'Want exclusive first-access to our upcoming Black Friday sales? Sign up here and get the offers before anyone else'
Such widgets are most successful when they offer the visitor something in return for their contact information, so incorporate a discount or free shipping into your contact acquisition strategy.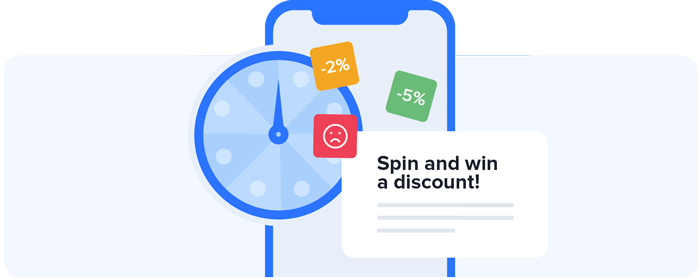 The holiday season is a great time to win-back lost customers, so be sure to include any inactive subscribers in your Black Friday contact list and re-engage them with deals and discounts.
Personalize Black Friday marketing campaigns with customer segments
Savvy e-commerce marketers don't look at their audience as a homogenous entity. They know that speaking to all their customers in the exact same way isn't as effective as creating targeted campaigns.
During the preparation for Black Friday, it's more important than ever to leverage the power of customer segmentation. Different groups have different holiday shopping preferences, habits, and budgets. They are interested in different types of products and respond differently to marketing content and CTAs.
Some click email links, others are more likely to engage via SMS. Millennials, in particular, rely heavily on social media: 17% of shoppers aged 25-34 say that they use Instagram to look for information.
Segmenting customers allows e-merchants to speak to specific groups in a way that resonates with them, on the channels that they like to use. Effective segmentation goes far beyond geographic and demographic factors. Dig deep into the data and use behavioral (based on purchase history and spending habits) and psychographic (based on values, interests, lifestyle, and other traits) segmentation, too.
Capture customers' interest early with Black Friday sneak-peeks
Black Friday sales can be overwhelming for customers, especially those who have no idea what they want to buy. Sneak-peaks are a great way to get customers excited about upcoming sales and help them pre-plan what to purchase before the Black Friday sales begin.
Show customers a small selection of the most in-demand products about to go on sale, and let them know how many are available to instill a sense of urgency. Include direct links to these products to streamline the purchasing process and help customers grab items before they sell out.
Use this messaging to let customers know exactly what time these products will go on sale, and provide a calendar link mentioned above to automatically alert customers the moment the sale begins.
Grab customer's attention with unique subject lines
Come Black Friday, customer inboxes will be overflowing with sales emails, SMS, and Funnels. Chances are, customers won't even open most of these messages, so e-merchants need to do everything in their power to get their content read.
Stand out from the crowd with an attention-grabbing subject line that goes beyond a simple promise of bulk savings. Mention a surprise gift or unknown reward in the subject line to pique customers' interest.
A randomized discount code is an excellent way to achieve this sense of intrigue. Create random discount codes valued between $1 and $100 and only show customers how much their individual discount is worth when they use the code at checkout. If customers want to know what they've won, they have to find a product they like and place it in their cart.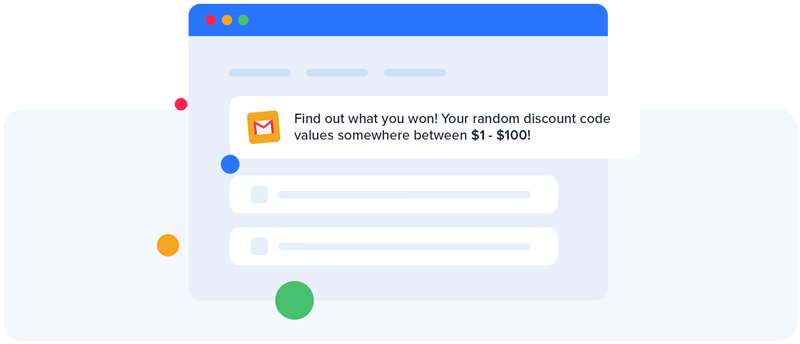 Another way to grab attention through a subject line is with shock-value. Shorts company Chubbies nailed this concept in their 2018 'Black Friday is canceled' campaign.
Chubbies sent a Black Friday email with the subject line "Black Friday is canceled". The content of the email was a message from Chubbies's email marketer explaining, in a personal tone, that Black Friday is canceled for him because his boss made him go to work.
In such a competitive moment, surprising and inventive subject lines could mean the difference between drowning in a sea of Black Friday emails or getting an open that could result in a sale. Be creative and draw customers in with something interesting.
Instill a sense of urgency with limited-time offers
Be strategic with the timing of deals and discount codes. Many e-merchants offer discounts throughout the whole long weekend from Thanksgiving to Cyber Monday. But wouldn't it create more urgency and encourage shoppers to make quicker decisions if they receive different deals every hour?
In the days leading up to Black Friday, send customers an email with a timetable of hourly deals on offer. Then, on Black Friday, send an email every few hours alerting customers to the current flash sales. This gives e-merchants multiple chances to catch the customer's attention and is a good excuse to send several emails throughout the day.
Thank loyal customers with a VIP Black Friday campaign
Repeat customers are an invaluable asset for e-merchants and are the only way to attain stable, long-term e-commerce growth. Thank these VIP customers for their loyalty and reward them with special discounts and deals throughout Black Friday weekend.
Offer VIP customers exclusive early access to the Black Friday sale, a special discount code to amplify the savings or a festive gift to accompany their purchase.
A separate VIP Black Friday marketing campaign is the perfect opportunity to show appreciation to these high-value customers and boost Black Friday profits simultaneously.
Showcase cheap products to draw customers in, then upsell
Black Friday customers are after one thing, value. Now's not the time to showcase the most exclusive products or exciting new items, it's the time to show customers the biggest savings.
Build Black Friday marketing campaigns around items with either a high percentage off or valued under a certain amount to help customers find the savings they're after.
This is not to say that e-merchants should only try and sell heavily discounted products. Once a customer has identified a product they like or has made a purchase, make the switch to 'upselling mode'.
If a customer has shown interest in one specific product, tempt them with images of similar but more exclusive products at a higher price point.
When a customer buys a sale item, follow up with a post-purchase campaign. Use this campaign to recommend more expensive products that will perfectly complement the item the customer just bought, with a small discount to tempt them into a repeat purchase.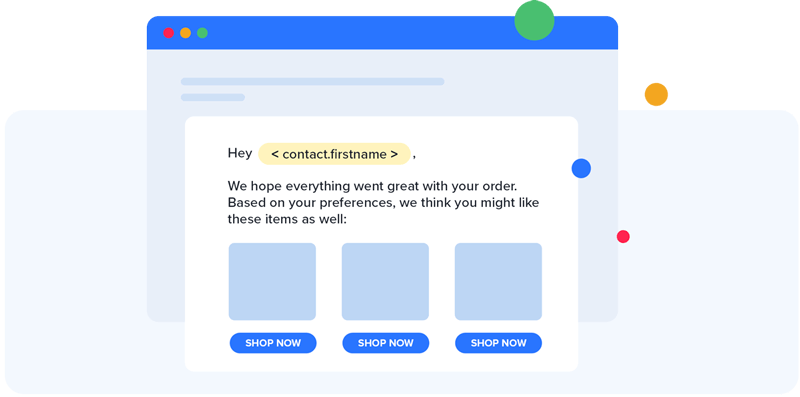 Secure more conversions with free shipping
One of the primary causes of cart abandonment is surprise shipping costs at check-out. This is particularly relevant during Black Friday weekend when the competition is so tough. Brands who offer free shipping and returns mitigate this issue and drive conversions.
If incurring all shipping costs is too big an ask, set a threshold and only offer free shipping above a certain order value. A free-shipping threshold is a great way to avoid paying for shipping on cheaper items while encouraging customers to spend more per-purchase and increasing AOV.
Engage customers with a social media competition
Don't treat customers as a passive audience, give them an active role. Organizing a social media competition can earn e-merchants free promotion, develop brand loyalty, and secure ever-valuable social-proof.
For example, brands can challenge their social media audience to come up with a slogan for the Black Friday campaign, or share a joke related to the holiday shopping season. Then, reward the winners with exclusive discounts, gift cards, or freebies.
A truly original Black Friday social media campaign could even go viral. In 2014, Kohl's hosted a Black Friday trivia contest on Twitter and managed to drive 64% of all brand mentions on the platform.
Beauty company Kopari launched another great example of a Black Friday social media campaign in 2017. Kopari had influencers include its products in their "holiday must-haves" list and reshared their content on the company Instagram page as a part of its Black Friday campaign.
Not only does a social media strategy such as this widen a brand's reach on social media, but it also provides brands with free content to post throughout Black Friday weekend.
Optimize campaigns for mobile shoppers
As mentioned earlier in the article, mobile is rapidly becoming the most used shopping medium on Black Friday weekend. E-merchants need to spend just as much time designing Black Friday marketing content for mobile as they do for desktop.
E-merchants need to optimize their website for mobile, ensure that any email campaigns will look just as good when viewed on a mobile device, and send SMS messages as part of a multi-channel marketing strategy.
The distribution of coupons and discount codes accounts for a large part of Black Friday marketing. Customers open and use discount codes sent via SMS 10x more than discount codes sent across any other marketing medium, making SMS a vital component to any successful Black Friday campaign.

Transition from a Black Friday campaign to a Cyber Monday campaign
The end of Black Friday is not the time to relax marketing efforts, far from it. There is only a two-day break before another huge shopping day, Cyber Monday. These two marketing campaigns need to flow harmoniously one into the other.
One way to achieve this is to extend savings and deals all weekend long and tackle the 4 day period with one campaign. This will give customers the opportunity to consider an item for a couple of days, then return to make a purchase on Cyber Monday.
Brands can also offer different deals and discounts on each day to keep customers engaged and coming back day after day.
Implement these Black Friday marketing ideas in your e-commerce strategy today to reap the rewards of this lucrative shopping weekend.