Written By
Louise
On Nov, 7 2019
7 minute read
It's hard to comprehend how much time and effort goes into building and executing a successful ecommerce marketing strategy.
Many marketers find the creative aspects of the role attractive, then find themselves bogged down in analytics, reports, list building, segmentation, and so on. These mundane tasks are essential for ecommerce growth, but they eat up a lot of time, which is where ecommerce marketing automation platforms come in.
Marketers who make use of ecommerce marketing automation tools and platforms have more freedom and energy to spend on strategic and creative tasks, which ultimately result in higher job satisfaction.
Marketing automation tools also benefit e-merchants directly. 80% of companies using automated marketing solutions increase leads, and 77% increase conversions, according to VB insights.
Ready to get started with ecommerce marketing automation? Here are 10 powerful benefits of marketing automation for both ecommerce brands and marketers.
1. Send personally relevant messages with customer segmentation
Customers are far more than just a list of names in a CRM. They are people with tastes, objectives, hobbies, problems - and the more e-merchants know about them, the better their results will be. Static lists with thousands of customers are fine for certain campaign types, but they don't help you get into granular details. One key benefit of marketing automation is that it allows e-merchants to tailor messaging based on things such as:
Time since last purchase
Total money spent on site
Past-purchasing history
Discount code usage
Average purchase amount
Engagement with past marketing messages
By building dynamic lists based on specific client characteristics, then targeting online marketing to particular customer groups, e-merchants can significantly increase conversion rates. Companies that segment their clients see around 89% increase in sales and around 58% increase in average order value.
Manually achieving this in-depth level of segmentation would require hundreds of hours scouring through each customer's purchase history. E-commerce marketing automation platforms can identify and automatically characterize customers based on relevant criteria, leaving marketers to do more meaningful strategic work.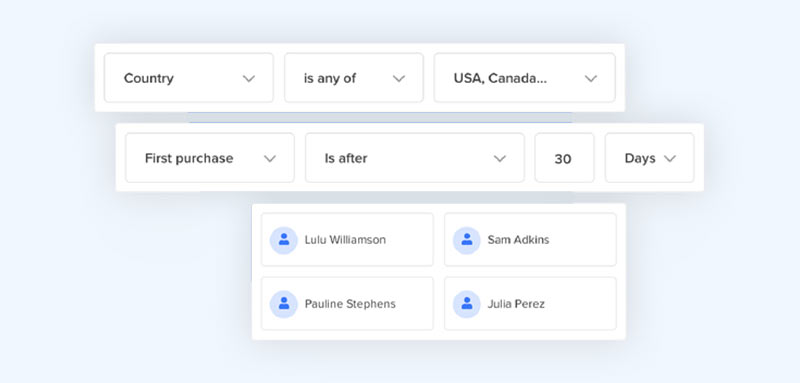 2. React to customer behavior with triggered campaigns
One of the biggest time-savers for e-merchants, and therefore one of the most important benefits of marketing automation, is reactive campaigns. Create marketing messages for recurring ecommerce situations, then sit back and relax as the campaign begins automatically in response to the action of a customer.
There are two primary types of such dynamic campaigns; action trigger campaigns and list trigger campaigns.
Action trigger campaigns begin when a visitor performs an action on an e-commerce site, such as placing an order. The marketing automation tool will then send a pre-designed order confirmation campaign, thanking the customer for their purchase, providing a reference number, and offering information about shipping and tracking.
List trigger campaigns begin when a contact joins a specific list within the marketing automation platform. Let's say an e-merchant created a VIP customer list of all customers who have made over 7 purchases in total. Once a customer confirms that 7th purchase, they will automatically join the VIP list and receive a campaign welcoming them to the VIP program, offering exclusive deals and discounts to use on future purchases.
Sending ecommerce campaigns automatically not only saves marketers time and effort; it also removes the chance of human error and ensures that every customer receives the right message at the right time.
3. Retain customers long term with automated nurturing
Nurturing existing customers is essential to any e-merchant looking for stable, long-term growth. In fact, acquiring a new customer costs 5x more than retaining a current one. On top of that, the success rate of selling to an existing customer is between 60-70%, while the success rate of selling to a new customer is only 5-20%.
Customer retention is essential, but all too often, e-merchants spend their effort solely on customer acquisition. This is where an ecommerce marketing automation tool is invaluable. E-merchants can create nurturing campaigns, meaning every couple of weeks existing customers automatically receive informative content to keep them engaged.
Such content could include company newsletters, upcoming sales information, new product releases, or even more general content about the people behind the brand of the production process, anything to keep a brand front-of-mind.
4. Chase every lead with abandoned cart and browse abandonment campaigns
Responding to time-sensitive situations as they happen is another significant benefit of marketing automation. E-merchants can rest assured knowing that a marketing automation software will pursue and attempt to convert every potential customer that visits their site.
When a visitor leaves an online store without making a purchase they may be browsing for similar products on competitors' sites, so e-merchants need to reach out as soon as possible.
If a visitor places items in their cart before leaving the site, a marketing automation software will enroll them in an abandoned cart campaign. An abandoned cart campaign reminds the visitor of the product they almost bought, recommends similar or complementary items, and perhaps offer free shipping or a small discount to incentivize the purchase.
If the visitor didn't identify a specific product that interested them, enroll them in a browse abandonment campaign. Without personalized products to recommend, a browse abandonment campaign is an opportunity for e-merchants to showcase their most popular products.
5. Re-engage existing customers with win-back campaigns
Similar to a nurturing campaign, a win-back campaign works to keep existing customers engaged. A marketing automation platform is essential for win-back campaigns, as e-merchants can schedule a win-back campaign to launch whenever a set amount of time has passed since the customer's last purchase.
A successful win-back campaign includes friendly content, exciting new product releases, and an exclusive discount code to encourage the lost customer to make a purchase. Re-engaging lost customers is essential for e-commerce success, and an automated win-back campaign is a simple and effective way to make it happen.

6. Boost profits fast with automated discount codes
Free shipping and percentage off discount codes are another high-performance tactic for e-commerce marketers and entrepreneurs and there are plenty of ways to use them to your advantage:
Seasonal discounts - encourage customer loyalty with timely sale codes
Free shipping with a minimum purchase - convince customers to spend more to save on shipping
Abandoned cart discounts - bring clients back to your store to complete their purchase
Boost your analytics - track the effectiveness of your marketing campaigns with unique coupon codes
While it is possible to create coupons for users manually, a time-saving benefit of marketing automation is that e-merchants can easily create, distribute, and track the success of these codes in one place. This frees up marketers to focus on discount strategy rather than the details of creating the coupons themselves.
7. Make data-driven decisions with e-commerce analytics
Google Analytics is undeniably a powerful, fully comprehensive platform, but it is also time-consuming to learn and can be hard to navigate. Sometimes, e-commerce marketers just need to see simple, relevant statistics, like return on ad spend (ROAS), average order value (AOV), click-through rate (CTR) or conversion rate (CVR).
An e-commerce marketing automation platform with a fully automated, in-built e-commerce analytics system, can help marketers generate reports. Look into how well campaigns are doing, which channels are working best, and what customers are engaging with, and use this information to make data-driven decisions.
There are different benefits of marketing automation for e-merchants and marketers. E-commerce entrepreneurs can use marketing automation platforms to increase the bottom line and marketers can use them to improve efficiency and productivity.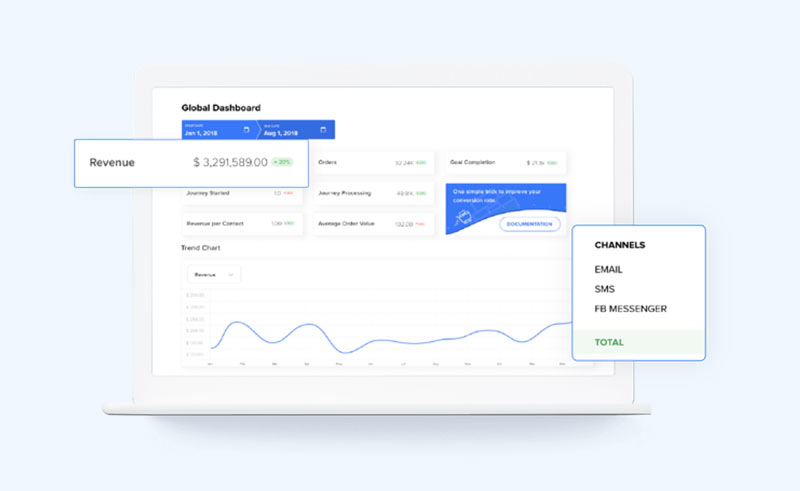 8. Automatically collect customer reviews and feedback
Getting customer feedback - good or bad - is often part of a marketer's day-to-day. It informs on everything from product quality to customer service and is invaluable when it comes to optimizing services, R and D, online usability, and more.
When an e-commerce store scales, it soon becomes impossible to manually send out feedback requests, manage feedback forms, and ask for reviews.
An e-commerce marketing automation software handles this entire process. Using a range of methods to collect client data and feedback, marketers can focus on analyzing the results, improving the user experience, and growing the company.
9. Abide by global regulations with automated opt-ins
Marketers have had to adapt significantly since the GDPR legislation rolled out in Europe in 2018. There was a huge scramble to make sure websites were compliant, mailing lists had double-opt-ins and everything was up-to-date and securely stored online.
Unfortunately, the big GDPR push was just the beginning; it's an ongoing and time-consuming process. While data protection house-keeping is important, marketers don't want to focus on it all day, every day.
E-commerce marketing automation platforms help brands ensure they are compliant with global regulations. Any quality automation software will not send marketing messages to customers without first obtaining an opt-in, taking one time-consuming and stressful task out of the hands of marketers.
10. Automate widgets to collect customer information
The first step in any e-commerce marketing campaign is obtaining customer contact information and an opt-in to receive marketing messages. While e-merchants can collect such information manually, it's undeniably easier to automate the process.
The ability to create personalized forms and widgets and input them directly into an e-commerce website through the same software used for marketing is another significant benefit of marketing automation.
Widgets include a variety of unobtrusive pop-ups, wheels of fortune (spin for a discount!), fly outs, and more to grab customers' email addresses, SMS, or Facebook Messenger opt-ins.
You can read more about re-engaging your customers using our widgets here.
The benefits of marketing automation software are undeniable. Whether your goal is to understand your site visitors better, build lists, analyze your marketing efforts, or re-engage your customers, using a marketing automation platform means e-merchants and marketers don't get bogged down in the details.
When you automate your digital marketing workflow, you become more data-driven, win back time, and increase your leads.