Written By
Louise
On Feb, 20 2020
8 minute read
E-merchants and marketers all over the world are in agreement on one key point: automated marketing campaigns are the best way to achieve fast, sustainable e-commerce growth.
For any e-merchants yet to automate their e-commerce marketing campaigns, the time to start is now, and we're here to help. In this article, we run through the top 7 marketing automation campaigns for ecommerce growth.
Have a read, get inspired, and launch some high ROI campaigns of your own.
What are the benefits of automated marketing campaigns?
Marketing automation software has become a global phenomenon over the past few years, particularly in the ecommerce industry. Of a group of e-commerce marketers surveyed last year, 55% already used a marketing automation platform, and another 25% planned to use the software in 2020.
E-merchants use marketing automation software to respond to customers' actions the moment they happen. No missed leads, no missed opportunities to make a sale, e-merchants can automatically reach website visitors at the moment they're closest to converting and get them across the line.
Messages sent through marketing automation software aren't just timely, they're personalized and relevant to each individual contact. Remind potential customers of a specific item they almost bought, entice existing customers with products that would complement a recent purchase, or check in on a customer who hasn't made a purchase in a while.
What triggers an automated marketing campaign?
With marketing automation software, e-merchants can create numerous campaigns for different purposes, each of which begin when a different event occurs.
Time triggers are for marketing campaigns that begin at a scheduled time. A good example of this would be a Black Friday sales campaign that an e-merchant wants to send to their entire contact base on the same day.
Action triggered campaigns begin when an individual customer performs a set action. For example, when a customer finalizes a purchase, an e-merchant can automatically send an order confirmation email with a rundown of their purchases and shipping information.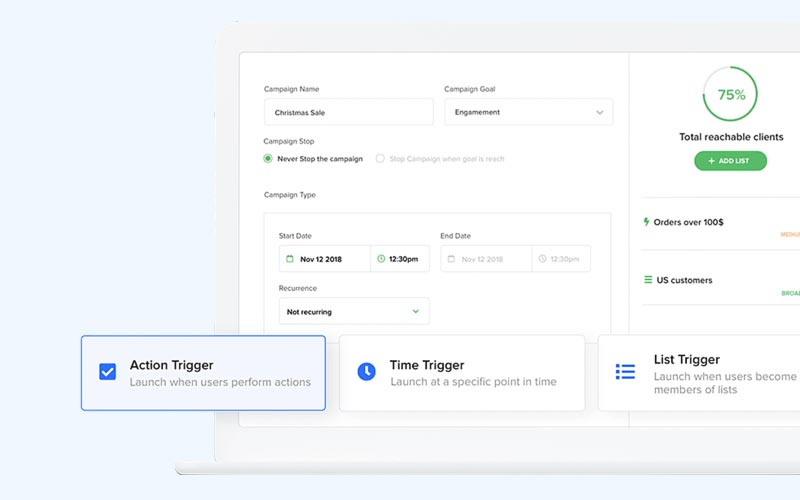 List triggered campaigns begin the moment a customer joins a specific list that has previously been created. Let's say an e-merchant creates a VIP list of all customers who have made more than 5 purchases on their site. The moment a customer makes that 5th purchase they automatically enter the VIP customer list and receive a special VIP campaign.
The top 7 marketing automation campaigns for e-commerce
For e-merchants to truly make the most of an all-in-one marketing automation software, there's one golden rule to follow; the more automated campaigns running, the better.
There are endless possibilities when it comes to campaign type, so e-merchants need to get creative and think about what will work best for their e-commerce store. We've compiled a list of 7 marketing campaigns that every e-commerce store should automate today.
Let's get started.
1. Welcome campaign
Every time a new customer makes their first purchase, make them feel at home. Nurturing new customers is such an important step towards not just making the initial few sales, but to building brand loyalty and retaining customers in the long term.
In fact, businesses that nurture leads make 50% more sales and spend 33% less than brands who don't nurture their customers.
To build a welcome campaign, e-merchants first need to automate a list of 'new customers', which is easily done using a marketing automation platform. Once a customer makes their first purchase they will automatically join the 'new customer' list and the welcome campaign will begin.
Within a welcome campaign, e-merchants could include:
An initial email thanking customers for their first purchase, welcoming them, and telling them a bit more about the brand. Pay attention to the design and content of this email, it needs to be perfectly on-brand and match the visuals and style on the website.
A follow-up SMS the next day with a special discount code to use on their next purchase.


2. Abandoned cart campaign
There's nothing more frustrating for e-commerce store owners than customers who place items in their cart then leave without completing the purchase. The customer made it to the online store and identified a product they like only to falter at the last hurdle.
The best way to combat cart abandonment is with an automated abandoned cart campaign. These are 'action trigger' campaigns that e-merchants send to every potential customer who exits the website with items in their cart.
When it comes to abandoned cart campaigns, time is of the essence. E-merchants need to reach customers as soon as they leave as they may be looking for similar products on a competitor's site.
An abandoned cart campaign should include:
An SMS sent 30 minutes after leaving the cart. Time is of the essence and 90% of text messages are opened in under 3 minutes, making this a great channel to use next.
An email sent an hour later if the previous two messages haven't worked. Include detailed visuals of the item along with recommended products that perfectly complement it. To drive home the sale, include a special discount code to use on the purchase.
3. Order confirmation campaign
When a customer makes a purchase online, they are putting a lot of trust in a brand. Instead of making a direct transaction and receiving their item immediately, they're inputting private credit card information and hoping for the best.
It's the job of an e-merchant to reassure customers that their purchase is being processed, and to let them know when they should expect it's arrival. An automated order-confirmation campaign is a great way to reassure every customer.
As mentioned earlier in the article, the action of making a purchase triggers an order confirmation campaign. The campaign should include:
An email sent immediately after the purchase with a rundown of each product in the order, a reference number, and some information about the delivery
An SMS sent 1 minute later that confirms the order, tells the customer more information is coming soon and thanks them for their business
A follow-up email with shipping information, an expected delivery date, and a link allowing the customer to track their order
4. Post-purchase campaign
Check-in with customers after their order arrives to build lasting relationships and guarantee their business well into the future. There's so much potential in a post-purchase campaign, e-merchants can:
Show they care - tell customers you hope they're enjoying their purchase
Gain insights - send a quick survey asking how they enjoyed shopping on your site
Upsell - send recommend products that will complement what they just received
Retain business - offer free shipping on their next purchase
Promote your brand - ask customers to share their love for your product on social media (and reward them with a discount code in return)
Don't send a post-purchase campaign until the order has definitely arrived, maybe wait a week after the expected delivery day.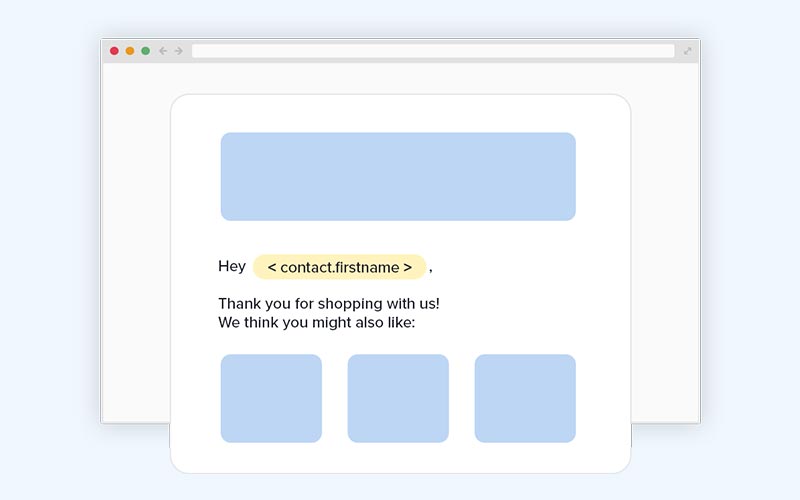 5. VIP customer campaign
A large base of loyal customers is exactly what every e-commerce company should be striving to create. These customers engage with messaging, get excited about new product launches, and continue to purchase year after year.
Customers don't just become loyal to a brand out of a love for its products. E-merchants need to nurture them over time with personalized marketing content and special deals.
While it may sound like a lot of work on the e-merchants part - it's absolutely worth it. Loyal customers not only reward brands with their own frequent business but also work as social proof telling their friends, family, even strangers on the internet how great a brand is.
The first thing an e-merchant needs to do is create a list of VIP customers. Using a marketing automation tool, e-merchants can create a dynamic contact list that adds customers automatically as they meet set requirements. A VIP customer list could comprise of all customers who have made more than 5 purchases on a site, with customers added to the VIP list automatically when they make that fifth purchase.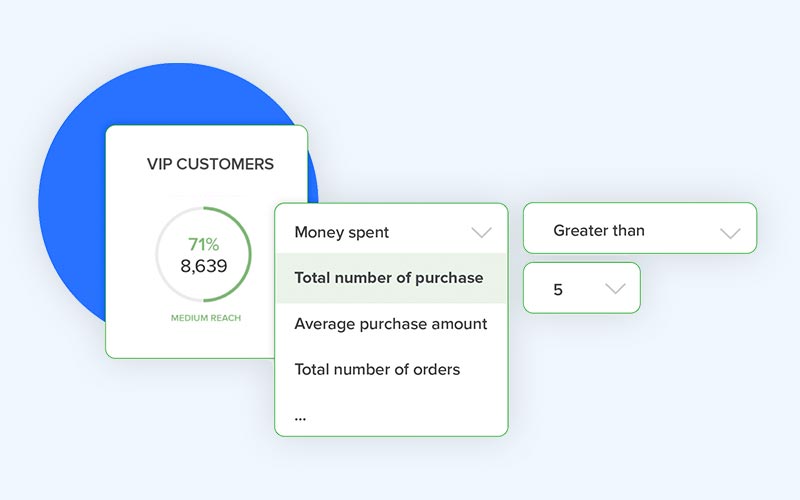 A VIP marketing campaign should start with an email thanking customers for their loyalty and welcoming them to the VIP list. This email could also include a special VIP discount code, as well as some recommendations for high-end products.
After the initial email, the journey of your VIP customers could include:
New product releases
Special discounts for holidays
Early access to sales
Surveys about your product or website
Or any exciting news you have to share about your brand!
Make the most of VIP customers' social-proof by asking them to write a testimonial, or share images of your product on their social media channels and give them a special discount as a reward.
6. Customer win-back campaign
The success rate of selling to customers who have already shopped with a brand is 60-70% while the success rate of selling to new customers is 5-20%. This is what makes win-back campaigns so effective, and so necessary.
Don't let existing customers fall through the cracks. Automated win-back campaigns sent every time a customer goes a set amount of time between purchases help keep a brand front-of-mind.
The first thing to do is to create an audience list of customers who have gone a set amount of time between purchases. The amount of time between purchases differs depending on what a brand sells and how often regular customers usually purchase.
A customer win-back campaign should include:
An initial SMS offering customers a small discount or free shipping on their next purchase
An email sent a few hours later to show customers exciting new products and tempt them to use that discount code
Another email 2 days later just for customers yet to use their initial discount, this time offering a more substantial discount to sweeten the deal
After this, continue sending emails to this list every time there's a new brand development, product release, or sale.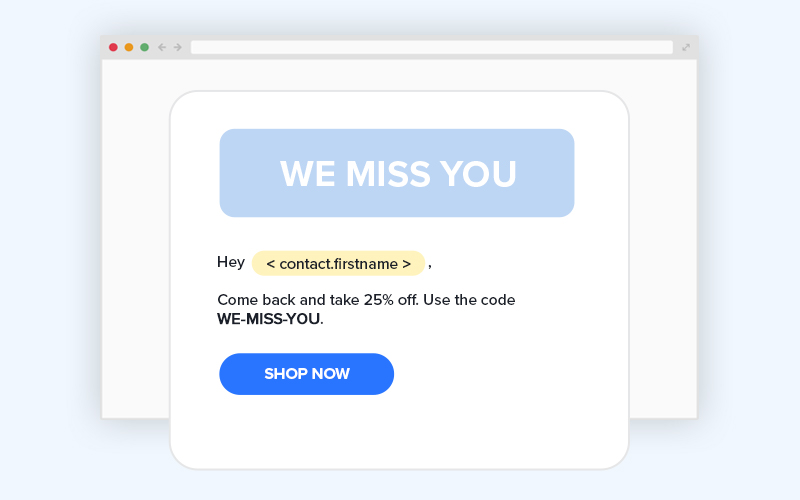 7. Holiday marketing campaign
During the 2019 holiday period (1st November - 31st December) the average amount spent online every day in the US averaged to $2.3 billion. It's the most important time of the year for e-merchants, and competition is fierce.
If e-merchants want to reap the rewards, they need to send the right content, to the right audience, at the right time, on the right channel, there's a lot to consider.
Let's use Christmas as an example. When creating a Christmas marketing campaign e-merchants need to take into account every customer type, from overly-organized shoppers who start buying Christmas presents well in advance, to those who wait until Christmas Eve.
A Christmas marketing campaign is a 'time-triggered' campaign that begins on the 1st of November and runs all the way to Christmas day. Within this campaign there are innumerable messages a brand can send:
An initial email blast to inform customers about upcoming Christmas sales so they know where to do their Christmas shopping
A follow-up email a week later with recommended products that would make the perfect gifts for different members of the family
Another email just for your VIP customer list with a special discount code to use during the Christmas sales period
An SMS blast 2 weeks before Christmas letting customers know that they need to order any Christmas presents before a certain date for it to arrive by Christmas Eve
Another SMS blast for VIP customers, reminding them of their special discount code
An email a week before Christmas instilling a sense of urgency and letting customers know about a quick-delivery option
Conclude a holiday campaign on Christmas day, wishing contacts a Merry Christmas and hoping that they enjoy the products they purchased.