Written By
Louise
On Nov, 7 2019
4 minute read
Our heads spin when we think about how much work marketing actually involves. While many marketers are attracted to the creative aspects of the role, they find themselves bogged down in analytics, reports, list building, segmentation, and so on. These mundane tasks are essential, but they also eat up a lot of time - and this is where digital marketing automation platforms come in.
Marketers who rely on digital automation tools and platforms have more freedom and energy to spend on strategy, creativity, and getting people to buy more in their online stores.
And it works too. 80% of companies using automated marketing solutions increase leads and 77% increase conversions, according to VB insights.
Here are the 5 benefits you can expect to see if you automate digital marketing in your e-commerce store.
1. Sending the right message to the right people
Your customers are far more than just a list of names in a CRM. They are people with tastes, objectives, hobbies, problems - and the more you know about them, the better your results will be. Static lists with thousands of customers are fine, but they don't help you get into granular details. It's important to know things such as which customers:
Bought from you in the last 6 months
Spent more than $100
Bought a particular brand
Applied a discount code at Christmas
Went on a spree during Black Friday
Abandoned a cart
By building dynamic lists based on specific client characteristics and then targeting email marketing and digital ads, you can significantly increase your conversion rates. Companies that segment their clients see around 89% increase in sales and around 58% increase in average order value.
Of course, you don't want to spend hundreds of hours scouring through each customer's purchase history manually! Marketing automation platforms can identify and automatically characterize customers based on relevant criteria, leaving you to do more meaningful strategic work.

2. Encouraging people to buy more, more often
Coupon codes are another high-performance tactic for e-commerce marketers and entrepreneurs and there are plenty of ways to use them to your advantage:
Seasonal discounts - encourage customer loyalty with timely sale codes.
Free shipping with a minimum purchase - encourage clients to spend more to save on shipping.
Abandoned cart discounts - bring clients back to your store to complete their purchases.
Boost your analytics - track the effectiveness of your marketing campaigns with unique coupon codes.
While you can create codes for your users manually, it's far more efficient and effective to use a platform to automatically create and track these codes for you. This frees you up to focus on discounting strategy rather than the details of creating the coupons themselves.
See our article Powerful Ways to Optimize Discount Codes for Your E-Commerce Storefor more.
3. Diving into the details and analyzing results
Not everyone loves Google Analytics. Although it's a powerful, fully comprehensive platform, it is time-consuming to learn and can be hard to navigate. Sometimes, you just need to see your return on ad spend (ROAS), your average order value (AOV) your click-through rate (CTR) or your conversion rate (CVR).
A marketing platform with a fully automated, in-built e-commerce analytics system, can help you generate reports. You can look into how well your campaigns are doing, which channels are working best, what you should stop and what you should double down on - and any other metrics that are key to growing your business in the right direction.
E-commerce entrepreneurs can use marketing automation platforms to increase the bottom line and marketers can use it to increase their efficiency and productivity.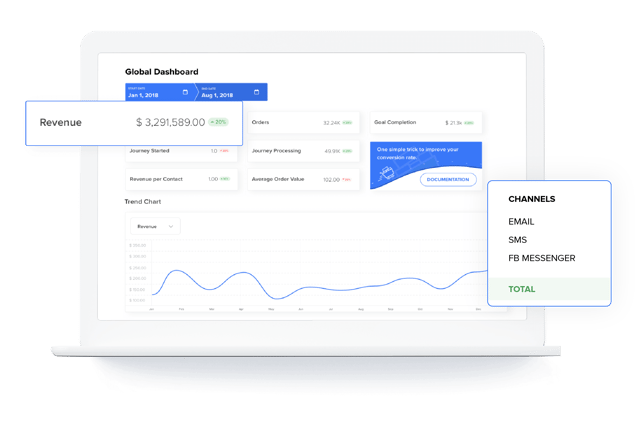 4. Identifying and understanding your customers
Getting customer feedback - good or bad - is often part of a marketer's day-to-day. It informs on everything from product quality to customer service and is invaluable when it comes to optimizing services, R&D, online usability and more.
When an e-commerce store scales, it soon becomes impossible to manually send out feedback requests, manage feedback forms, and ask for reviews.
By automating this process and using a range of methods to collect client data and feedback, marketers can focus on analyzing the results, improving the user experience, and growing the company.
5. Keeping things legal
Marketers shuddered in horror when the GDPR legislation rolled out in Europe in 2018. There was a huge scramble to make sure websites were compliant, mailing lists had double-opt-ins and everything was up-to-date and securely stored online.
Unfortunately, the big GDPR push was just the beginning. While data protection house-keeping is important, we don't want to focus on it all day, every day.
Digital marketing automation platforms, however, can help you ensure your e-commerce store is compliant, your forms are double opt-in, your communications are GDPR compliant, and everything is stored securely.
6. Re-engaging your customers
When a website visitor leaves your online store without purchasing something, the chances are high that they won't come back - unless you attempt to re-engage them. You can manually introduce email collection forms, but automated widgets are undeniably more effective.
Our personalized widgets help re-engage visitors and then retarget them on other digital channels. They include a variety of unobtrusive pop-ups, wheels of fortune (spin for a discount!), fly outs to grab emails and embedded Add to Cart widgets.
You can read more about re-engaging your customers using our widgets here.
So whether your goal is to understand your site visitors better, build lists, analyze your marketing efforts, or re-engage your customers, using a marketing automation platform means you don't get bogged down in the details.
When you automate your digital marketing workflow, you become more data-driven, win back time and increase your leads.