Written By
Louise
On Feb, 19 2020
5 minute read
Social media is a fundamental tool for e-commerce brands - especially those with a younger target audience. Building an online community is not easy, but it allows companies to drive sales, engage their followers, and connect with their audience on a deeper level.
Of course, what a company publishes on social media will entirely depend on which products they sell, who their audience is, and what values they hold. But one thing is for certain: customers everywhere want to scroll through branded posts they can connect with - and ultimately feel good engaging with.
How customers interact with your brand on social media can be a great measure of success. According to a 2018 report, 42% of companies measure the ROI of their social advertising campaigns by looking at the way customers engaged with their content.
So, how can you build an online community that loves to tap, comment, share - and, of course, buy? Let's take a deeper look.
The importance of building an online community
If a tree falls in the forest, does it make a sound? And if an e-commerce brand isn't on social media, does it really exist? Of course, it does. But retailers who don't invest in social media are missing out on a range of benefits - including the opportunity to connect with clients on a more meaningful level.
Social media brings people together and is a great way for a brand to make their consumers feel like they're part of the bigger picture. Building an online community helps e-commerce brands to engage their customers with certain messages, causes or feelings - resulting in a deeper, more loyal relationship between consumers and brands.
Better yet, 87% of people say they're likely to visit a company's site if they follow them on social media, according to a 2019 report. And with this in mind, it's no surprise 90% of marketers agree that investing in social media has a clear-cut impact on their business revenue.
Deciding which social media channels to use
According to eMarketer, Facebook continues to be the most popular platform for marketers - nearly 87% of US companies leverage it. Next comes Instagram (73%), Twitter (67%), and Youtube (52%). Snapchat (34%) and Pinterest (31%) come in a bit behind.
It doesn't make sense for every e-commerce brand to invest in the same social media channels. When deciding on which social media platforms to leverage, here are a few questions e-merchants might want to ask themselves:
What customer segments do we want to target?
Does this platform align with our brand?
What platforms do our competition use?
Which platforms bring in the most revenue?
Where will our posts get the highest level of engagement?
How valuable is paid content to us (and where is it most effective)?
Do we want to use product tagging (available on Instagram and Pinterest)?
Overall, it's important to spend money on the social media channels that bring in the most resources - or get the most engagement. We love this infographic by Leverage, which gives a great comparison of social media websites.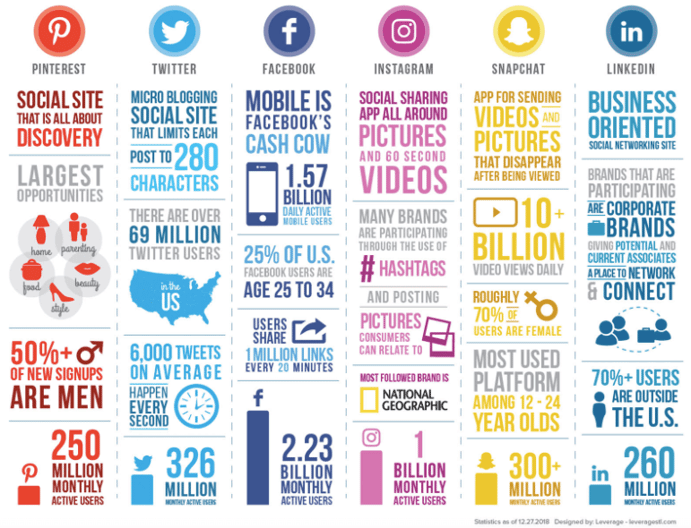 Finding the right audience for your e-commerce brand
So, how can brands best engage with their ideal audience on social media? Here are a few tips on how to catch your customer's attention:
Make use of live video
Live video is a great way for brands to engage followers. In fact, according to Facebook, live videos on their platform get six times as many interactions as regular videos. Twitter, Instagram, and Snapchat also enable brands to post live videos, helping e-commerce companies interact with consumers in a more authentic way.
Posting live videos also helps brands to build trust with their customers. What better way to show off the look and feel of a product being worn/used/eaten etc than through a fun, live video? It's important to think about your own brand and find your niche. Do you make your own products by hand? How about giving customers a glimpse of who is designing their handmade products, by offering a behind-the-scenes tour of a brand's local workshop?
Engage customers with Facebook Messenger
Interacting with customers on social media isn't just about getting 'likes'. E-commerce brands also have the opportunity to engage with their clients via Facebook Messenger.
For example, our Facebook Messenger feature enables brands to reach out to customers with a personalized message to alert them to a new sale, send a special discount, or remind them about the great items left in their carts. Sending marketing content over Facebook Messenger helps increase audience reach and drive revenue. Plus, it has a click-rate of up to 35%!
Show off your customer service
Staying on top of customer experience management is essential for social media success. Social media naturally brings e-commerce brands and consumers closer together than ever before. And with the opportunity to be in constant communication, social platforms are an excellent space for brands to show off their customer service skills.
It's especially important for brands on social media to respond to customer queries quickly, and in a polite manner. On Twitter, customers expect brands to respond in less than an hour.
Get influencers on board
Influencer marketing has proven successful for many brands, with companies bringing in an average of $7.25 for each $1 they spend on campaigns. Consumers trust recommendations from their peers - and in 2019, influencers still ring true. In fact, 61% of consumers engage with influencers at least once a day, while 35% engage with them multiple times a day.
Partnering with an influencer is a great way for brands to demonstrate their authenticity, expand their reach - and of course, encourage customers to interact with content. Many successful brands also leverage user-generated content; take a look at this fall-inspired re-gram by Starbucks, for example, which definitely works to make customers feel like they're part of a larger community.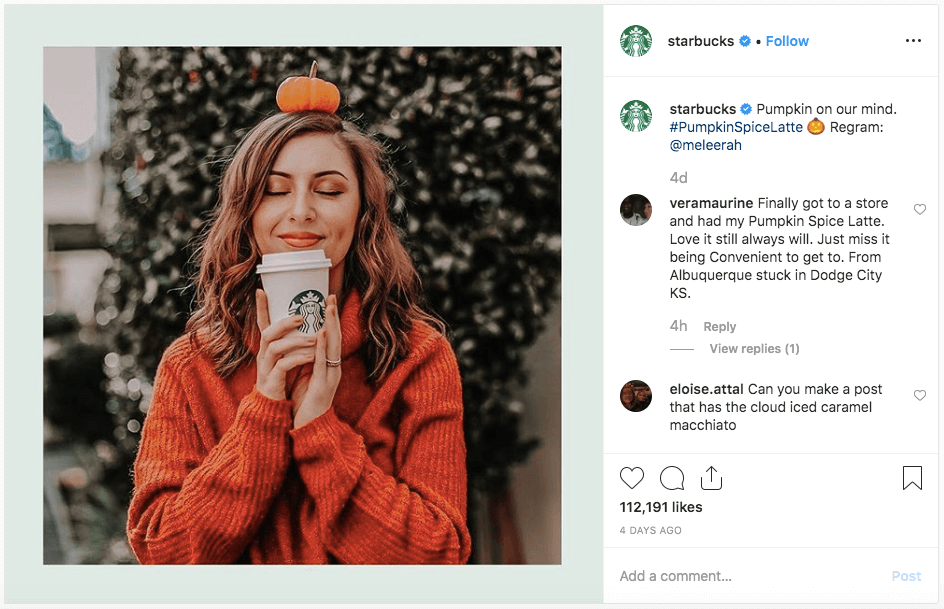 Invest in paid content
Sometimes, creating authentic and visually appealing posts is just not enough. Social media algorithms work in mysterious ways, and most of the time, only a fraction of a brand's audience gets to see their posts.
Companies that want to break free of the constraints of algorithms and engage a wider audience invest their budget in paid posts. It makes sense these same companies are more likely to consider social media marketing to be effective than brands that go all organic. Overall, paid content can bring loads of new attention to your brand, and help to gauge the interest of potential shoppers.