Written By
Louise
On Apr, 3 2019
3 minute read
A whopping 70% of abandoned carts are non-identified! This means it's not possible to re-engage with those visitors on your e-commerce website because you have no contact details… and no contact details means no retargeting.
The good news is: widgets are designed to solve this issue. Along with our multi-channel solution, they play a key role in re-engaging visitors and developing an efficient retargeting strategy.
What are widgets?
Chances are high that visitors who leave will never come back. Collecting their contact details enables you to send future follow-ups/promotions and keep them in the loop.
Widgets appear in different areas on the visitor screen - you just need to choose which kind of widget you want and where you want it to appear. The widget can be embedded below the "add to cart button" or can pop up when the visitor is taking a certain action. The main goal is to retain the visitors and encourage them to give you their contact details.
Thanks to our multi-channel widgets you are able to capture opt-in details from visitors that have shown interest in your products or services before they leave your website. Our widgets collect the email, the phone number, and the Facebook Messenger opt-in.
What kind of widget should I use?
Widgets are a frictionless and non-disturbing way of collecting opt-in details from visitors. This makes them a powerful tool to convert visitors into paying customers. Moreover, widgets are fully customizable! You can create widgets with images and templates that represent your brand.
Don't forget: you can activate a widget based on various triggers such as "Leave-intent", "Inactivity", and the action to add an item to the cart.
We suggest a few widgets options, including:
Add-to-cart embedded: this widget is directly embedded in each product page and placed below the Add to Cart button.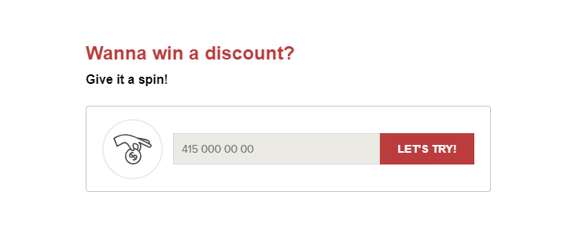 Add-to-cart pop-up: this pop-up widget appears when the visitor is adding an item to their cart.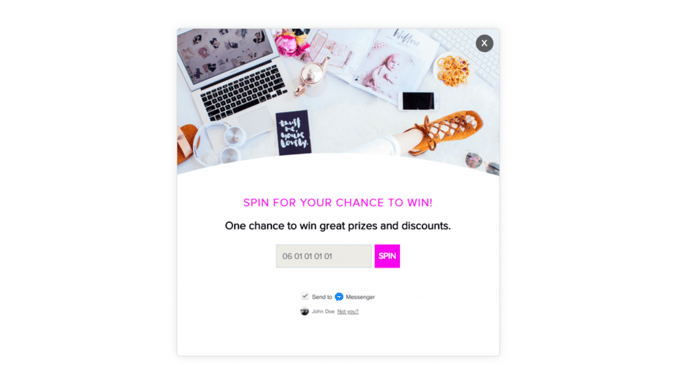 Flyout: this widget appears as soon as the visitor arrives on your website. It's quite discreet and can be displayed on either right or left corner.
On-exit pop-up: this pop up appears when the visitor is about to leave your website. You can try to retain them by encouraging them to win a discount.
Wheel: a small wheel appears on the right or left side of the page and becomes bigger as the user approaches it. Once the wheel is deployed, the visitor can choose to spin it in order to win something.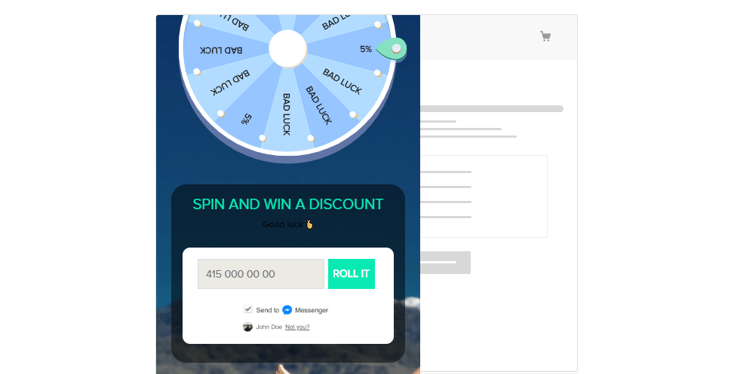 How do I personalize my widgets?
Once you have decided which widget you want to use, you can modify the entire design: the colors, the image, the text, and so on.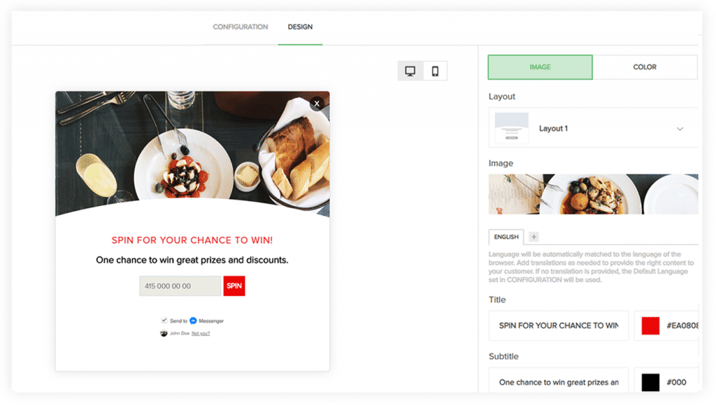 Once your widget is personalized, you can start configuring it!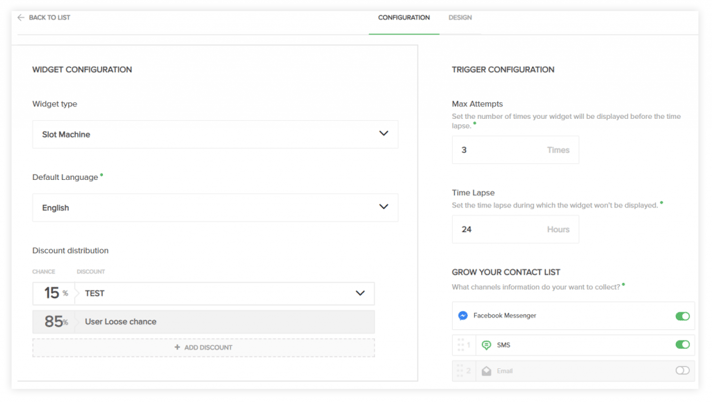 Choose the widget type :
Slot Machine (gamification): visitors earn discounts or free delivery by playing a slot machine game.
Direct discount (discount + free delivery).
No discount (ex: newsletter subscription).
Always offer something to your users if you want them to give their contact details in return :)
Next, when you use gamification, you can manage the discount distribution: for example, 85% chance of losing + 15% chance of winning. Don't forget: the goal is to recover contact details, not distribute discounts ;)
Once you choose your gamification strategy, you should take into account the time lapse trigger. The widget automatically appears every time the user visits your website if there's no time lapse configuration. We recommend setting a 24 hours time lapse in order to not affect the user experience on your website.
The last step and the most interesting one is the information you want to collect. Facebook opt-in, the phone number or the email? It's possible to collect all 3 of them; but, that's not the best strategy. Most of the time, combining Facebook Messenger Opt-in + the phone number or the Facebook Messenger Opt-in + the Email is an intelligent strategy. This way, the user won't take too much time filling in the information.
NB: Facebook just announced that the default state of the checkbox plugin will be unchecked. Starting from the 9th of April 2019, the pre-checked state won't be enabled anymore. But, don't worry! Our multi-channel widgets have high opt-in rates because visitors take actions willingly, such as spinning a Wheel to win a discount. Furthermore, these multi-channel widgets also allow you to collect visitors' emails and phone numbers.
Conclusion
Different type of widgets enables you to customize their strategy based on how visitors usually interact with your e-commerce website and the industry that you are in. No doubt, widgets play a big role in converting more unidentified visitors into identified visitors and then into paying customers. To understand more about our widgets and where to find them, visit our knowledge base here.