Written By
Louise
On Dec, 20 2019
3 minute read
Want to send 2019 out with a bang and start 2020 off on the right foot? Developing a New Year's marketing strategy is an excellent way to begin. Whether you want to clear out old stock or win back holiday customers, there's plenty of inspiring ways to get consumers excited to shop, even after many of the larger shopping holidays have come and gone!
Let's explore how to run some great end-of-year Ecommerce promotions that will motivate customers to visit your store in 2020.
Focus on win-back campaigns
Shopping holidays account for about 20% of the average retailer's annual sales. In the US, the National Retail Federation predicts that holiday sales in 2019 will grow between 3.8% and 4.2% - or $727.9 billion and $730.7 billion USD.
During this big holiday retail rush, it's likely many customers will purchase from your online store for the first time. Of course, this is great. But the question remains: how do you get them to come back again and again once the holiday season is over?
Win-back campaigns are a great New Year's marketing strategy to re-engage one-time customers. It's best to choose a multichannel retargeting campaign and reach out to consumers through a variety of digital channels. But with this, don't forget to include a New Year's email marketing campaign.
Shopify reported that an incredible 24% of 2018 Black Friday and Cyber Monday sales were generated by email campaigns. This demonstrates the power of email for e-commerce players throughout the entire holiday season.
After pinpointing the customers you want to target, you need to distribute marketing content that grabs customers' attention. Try offering customers an exclusive look at your new collection. You can do this by sending a personalized subject line like this: Sam, just for you! Take a peek at our 2020 collection
You could also count down the time left on your New Year's sale to encourage customers to shop, like this: Last chance - only 8 hours left to get 50% off!
Overall, the goal is to turn one-time holiday shoppers into loyal customers in 2020. Want to learn more about developing excellent customer retention strategies? Check out our post on customer retention here, which includes a step-by-step guide on how to build a great win-back campaign.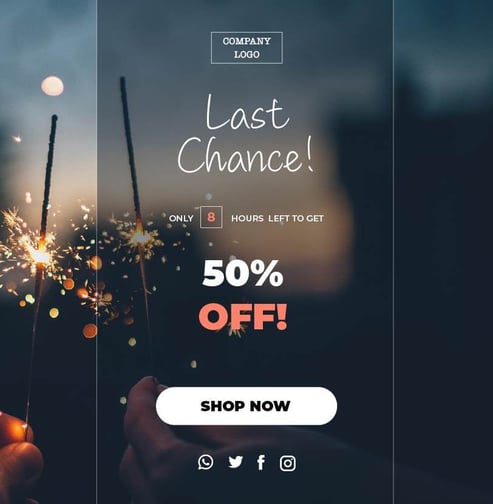 Get personal with SMS marketing
For many people, the holidays are a great motivation to text long-distance family members or old friends. Similarly, for e-commerce retailers, SMS marketing can be an intimate way to reach out to customers over the new year. It reminds them you're thinking of them - and that you care about their business.
With SMS, it's important to keep it simple. Consider sending customers a short message thanking them for their support in 2019. You could also let them know about a new product line you have which could help achieve their New Year's resolutions in 2020. It's also a nice idea to send a warm and personalized season's greeting, wishing them all the best in the new year and saying you hope to see them soon (just as a friend would do).
Still, the holidays are meant for relaxing or spending quality time with loved ones - so be sure not to message customers right as the New Year's Eve ball drops. Instead, be mindful of when to reach out; customers will appreciate it and be more receptive to your messaging.
Keen to implement an SMS campaign? At Carts Guru, our SMS marketing service has an average open rate of 98% and click-through-rate of 15%!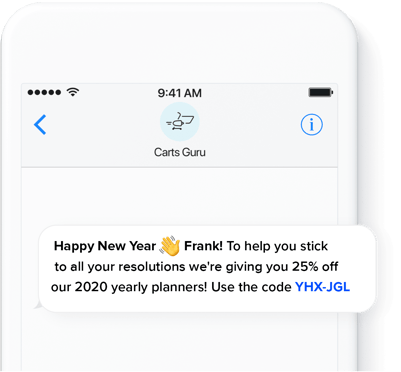 Host a New Year's Day sale
Many customers expect holiday sales to wind down after Christmas. Why not surprise them by offering a special New Year's promotion?
Hosting a flash sale on January 1st is not just a nice surprise for your customers, it's also an excellent way to get rid of any left-over holiday stock. Over the past few years, we've seen brands offer 20.18% or 20.19% off their entire store for a more prolonged amount of time. It can be a festive way to get customers excited about the new year and keep sales going strong weeks after the initial holiday rush.
Putting together a New Year's themed gift or shopping guide can also reel customers in. Rifle Paper Co.'s gift guide, for example, was not exclusively related to New Year's; but, we liked how they categorize the merchandise into products "for the organizer", "for the traveler" and "for the minimalist", drawing inspiration from common New Year's resolutions.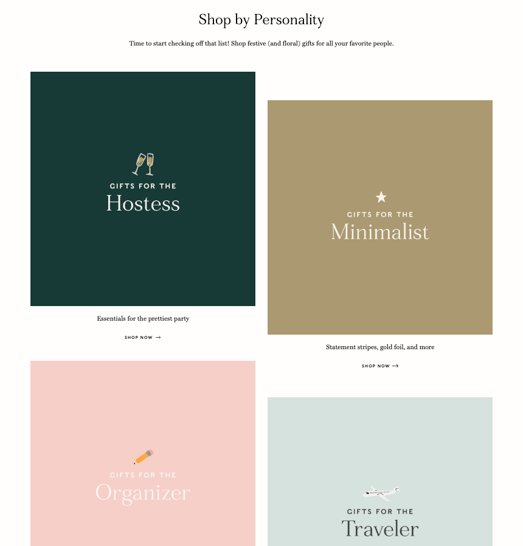 Don't forget discount codes
Some of the best new year marketing campaigns leverage discount codes. And why not? After all, more than 93% of customers use discount codes to shop.
Everyone likes to feel appreciated. So in messages thanking customers for their holiday service, include a discount code to use throughout the month of January. And if customers have abandoned items their carts, sending a generous discount code via email, SMS or Facebook Messenger will help push them to complete their orders.
Implementing an effective new year's marketing strategy is an excellent way to kick-off Q1 in 2020 - and these new year marketing ideas will help to get you started.