Written By
Louise
On Sep, 12 2018
7 minute read
Does your eCommerce store need an edge? You've got one. You can start using Facebook Messenger before Amazon and the big boxes stores figure it out. It won't even take that long – Carts Guru users can have their Facebook Messenger remarketing campaigns up within a few hours, so they can start recovering abandoned carts.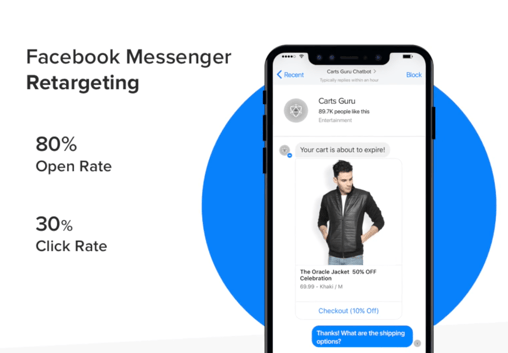 Why You Need Facebook Messenger In Your Digital Marketing Strategy
Everyone's talking about using Facebook Messenger for ultra-high conversion rates, but how do you achieve this without being too pushy with your customers? It all comes down to personalization.
Smart, well-timed personalized messages won't be perceived as spam, and can even be seen as being useful.
When you combine the power of a truly targeted, personalized message with the ability to send that message through the best channel, you've hit the sweet spot. The right message, delivered via the right channel at the right time is the best way to reach potential customers.
But hey, you probably know all this. You're doing it already with email marketing. Perhaps you're sending cart abandonment emails to customers' inboxes so their interest is still there, but not sending those messages so quickly or frequently that customers feel like they're being spammed.
Email works, of course. It works well. But there's an even better way to reach people.
You see, there are more roadblocks between your emails and your customers every day. Spam filters. "Promotional Email" tabs. Deliverability issues. Simple overwhelm on the part of your customers, many of whom get over 100 emails a day.
Enter Facebook Messenger
Facebook has over 1.3 billion active users, which means it's highly likely your target customers are already on it. And while more and more businesses use Messenger every day, it's still a mostly untapped First Mover market. Don't think for a second that the opportunity has passed – or that Messenger is just some fad.
Like email marketing, with Messenger you reach potential customers directly. You reach them exactly at the moment when they're paying attention - not when they're tuning out like they do with advertising.
Also like email marketing, you can personalize your Messenger messages based on a potential customer's past history or the contents of their shopping cart.
Being able to send personalized, targeted, optimally-time messages means you can get your sky-high conversion rates, but without alienating potential customers with spammy messages. You're sending the right message, via the right channel, at the right time.
Many people really like communicating with businesses via Facebook Messenger. 63% of consumers surveyed have said being able to chat with a business makes them feel more positive about the business. 55% said it makes them more likely to trust the business, and more than one out of two shoppers said they are more likely to buy from a business they can message with.
Different ways to use Facebook Messenger on your marketing strategy
You don't have to limit yourself to just asking for Messenger opt-ins. Here's what else you can do:
Create a chatbot: This is what all the talk has been about. Chatbots are automated conversations with real users on Messenger using artificial intelligence.
Sponsored Ads: These are set up just like other Facebook ads, but they appear in the middle queue of messages when your prospects open their Messenger app.
You can deliver messaging sequences to people in Messenger: Like retargeting messages for abandoned carts.
You can create a sales funnel that brings in sales right within Messenger: See Ezra Firestone's tutorial from Bot Academy for a deep dive on how to do this.
Send content to people via Messenger: This could be your newsletter, or an ebook, or your latest blog post. Some of the smartest people in content marketing are using Messenger to deliver their newsletters.
The Drawbacks Of Chatbots and Facebook Messenger
That all sounds great, right? But like anything, there are good and bad things about Facebook Messenger. So don't go totally head over heels for this new tactic until you understand:
You're going to need to create a chatbot.
This is not going to be one of those simple, cute Facebook Messenger chatbots you read about being able to make in a day. A chatbot capable of eCommerce sales and support requires sophisticated coding. It will cost between $30,000 and $50,000 (or more) and take several months to develop.
Chatbots can have a "clunky" experience.
Almost all current chatbot creation tools lack a sophisticated enough AI to really be satisfying for the customer. Unless you're willing to invest in something truly cutting-edge, your customers will know they're talking to a bot. And sometimes, bots can be really dumb and unhelpful. Why spend that much time and money only to give your customers a bad experience?
Coordinating a chatbot sequence with your other marketing messages across multiple channels can be complex to set up and to manage.
You know this problem. It's the old marketing tech-stack dilemma. Sure, you'll have a new channel to communicate with your customers through. But that's good news and bad news, especially if you're sensitive about not wanting to overwhelm your prospects with too many invasive messages. A badly-managed chatbot could conceivably do more harm than good.
You still have to get the opt-in and to create a two-step opt-in process from your ads.
Messenger rules change quickly, as does their API. If you're on your own, that means you need to be constantly on top of the latest changes from Facebook.
So what's the solution to those problems? Use a tool like CartsGuru. It manages all those issues for you, from staying on top of Facebook Messenger rules, to creating the Messenger messages, to coordinating with your other marketing channels and messages. It will even let you directly reach out to your prospects and chat with them in real time.
You may not even need a chatbot
We get it: Chatbots are cool. But you can actually do most of the marketing you need to do via Messenger without ever creating a chatbot.
For example, you can direct message customers via Facebook Messenger with no chatbot (exactly the same way you can DM your friends).
Or you can initiate a chat on your website anytime a customer arrives.
To add this feature to your site, install the Facebook Customer Chat plugin. This plugin is smart enough to automatically load your recent chat history with each customer, whether you were in the Messenger app, on Messenger.com, or in the customer chat plugin. Cool, huh?
You can also create Facebook ads to prompt people to engage with you via Messenger. These ads appear when people open up their Messenger app. The ads are marked "sponsored", and you can offer almost any incentive you want to get people to engage with your brand – a discount coupon, a special sale, or a new product. You tell Facebook to direct your ad links to Messenger by choosing "Messenger" in the ad setup.
You can also add a "text us" link on your website, into an email message, in a Facebook Messenger ad, or even in ads on other platforms. Once a user clicks that link, the Facebook Messenger app opens. The conversation has begun.
These ads can also be remarketing ads. Some eCommerce experts say they've seen a 30% reduction in cost per acquisition using this tactic.
But there is a snag…
Setting up Facebook Messenger ads (or even text link Messenger prompts) like this can be complex. It's even more complex if you want to use it for remarketing or to offer a coupon to convert a particular abandoned cart. You'll basically have to build a new sales funnel and create all new ad creative, plus backup creative for when ad fatigue sets in. Then you'll have to set up the ads, the landing pages, and all the other parts so they work together.
Hopefully, you're an ace with all that.
But what if you're not… or you don't have a lot of time to spare? If you're a CartsGuru customer, we'll do it for you. Save yourself a few hours (for every campaign and message) and have your ads be coordinated with all your other messages across other platforms.
Carts Guru uses widgets to create opt-in opportunities for your prospects to connect with you on Messenger.
There are three possible widgets including the "Add to cart embedded", which looks like this: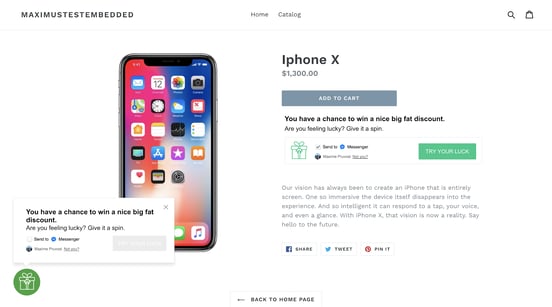 and the "Add to cart popup", which looks like this: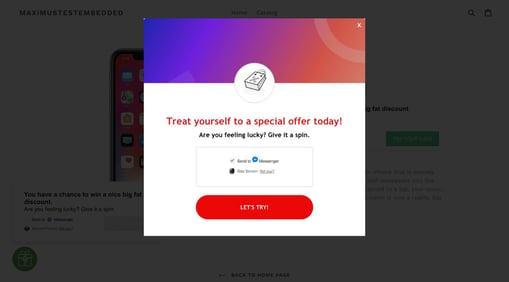 You can read more about this and see how to do the widgets setup here.
Or just watch this video:
https://www.youtube.com/watch?time_continue=9&v=CcFZO_pwFhw
It takes less than five minutes to set up ☺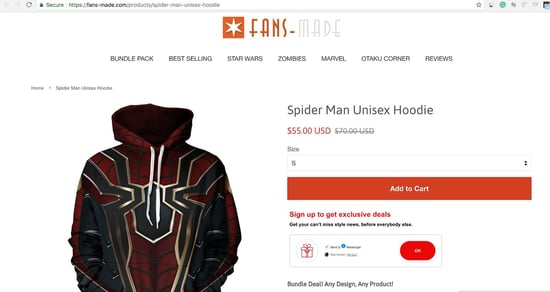 Note that this is a bit different than just creating a Facebook Messenger ad and pushing it at your prospects when they open their app. Instead of being invasive like that, engage people right at the moment they're looking at a product page.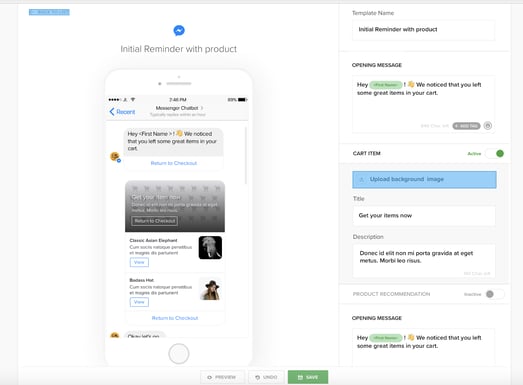 We open a direct conversation between your store and the prospect that starts with an automatic message that shows the contents of their abandoned shopping cart:
A better way to get people to opt-in to Facebook Messenger
As you've probably noticed, these widgets are designed to entice people to opt-in to your messages. With the chance to win a discount, the opt-in process becomes fun.
It also becomes a bit more familiar. If a prospect has never opted into Facebook Messenger before, it can seem just a bit strange at first. We humans subconsciously tend to be careful about new things. But we all know how to redeem coupons. By adding a bit of familiarity to the opt-in process through that discount, we can make something new seem familiar enough that it's interesting rather than scary. Most of the hesitation a user might have had goes away.
So thanks to a little gamification, you get a new channel to communicate with people who are truly interested in your products.
This removes one of the biggest challenges with Messenger: You have to get people to agree to opt-in. For the price of a small discount, or even the chance of a small discount, you get to communicate directly with your prospect through a medium that gets 80% open rates.
Conclusion
You don't need to be an expert to do Facebook Messenger retargeting. It isn't necessary to spend hours creating custom audiences on Facebook, or spend $50,000+ and several months developing your own chatbot. With Carts Guru, Facebook Messenger retargeting can be a three-step process. You can get it all done in minutes.
So yes - get an edge for your online store. Do all the Facebook Messenger retargeting you want. Just don't spend days setting it up. We know you've got other things to do.