Written By
Louise
On May, 16 2019
1 minute read
68% of the carts on your e-commerce website will be abandoned. Out of these 68% abandoned carts, 70% are unidentified.
It's frustrating to sit and watch as the opportunities slip away. And, as the Internet is becoming more and more competitive, marketers are fighting an even harsher battle to nurture every incoming lead. How could your e-commerce platform gain the advantage over the competition and recover lost visitors?
Customer Identification and its perks
Often, people that shop through your website have already created an account and been identified. However, if they browse through it after some time, there's no way to know who they are unless they are logged in.
Thanks to our new technology, unidentified visitors will no longer be a problem for your e-commerce business. We developed our new Customer Identification technology to enable you to identify visitors who had previously signed up with their contact details but that are now returning to your website without logging in.
Thanks to Customer Identification, you can optimize your retargeting strategy and send these visitors personalized messages. Not only will you recover lost leads, but you'll increase the likelihood of a conversion.
The technology behind Customer Identification
We developed the Customer Identification solution in-house, based on our own "Fingerprint" technology.
Fingerprint technology links a previously identified visitor's details (the "Customer ID"). It uses a collection of information about a remote device based on public information from the browser. So, even if a previously identified visitor accessed the website from home and then browsed through it again from a cafe, Fingerprint technology will be able to identify them.
What's best, you only need to update your Carts Guru plugin to benefit from Customer Identification.
Take advantage of Customer Identification's full potential by updating your plugin according to your latest e-commerce platform's version: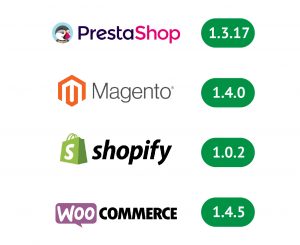 Whether you are using our software or are planning to do so, Customer Identification simplifies the process for both e-commerce businesses and customers alike.