Written By
Louise
On Nov, 12 2019
4 minute read
It's the time of year retailers have been waiting for: the holidays!
Holiday purchases can represent 20% (or more) of a retailer's total sales throughout the year. And for e-commerce brands, business just keeps getting better. According to Adobe Analytics, online sales in the U.S between November and December in 2018 reached an incredible $126 billion, which was a 16.5% year-over-year increase from 2017.
It's a lucrative period. But with so much holiday competition, how can you make sure to stand out from the crowd? Well, planning an engaging e-commerce marketing campaign is an excellent place to start.
To ease the process, the team at Carts Guru has put together this holiday marketing guide - helping brands to connect with consumers and increase their e-commerce sales. Check out our top tips on how to plan a marketing campaign:
Step one: Start your campaigns early
It's essential for e-commerce brands to plan for the holidays far in advance. Setting clear and measurable goals for your marketing campaign should be a priority. It's also important to have everything prepared logistically before the big shopping days roll around.
Here is a good checklist to consider:
Identify your target audience.
Design marketing messages for each buyer persona.
Make sure you have stockpiled your most popular items.
Ensure your website and servers are in working order (last year, J. Crew's website crashed during their Black Friday sale!).
Check that customer support channels are ready to attend to customers at a rapid speed.
Contact your shipping company to ask if they are fully prepared for soaring online sales and the associated workload.
The holidays are not the time to leave things to chance, so get all your ducks in a row early to ensure customers have a great experience shopping at your store.
Step two: Choose a great message
A popular tactic among holiday marketing campaigns is to use emotion to capture attention. This is especially effective during the December holiday season. Macy's commercial campaigns, for example, focus on the "wonder of giving" and often feature families sharing special moments during the holidays. Similarly, last year Lululemon ran its #feelgoodgiving campaign.
Once you choose the holiday you want to focus on, design your campaign around a common theme or message - even if it's something simple like giving.
For the most part, email copy and ad creative should be planned and finalized well ahead of time. But this doesn't always have to be the case. For example, organizing hashtag campaigns to crowdsource unique social content - something Anthropologie is inherently great at - can be a nice way to build customer loyalty and reach new clients during the holidays.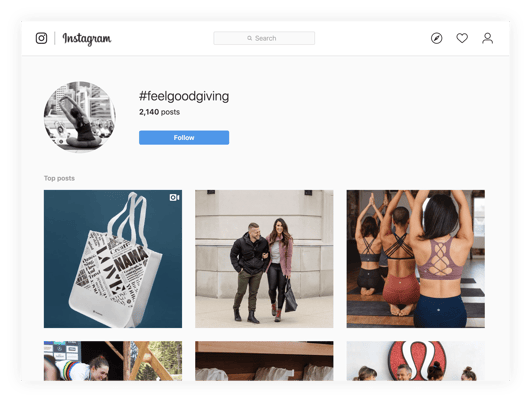 Step three: Determine discounts
What type of deals do you want to offer customers? Buy one product, get one free? Sixty percent off your entire online store? What about discount codes?
Customers have come to expect big promotions during the holidays. While it's important to fulfill these expectations, it's also important to think about how these promotions can help build relationships with your customers. You might consider offering certain discounts only to customers who have supplied an email or providing deals for customers who share posts on social media. It's also a nice idea to send shoppers a thank you email with a celebratory discount code inside.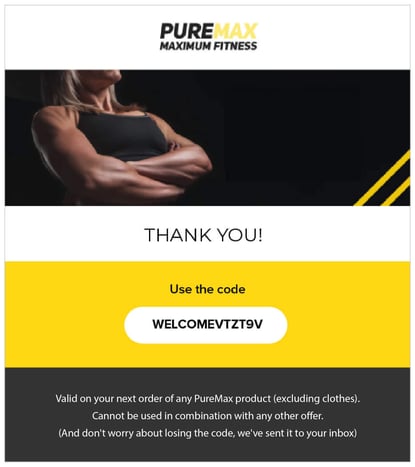 Step four: Pick the right channels
Multichannel marketing is a cornerstone of e-commerce success. But while one brand might find its target market on Twitter, another might profit more from customer segmented email campaigns.
Every case is different, so it's important to focus your marketing budget on the platforms where you will reach the most customers. The next step is adapting your content to suit the platforms that are most lucrative - whether it be email, SMS, Facebook Ads, Instagram, Twitter, Podcasts, or some combination of the lot.
Step five: Leverage marketing automation
For retailers, planning a holiday marketing campaign can definitely be overwhelming. There are a handful of holidays to plan for, each with different creative content designed for a range of different channels. Thankfully, marketing automation software is here to help e-commerce brands get a firm handle on their campaigns - allowing them to design a workflow for the entire holiday shopping season.
There is a wide spectrum of marketing automation tools to choose from. Depending on your goal, you might consider using this software for lead generation, lead scoring, customer segmentation, content optimization, or email automation.
Our Carts Guru platform features:
In-depth and smart customer segmentation with dynamic and static lists
Onsite widgets for data collection
Analytics with e-commerce specific data, for example; average order value and cart abandonment data
Multichannel Campaigns
Personalized templates
GDPR-compliant opt-ins
Automated discount codes
Cart abandonment retargeting
Win-back campaigns
Step six: Bring customers back
While your holiday marketing campaign might have been successful at reeling in consumers, the work is not over once they're on your site. You need to convince them to make a purchase - which can be hard, especially since 68% of shopping carts end up abandoned. Luckily, you can bring customers back to your website with an abandoned cart campaign.
Through SMS retargeting, email retargeting or retargeting via Facebook Messenger, we help e-commerce brands remind customers about great purchases they were about to make - which in turn, wins back more than 20% of lost sales.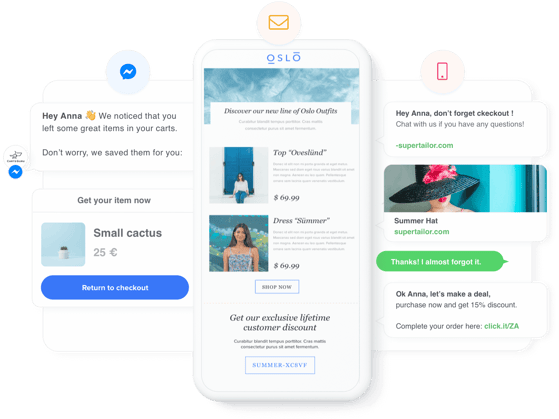 Step seven: Measure your success
Once January hits, it's time to review your performance over the holiday season. And, most importantly, review whether or not you met your pre-defined goals. If you did, which holiday marketing campaign tactics were most successful - and why? If you didn't, where did your campaigns go wrong - and how can you adjust them to do better next year?
The holidays are arguably the most important time of year for e-commerce retailers. So plan ahead by developing great ad content for the appropriate channels, choose discounts mindfully, and take a load off by leveraging marketing automation tools.