Written By
Louise
On Oct, 29 2019
5 minute read
It's that time of the year again. The holidays are upon us and marketers all over the world are busy creating their Q4 e-commerce marketing campaigns. There's no doubt in anyone's mind that the last three months of the year are the most rewarding: In 2018, US shoppers spent a whopping $122 billion during the holiday season. And, as online shopping gains in popularity, e-commerce businesses are seeing increasingly large bumps in revenue year after year.
So what can you do to prepare for Q4, increase your e-commerce sales, and make the most out of this time of year? We have five tried and tested tips for you.
1. Have a solid holiday marketing strategy
Halloween, Thanksgiving, Black Friday, Cyber Monday, Hanukkah, Christmas, Boxing Day… These are some of the most important marketing moments of the holiday season, the highlights of Q4. Family gatherings, parties, and celebrations keep customers' willingness to purchase at a peak, and businesses go to great lengths to prepare for it.
For some retailers, the holiday season represents up to 30% of their annual sales, with the industry average hovering around 20%.
It's not just physical stores that rake it in during the holidays. In recent years, there's been a significant shift toward online shopping. An increasing number of consumers are choosing to spend their dollars from the comfort of their own home.
Adobe Analytics found a 16.5% year-over-year increase in e-commerce holiday sales in 2018. That same year, Cyber Monday generated $7.9 billion in online sales. This made it the highest-selling day of not only the 2018 holiday season but of US e-commerce history.
If you want to make sure your business is ready for the most profitable time of the year, you need to build a rock-solid holiday marketing strategy.
Here's how.
Step one: Set your goals
What is it that you want to achieve this holiday season? Do you want to increase your sales from last year? Do you want to get new customers or win back old ones?
Make sure you've set SMART goals - specific, measurable, achievable, realistic and timely - so you can build a strategy to reach them.
Step two: Pick your holidays
Not all holidays are created equal. Depending on what you sell in your e-commerce store and who your target audience is, certain holidays might provide better opportunities for you than others.
Don't spread your budget too thin. Pick the best days based on predictions or historical data and give them a strong push with killer campaigns.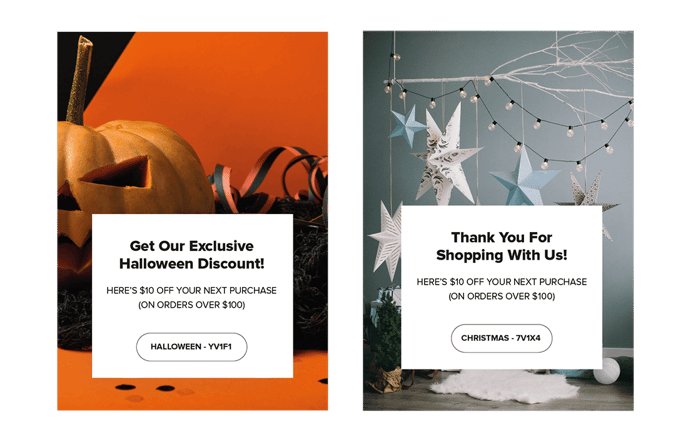 Step three: Choose your channels
Multichannel marketing is the way to go during the holidays. But, just as you've selected the most lucrative holidays for your business, you also need to decide which marketing channels you're going to focus on.
For some e-commerce stores, email campaigns work wonders. For others, it's SMS marketing and Facebook ads that do the trick.
Step four: Create your content
Once you know what channels you'll be focusing on, it's time to create the content that will capture your customers' attention. Take extra care to select the right format and style for each channel.
Ad creatives, email copy, and other materials should always be prepared ahead of time – you don't want to be scrambling for content in the middle of the holiday rush.
2. Retain new customers and win back old ones
Q4 is a fantastic time to gain new customers. If your holiday campaigns work, you'll see a lot of new traffic funneled to your website. However, as marketing professionals know all too well, acquiring a new customer costs five times more than retaining an old one. The influx of new buyers shouldn't distract you from your retention efforts.
An effective measure that you can take is to introduce loyalty programs. Rewards schemes, exclusive discounts and limited-time offers for returning customers will keep them coming back. Just make sure to send them a reminder email every now and again to emphasize the benefits of shopping at your store.
You can also create a referral program to incentivize recommendations. After all, word of mouth is still one of the most effective (and cheapest) marketing tactics.
These are all good ways to try and retain customers, but what about the ones you've already "lost"? How do you get them to come back to your online shop for a second, third, tenth purchase?
Q4 is as good a time as any to start running win-back email campaigns and remind your lapsed or inactive customers why they love your online store. Win-back campaigns are like a little poke on the shoulder to let your customers know that you're still there. And they can be incredibly powerful.
One study showed that 45% of customers who received a win-back campaign read a subsequent message, and 25% of re-engaged subscribers were still opening messages up to 300 days after receiving the first win-back campaign.
Try it and see for yourself!
3. Take marketing automation to the next level
Since Q4 is such a busy period for businesses, you're going to need all the time you can get to focus on generating revenue. That's where marketing automation tools come in. The last quarter of the year is the perfect time to start implementing tech solutions that can make your life easier by streamlining marketing processes and workflows.
When choosing marketing automation software, make sure you go beyond the standard email automation tools. There are solutions out there for content optimization, lead generation, lead scoring, customer segmentation, marketing analytics, lead nurturing and more.
Some of the best and most useful marketing automation tools focus on customer re-engagement. Why not experiment with automated SMS retargeting or Facebook Messenger retargeting? During the holidays, you'll have endless opportunities to retarget customers and get them to follow through with gift purchases.
Carts Guru has a wide range of different features for you to automate your campaigns on multiple channels and track their performance. >Get in touch with us to learn more about how we can help you increase your revenue with marketing automation!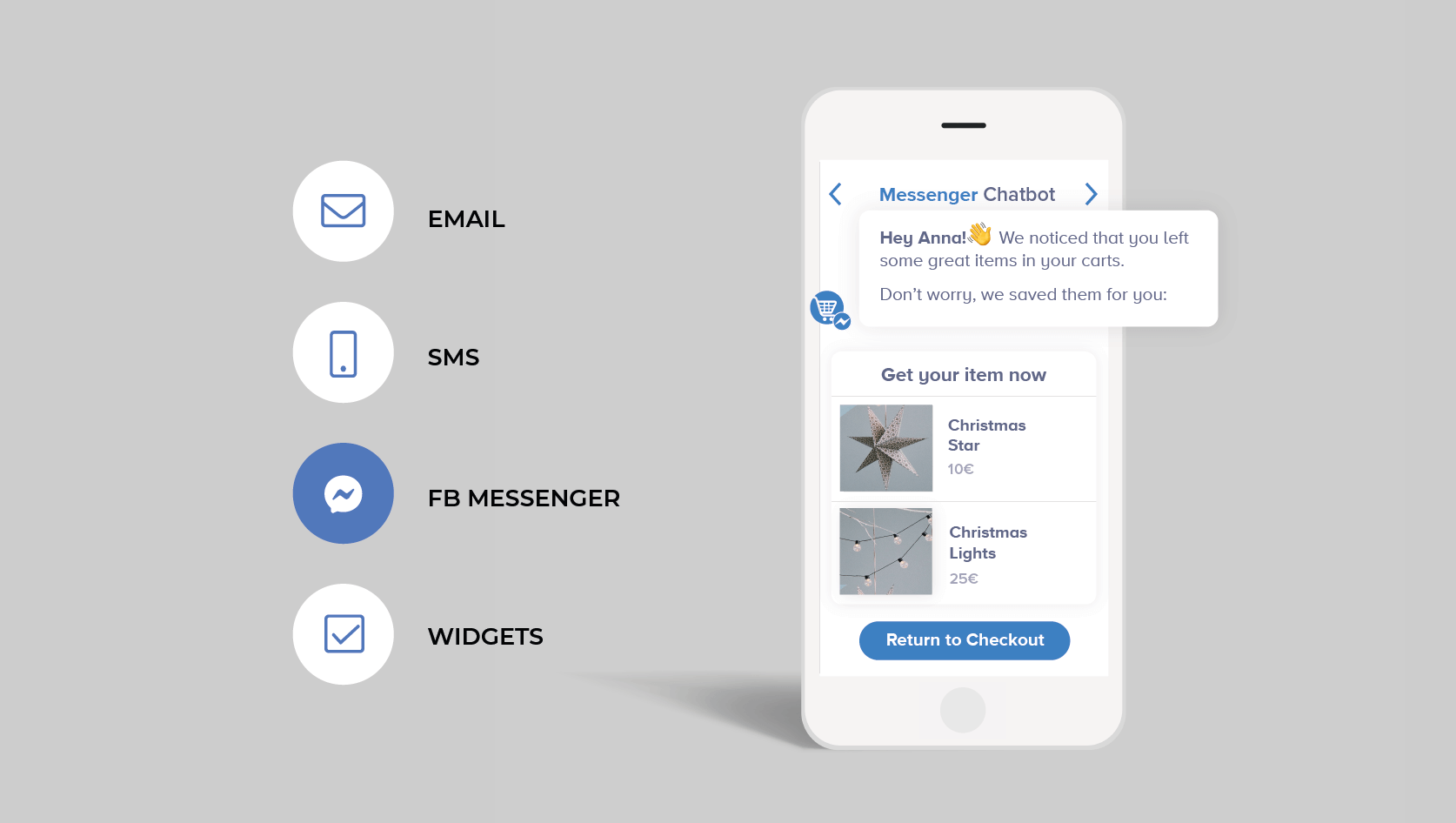 4. Master customer segmentation
In this day and age, marketing is all about personalization and shoppers want to feel like they're being treated as individuals. This, of course, is pretty much impossible to do if you have more than a handful of customers. However, you can get very close to it with the help of customer segmentation, a tactic that'll help you increase your sales in Q4.
Customer segmentation is essentially the practice of creating groups of individuals within your customer base that have something in common. You can group them based on demographics (age, gender, occupation), geography (location), psychographics (personality, lifestyle, etc), or behavioral patterns (readiness to purchase, loyalty, etc). A smart marketing automation software will do the job for you.
Once you've created segments based on the data that you have on your customers, you can adjust your marketing campaigns to the interests, needs, preferences, etc. of each profile and provide an experience that feels personalized. The narrow focus allows you to optimize your campaigns and really zone in on your individual customers.
In Q4, focus on identifying your most profitable segments. Use their purchase history to target them with tailored recommendations and incentivize them to buy more with automated retargeting campaigns.
5. Run an abandoned carts campaign
The holidays are not just the season of increased revenue, they're also the season of incomplete purchases. Increased traffic means more abandoned carts – and more opportunities to recover them.
How do you convince your shoppers that the gift idea they went back on was actually perfect? You send them an abandoned cart campaign.
Whether it's through email, text message, Facebook Messenger or any other channel, reminding your customers of the purchases they almost made and suggesting similar options or recommended products is a very effective way to increase sales.