Written By
Louise
On Aug, 8 2019
3 minute read
Facebook Messenger remarketing is a great way to reach customers while they shop and makes an excellent inclusion in a multi-channel retargeting strategy.
However, there are certain rules and regulations e-merchants need to consider when building their Facebook Messenger retargeting campaigns.
Throughout this article, we'll explain the global regulations surrounding Facebook Messenger marketing, then run through a Facebook Messenger retargeting campaign example to show you how it's done.
But first, we need to convince you that Facebook Messenger retargeting is an absolute necessity for any e-merchant wishing to increase conversions with a multi-channel cart abandonment campaign.
Why use Facebook Messenger retargeting
Facebook Messenger is the second most used messaging app in the world, with a whopping 1.3 billion users worldwide. It also surpasses WhatsApp as the number one messaging app in important e-commerce countries such as the USA, Canada, and Australia. Despite these impressive figures, only 1% of businesses market across Facebook Messenger, creating a huge opportunity for fast-thinking e-merchants.
The statistics around Facebook Messenger's success as a marketing channel are just as impressive. On average, Facebook Messenger marketing boasts of a 70-80% open rate, a 20% click-through rate, and 5x high open and engagement rates than SMS.
Facebook Messenger marketing works especially well for businesses with a Facebook shop. Reach customers on the same channel they use to shop and streamline the process from marketing to purchasing.

Understanding the rules around Facebook Messenger marketing for ecommerce
As mentioned earlier in the article, there are a few rules and regulations e-commerce marketers need to consider before launching a Facebook Messenger retargeting campaign.
E-merchants can only send Facebook Messenger marketing to customers who have expressly opted-in to receive the message. Once e-merchants obtain the opt-in, it is only valid for 24 hours, so a Facebook Message needs to be the first communication in a multi-channel marketing campaign.
Collect customer opt-ins with on-site pop-up forms and widgets. Configure these widgets to fly out at opportune moments, such as when a customer adds a product to their cart or is about to exit the page. For optimal results, gamified widgets ask customers to 'spin-to-win' small discounts to incentivize their next purchase.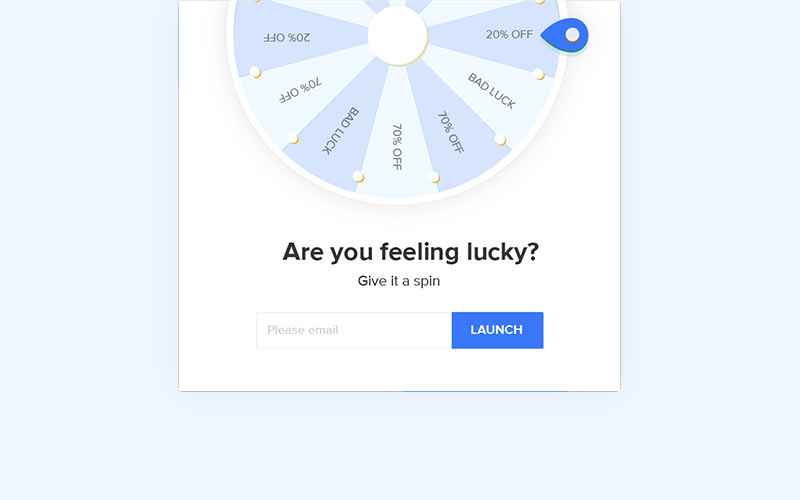 Use Facebook Messenger retargeting in a multi-channel abandoned cart campaign
Let's set the scene; a customer visits your online store, places an item in their cart, then suddenly exits the page without buying anything. As an e-merchant, you want to reach that customer as quickly as possible and bring them back to complete the sale.
To win-back the sale, e-merchants need to do three key things:
Reach customers fast - strike while the iron is hot and ensure the customer doesn't find a similar item on a competitor's site
Find customers on their preferred channel - engage with customers on the channel they use most, be it SMS, email, or Facebook Messenger
Incentivize with deals or discounts - the best way to guarantee a sale is to offer the customer a small discount or free shipping
An automated abandoned cart campaign is the easiest and most effective way to tick all these boxes and bolster the chances of converting the sale.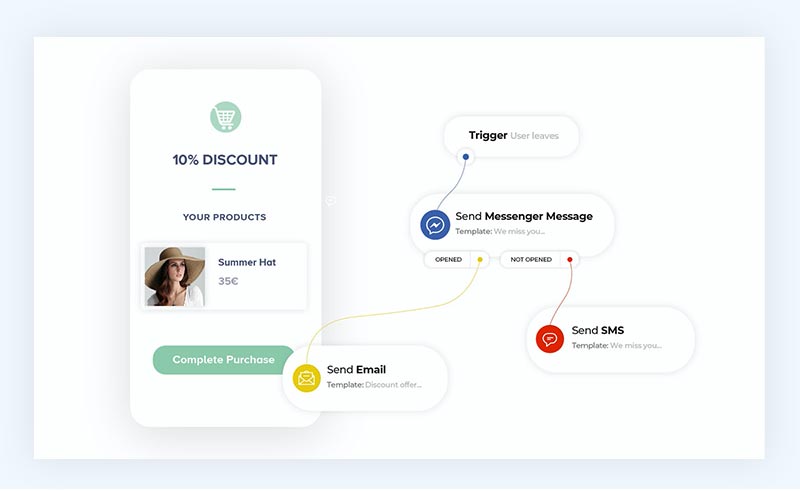 E-merchants create the content of their messaging, design a workflow, click 'start', and a first-class retargeting campaign will launch every time a customer abandons a cart. This campaign will be personally relevant to each visitor, showcasing the specific product they almost bought, along with similar or complementary products to up-sell the customer.
The first point-of-call should be a Facebook Messenger abandoned cart alert, sent when the customer exits the online store. This contains an opening message personally greeting the customer, an image and short description of the product they almost bought, and a link directly back to the cart (ideally with all their details still filled in).
If this retargeting Facebook Message isn't successful, follow up with an SMS offering a small discount, then an email with a larger selection of recommended products to further tempt the customer. Facebook Messenger, SMS, and email each have their own strengths as a marketing channel. Combining them into one abandoned cart campaign is the most effective way to win back customers.