Written By
Louise
On Dec, 19 2019
4 minute read
A new decade means new trends. There's no doubt about it: 2020 is set to be an exciting year for e-commerce marketing. According to the World Advertising and Research Centre (WARC), global ad spending will grow by 6% in 2020 and reach a whopping $656 billion, with internet ads accounting for a big chunk of this spending.
As e-commerce marketing continues to boom, it's essential for retailers to keep up the pace. Let's take a look at the top three e-commerce marketing trends for 2020 and the ways in which they'll help e-merchants increase online sales.
1. Marketing automation is more important than ever
In its Q3 2019 Global Venture Capital Report, Crunchbase noted that venture capital deal value has hit an all-time high - mostly due to a big increase in seed-stage capital. More and more early-stage companies are upping the ante; and as business budgets grow larger, spending on automation is bound to increase.
As Neil Patel puts it: marketing will become a more even playing field in 2020. Retailers will need to get creative and develop unique, effective marketing strategies if they want to stick out from the crowd.
That's why marketing automation is one of our top e-commerce trends for 2020.
80% of businesses are already leveraging marketing automation solutions to boost leads, so it comes as no surprise that there are many tools on the market. Just take a look at this expansive marketing technology landscape, zoom in and you'll see hundreds of e-commerce marketing automation platforms for retailers to consider.
With so many products available, it can be hard for retailers to decide on the right tools to increase online sales and grow their business. That's why it's best to focus on just a few products that address your unique pain points. Or better yet, adopt an advanced all-in-one marketing automation platform.
For more on how automation can help you grow your business, read about our article: 6 powerful benefits of e-commerce marketing automation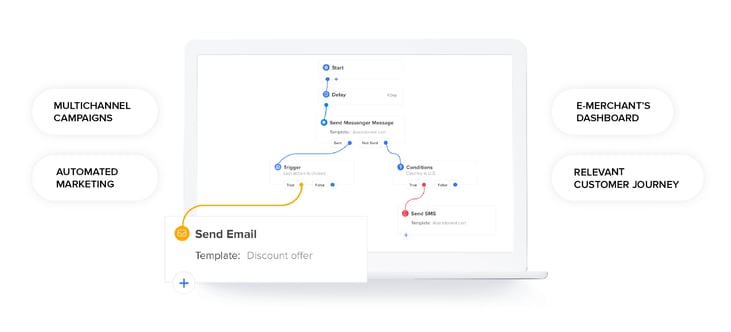 2. Personalization and segmentation are a priority
Thanks to companies like Netflix and Amazon, customers are growing to expect relevant, interesting content every time. It no longer works to catapult your messaging into the world and hope it resonates with your audience. Customers dislike mass-messaged content. On the other hand, an incredible 91% of consumers are more likely to buy from brands that provide relevant offers.
Personalization will be a huge trend for e-commerce marketing in 2020. This means you need to provide consumers with offers and product recommendations just for them, based on their previous behavior on your site and other key data points about them. Advertising to clients based on the weather in their city would be a good example. Or more commonly, up-selling customers at check-out based on their purchasing history.
For this personalization to work it's essential for brands to segment their customers. This is usually done by breaking up consumers into four groups:
- Geographically (based on location)
- Demographically (based on factors like age, gender, income or education level)
- Behaviorally (based on spending habits)
- And psychographically (based on interests, values, attitudes etc)
Once a brand groups customers into segments, they are able to reach out to consumers on a more personal level. Brands can build better relationships with their customers, get better feedback from them, and even bring in new clients through positive recommendations!
There are so many ways to personalize your marketing, get creative!
3. Multichannel marketing will continue to shine
Multichannel marketing isn't going away anytime soon and will continue to be an important pillar of e-commerce in 2020. When done properly, marketing automation is incredibly effective. In fact, brands that market across four or more channels experience a whopping 300% increase in ROI.
Multichannel marketing understands that different customers are receptive to different channels of communication. Expanding the scope of your marketing efforts by employing a combination of SMS, Facebook Messenger, email, social media or other messaging apps, will drastically increase your reach and the influence you have over your customers.
But remember: when it comes to multichannel marketing, consistency is key. Make sure that your tone of voice, message content, fonts, color schemes, and imagery are cohesive across all channels. After all, you can't have customers who are responsive to email and those who prefer SMS holding different views of your brand or different understandings of what's on offer.
In 2020, e-commerce retailers will need to be constantly mindful about what platforms their customers are using. With new communication channels popping up every day, it will be more important than ever for retailers to pay close attention to the latest trends and focus their marketing efforts on the channels where their customers are spending the most time (think TikTok, for example). At the same time, they need to remain loyal to tried and tested platforms like email and SMS.
Digital marketing trends move fast, which is why having an excellent multichannel marketing strategy in 2020 is so essential!