Written By
Louise
On Mar, 31 2020
10 minute read
The first of April is the one day of the year where lying is encouraged, cheekiness is applauded and companies all over the world are given the rare opportunity to showcase their wit instead of their new product line.
A brief history of April Fools' Day
The origin of this bizarre tradition is shrouded in mystery, with numerous possible theories surrounding the creation of the holiday being cited by historians. Some think we can thank novelist Jeffery Chaucer for inventing April Fools' Day in his classic The Canterbury Tales. Others trace the tradition back to the Greco-Roman festival Hilaria. The theory that seems to hold the most weight is that April Fools' Day came about during the switch from the Julian calendar to the Gregorian calendar - with those who forgot to switch calendars being labeled as the 'fools'.
The earliest sign of a company getting involved in the April Fools' festivities was in 1957 when the BBC convinced viewers that spaghetti grew on trees. Viewers were told of a particularly bountiful crop of spaghetti trees in Switzerland, thanks in part to the disappearance of the pesky spaghetti weevil. Viewers bought it hook, line and sinker. They even started phoning in asking how to grow their own spaghetti trees!
The 'spaghetti trees' prank was a huge PR success, and other brands took note. From then on a new April Fools' Day tradition was born - companies started taking part in the pranks.
Should your e-commerce brand create an April Fools' campaign?
April Fools' marketing is a great opportunity for e-commerce brands to get creative, engage with your customers in a fun new way, and inject some personality into your branding.
Creative Director of Anomaly ad agency Alex Holder said that April Fools' marketing campaigns are important to brands because "it's a chance for them to prove to their customers that they can be funny and human."
If you really want to reap the rewards of an April Fools' marketing campaign, you will need to dedicate some time and effort into making your campaign both hilarious and believable. It's definitely worth it the investment. If successful, your April Fools' marketing campaign can bring you publicity and increased awareness.
Not only will your content gain attention and engagement from your existing followers and customers, but it will also be shared. This sharing of your content is the ultimate goal. It could even "go viral".
Every year on the 2nd or 3rd of April, hundreds of articles counting down 'the best April Fools' marketing pranks' are published. Having links to your own marketing efforts featured in these articles is a great way to optimize your brand's SEO. The more external sites that share links to your April Fools' content, the higher your website will rank on Google.
So, we've convinced you to trick your customers with some hilarious April Fools' Day marketing? Get inspired by our favorite viral campaigns from recent years:
Our top 9 hilarious April Fools' Day campaigns
Google Gnome
We're suckers for a rhyming pun, and Google absolutely nailed it with the creation of "Google Gnome", a voice assistant designed specifically for your backyard. As opposed to Google Home which handles all your indoor tasks, "Google Gnome" allows you to control your hose, lawnmower, weed-whacker, or sprinklers through voice command.
"Google Gnome" will also answer any garden-related questions you might have, like which flowers are safe to eat or which plants are poisonous to touch.
And best of all, Google Gnome is cute as a button wearing a little gnome's hat.
While it's doubtful that many people actually fell for the "Google Gnome" prank, it's still a great demonstration of giving your customers a laugh and getting involved in the fun of April Fools' Day.
Honda's horn emojis
A proven tactic when creating an April Fools' Day marketing campaign is to incorporate current trends. Honda's 2017 "Horn Emojis" campaign totally encapsulated this idea (bearing in mind that back in 2017 emojis were still trendy).
If Honda simply used the term "horn emojis" the campaign would not have been remotely believable, so they piled on the tech-talk to further confuse customers. By referring to the horn emojis as "an integrated vehicle-to-vehicle and vehicle-to-human communications system for the modern driver" Honda added some much-needed legitimacy to the fake product.
Honda went on to add that the new system will be offered as a standard tech on the all-new 2018 Odyssey minivan, which really went on sale that spring!
Jamie Oliver's 1 ingredient cookbook
One of the most effective tactics of April Fools' Day marketing is to be self-deprecating. Finding a funny way to poke fun ar your own brand has proven hugely successful in the past.
A great example of this is Jamie Oliver's 1 ingredient cookbook. Fans of Jamie Oliver would have noticed that over recent years, many of the cookbooks he has published have followed a certain trend - the quicker and easier the meals, the better. It all started with best-seller "Jamie's 30 Minute Meals", followed by "Jamie's 15 Minute Meals", and finally "5 Ingredients - Quick and Easy Food".
A clever press-release accompanying the book stated "We knew it was just a matter of time before this happened … Jamie's One Ingredient - Quick and Easy Food".
Funny, self-deprecating, and believable (if only for a second) - Jamie Oliver's marketing team ticked all the boxes with this April Fools' campaign.
Brit Box Inter-Brit
As stated earlier, one of the best tactics to consider when creating an April Fools' Day marketing campaign is to make it believable. This doesn't mean taking it so far that absolutely no-one is in on the joke - just make your audience ponder the idea for a few minutes before they have the "ohhh moment" and realize it's a prank.
A perfect example of this believability was demonstrated in the campaign created by Brit Box. For those unfamiliar with Brit Box, it's is a streaming service that broadcasts British TV shows to international audiences.
Brit Box's brilliantly simple campaign was for a new feature called 'InterBrit', which would dub British TV shows with American voice-overs to make the accents easier for the US audience to understand.

Heniz Chocolate Mayonaise
Down the other end of the 'believability spectrum' was Heinz's April Fools' announcement that they were releasing chocolate mayonnaise. This campaign garnered attention for completely different reasons - shock and disgust.
Consumers all over the world were appalled by chocolate mayonnaise - it didn't matter that they knew the product wasn't legitimate, the mere thought of it was enough to create an uproar.
The product announcement read: "BIG NEWS! Heinz Chefs have been seriously busy recently, creating a delicious new recipe, Heinz [Seriously] Good CHOCOLATE Mayonnaise!".
In a clever twist, Heinz combined the product launch with Easter, claiming that their "top-secret recipe", a mixture of dark Belgian chocolate and creamy whole-egg mayonnaise, had been created as the perfect condiment for your Easter celebrations.
Heinz's April Fools' campaign shows that evoking strong emotions from your audience, even emotions like disgust, can be a great marketing strategy. The 'chocolate mayonnaise' video was viewed over 350,000 times on Facebook, garnered hundreds of comments, and was shared by people all over the world.
McDonald's Milkshake sauce pots
Continuing with the weird food theme, McDonald's UK launched 'milkshake sauce pots' on April Fools' Day last year. This 'product' was designed specifically for the customers who dip their fries into McDonald's milkshakes - it would remove the need to purchase a whole milkshake if all you want to do is dip your fries. As one of those customers myself, I thought this was a great idea and was thoroughly disappointed to find out it was just an April Fools marketing prank.
And I wasn't alone! This 'prank' was followed by an outcry from angry customers all over the world, who had been duped then disappointed in a matter of seconds. Aah well, fool me once!
The initial tweet from McDonald's UK received 1.4k retweets and was quickly re-posted by McDonald's USA. And the attention the prank received didn't end there, McDonald's amplified the media attention by launching a secondary marketing campaign asking customers what flavor milkshake-dip they would prefer (if one was ever actually made). At the time of writing this article, chocolate leads with 34% of the votes.
Tinder Height verification
When you're marketing a product like Tinder, finding a humorous angle to build your April Fools' campaign around is almost too easy. That being said, they nailed it with their 2019 campaign.
Tinder was able to tap into a hilarious customer pain-point with the 'creation' of their height-verification software. Users lying about their height. The software, Tinder explained, requires users to input their accurate height along with a photo of themselves standing next to a landmark or recognizable building. The app would then be able to verify whether or not the stated height was accurate.
The initial press release was accompanied by a 40-second video clip that gave users step-by-step instructions on how to use the new feature. This prank was elaborate and would have taken a lot of time and resources to pull off, but the hard work paid off. The 'height verification' campaign was a huge success - the video was viewed over 3.6 million times, and the prank itself mentioned 2400 times.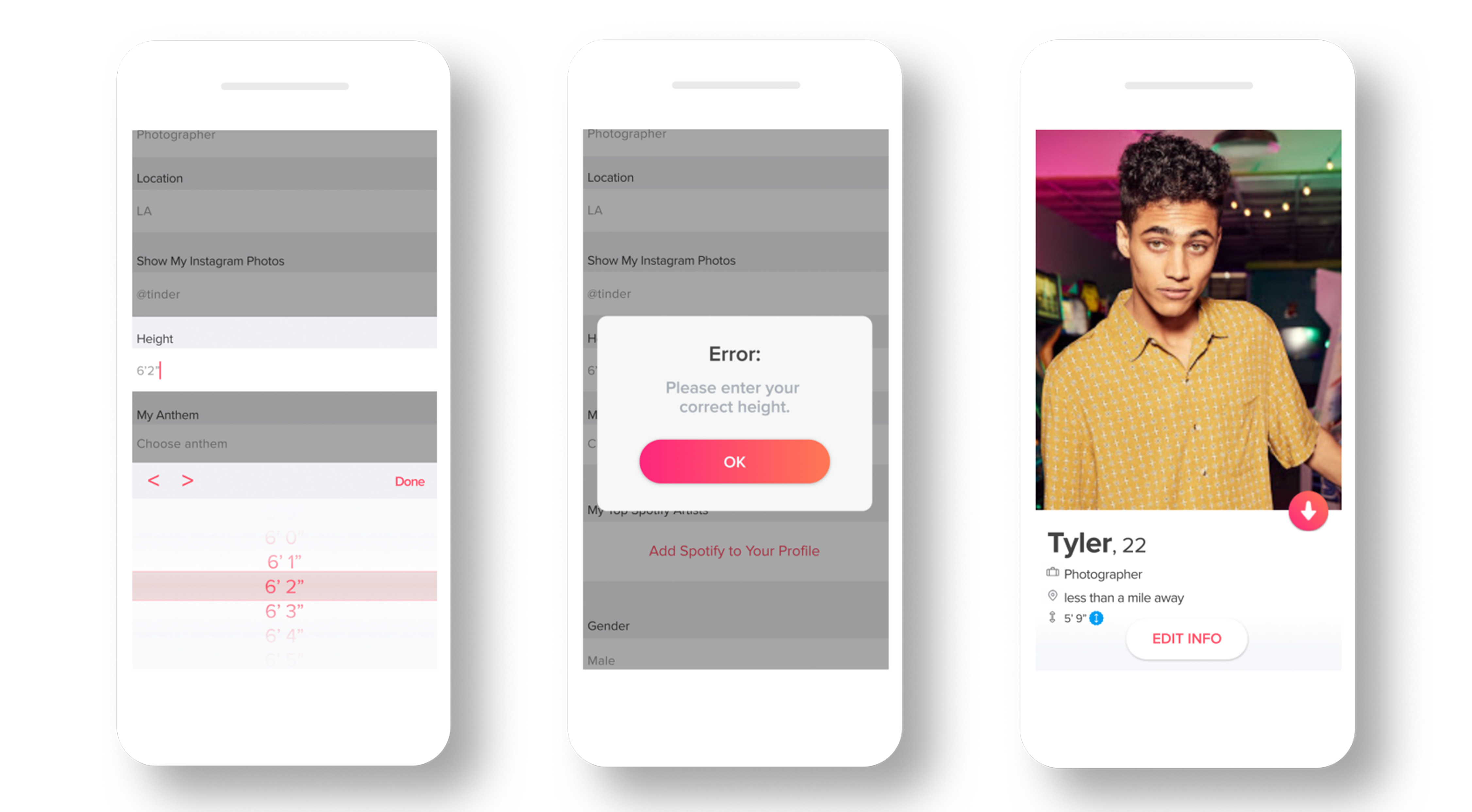 Fresh Direct - Caulk Cauliflower Milk
Online food delivery service Fresh Direct was onto another winner with their April Fools' marketing campaign for cauliflower milk or 'caulk'. This campaign combined many of the traits mentioned in previous examples:
Focus on current trends: the rise in lactose intolerance and veganism in recent years has seen plant-based 'milk' become a household item. Soy milk, almond milk, and oat milk are all hugely popular - and new 'milks' are being created every day. So it really wouldn't be that surprising if cauliflower milk was next!
Self-deprecating humor: Fresh Direct is known for catering to customers with all kinds of eating requirements, so using the text "It's gluten-free. Nut-free. Soy-free. Meat-free. Fruit-free. Ingredient free." is mocking their own brand, which is all part of the fun.
Generally funny content: the fake quote from a happy customer "this is so much better than trying to milk my cauliflower by hand!" is the best part of the campaign, genuinely made me chuckle.
ASOS clip-on man-buns
The world let out a collective sigh of relief when it was revealed that ASOS's clip-on man-buns were just an April Fools' marketing ploy. And a good one at that, they certainly got people talking!
The hideous hair-pieces were announced in a press release that read:
"It is a universally acknowledged fact that men with buns are not only more attractive but also more successful (for instance: the wowing feats of Jared Leto, Zayn Malik, and Shia LaBeouf)
, so, if you fancy upping your man's credentials on both the fashion and success scales without having to wait months and months, we have the answer: the clip-on man-bun"
After the statement was released, Twitter users saw red. The hatred people felt towards the clip-on man-bun blinded people to the fact that it was April 1st. "I don't want to live on this planet anymore," said one Tweeter. "This really must stop," said another.
Finally, ASOS came clean and everyone had a good laugh, turning a PR nightmare into a marketer's dream.
What not to do...
You know the story, everyone's joking around and having a good time then someone takes it too far. When it comes to April Fools' marketing, don't be that guy.
When you're brainstorming your April Fools' marketing campaign, try to avoid:
Provoking backlash
Annoying your customers
Leaving people out of the joke
Don't joke about things that will impact your customers on a personal level. If anyone thinks they have been wronged or ripped off, even if just for a second, your campaign will leave a sour taste in their mouth.
For a great example of what not to do, let's have a look at The Daily Carnage newsletter. As an April Fools' prank, the 'Carney' sent their newsletter subscribers an email receipt for $49.99, a new 'monthly subscription charge' for a newsletter that's always been free.
If you actually read until the end of the email it becomes more evident that it's all a hoax, but as we all know too well, no one read the fine print. Customers who then clicked to view the receipt were made aware that it was a joke - but those who didn't were left stewing.
Moral of the story - don't use April Fools' Day to give your customers a heart attack, or even annoy them. Keep it light-hearted, get creative, and most importantly have a laugh! It's the one day of the year that all marketers get to be funny - so make the most of it!
If you follow our advice and create some hilarious April Fools' marketing content of your own, share it with us in the comments!