Written By
Louise
On Apr, 15 2020
6 minute read
For an e-commerce store to thrive during these difficult times they need to make sure that their online marketing efforts are both timely and relevant. But how do you keep relevant when the global situation surrounding COVID-19 is changing at such a rapid pace?
Every day there are new countries reporting infections, new restrictions being put in place, and new items trending across the globe. To stay ahead of the changing needs and wants of consumers, e-merchants and e-commerce marketers need to conduct daily research and adapt their marketing efforts accordingly.
To make this process easier for you we've compiled a list of our top 8 websites to check over your morning coffee before you plan your day. Each of these websites is updated daily and gives readers a unique insight into COVID-19 and its ever-changing impact on the e-commerce industry.
1. COVID-19 Consumer Impacts Tracker
Internet trends tracking site Glimpse is a great place to start your daily COVID-19 research. They have created a page on their site dedicated to tracking the impact of COVID-19 on consumer behavior. On the page, they display a range of non-obvious trends impacted by the lockdowns.
Along with each trending search term is an explanation of why that specific trend is occurring. This is particularly useful to help you understand more complex terms like Pulse Oximeter, as shown below.
Glimpse allows users to view both upwards and downwards trending topics, so you can work out both what products to market, and what products to stop marketing. You can also refine the trends by searching for a specific category, making it quicker and easier to access information that is relevant to your e-commerce store.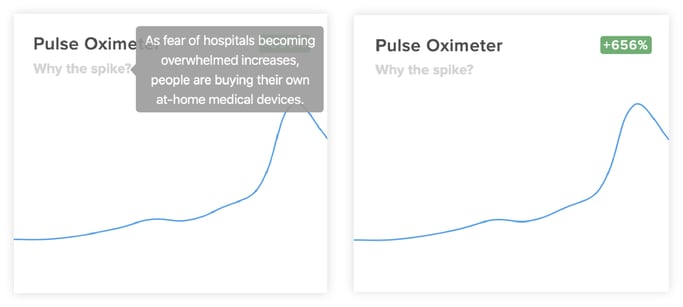 2. Coronavirus E-commerce Data, Impacts and Resources: COVID-19 Updates
Digital growth agency Common Tread Collective is providing users with a new page on their site all about the impact COVID-19 is having on the e-commerce industry. The page is broken down into three main sections:
E-commerce Coronavirus Data
Shipping and Fulfillment Providers
Resources for Financial Assistance
While all three sections are useful in their own way, it's the Coronaviurus data section that an e-commerce marketer should be checking every day. This section gives regularly updated information on e-commerce sales, which can then be segmented by industry.
The data they give compares pre-quarantine figures with post-quarantine figures and gives insights into average e-commerce revenue, ROAS, CPC, and many other relevant metrics.
3. World of Meters
While not specifically related to e-commerce, the World of Meters Coronavirus Update page is a necessary daily read for any e-commerce store owner with customers in multiple countries. The page includes all relevant information about the spread of COVID-19 as it happens and gives statistics on each individual country as well as the world as a whole.
E-commerce marketers should routinely check this information, then adjust their marketing efforts accordingly. For example, if one of your target countries is experiencing a spike in cases they may be more susceptible to the marketing of health and safety products, but less inclined to make any impulse buys. Conversely, customers in countries who are experiencing a downturn in cases will be in a more positive mindset, which may mean they are looking to the future and eager to buy outdoor equipment or swimwear for the summer to come.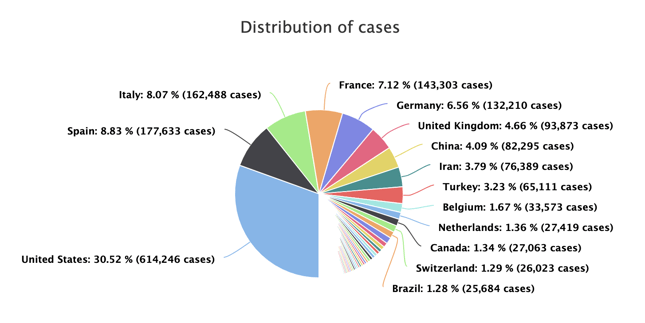 4. Top 100 Fastest-Growing & Declining Categories in E-commerce
If you don't have the time to read through a series of different graphs and articles each morning, this infographic created by Stackline is a great way to absorb useful information fast. As the title explains, the infographic contains the top 100 fastest growing and declining product categories in the US, when compared with the sales each category made this time last year.
Along with the infographic, readers are also given explanations as to why some of the more surprising trends are occurring.
While the infographic itself isn't regularly updated with the changes in consumer behavior, Stackline also has an industry news page with more up-to-date COVID-19 e-commerce news and trends.

5. Coronavirus Search Trends
One of the key pages to check every day is the Coronavirus Search Trends page created by Google, which breaks down the key COVID-19 related search trends from around the globe every day.
Some of these trending search queries, such as "bandana mask with hair ties" (up 4550% worldwide), or "how to make a face mask out of a sock" (up 2050% worldwide) could be utilized by a savvy e-commerce marketer. For example, you could create a marketing campaign that shows how to turn the everyday products you sell in your online store into fun, fashion-forward face masks.
Google Trends also provides users with a search bar where they can find specific topics or queries related to them or their industry. E-commerce marketers can use this to see how their own products are trending in different areas of the world, then edit their marketing to suit the specific needs and wants of consumers in each country.
6. Statista E-commerce Statistics
One of the most trusted statistics sites out there is Statista, which provides accurate, relevant and timely data about seemingly every topic. Unsurprisingly, COVID-19's impact on the e-commerce industry is included in the litany of topics they cover.
Statista has a page dedicated to e-commerce metrics, which is updated every day. On it, you'll find the day's most popular statistics, relevant studies, and special sections for B2B, B2C, and C2C e-commerce statistics.
Statista is great if you have a really specific topic that you want to search for, such as the impact COVID-19 has had on the availability of groceries in India, or the switch of specific industries to online retail since the start of the pandemic.
The only downside to Statista is that while you can access basic statistics with a free account, you need a paid membership to access their more in-depth studies.
7. Coronavirus: Leading through the crisis
Global management consulting firm McKinsey & Company has developed a dedicated Coronavirus webpage with new articles published every day. The articles have been written to give businesses and organizations new insights into the evolving situation, and advice to help them respond to the crisis.
One article on the page, COVID-19: Implications for Business, is being updated regularly as the situation evolves. It includes information on the science behind the virus, potential factors influencing its transmission, and the possibility of herd immunity.
The articles published by McKinsey are written with business leaders in mind, and so they are more relevant for e-commerce store owners than e-commerce marketers. They tackle topics such as supply chain management and how to lead a company through this unprecedented situation.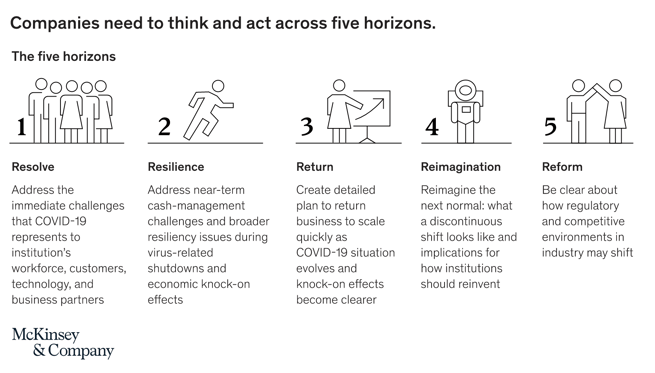 8. Within Retail Pulse
The final site to help you keep track of the constantly evolving COVID-19 situation and its impact on the e-commerce industry is the Within Retail Pulse. Performance branding company Within uses data from a sample of its retail clients to monitor the effects that COVID-19 is having on the e-commerce industry.
The clients whose data Within examine are large companies with:
An average of 100,000 daily website sessions
1900 daily transactions
An average of $350,000 revenue brought in every day.
This means that the studies carried out by Within are not particularly relevant to those marketing more niche e-commerce products or services.
Within provides readers with daily-updated graphs and statistics from a range of sectors, such as fashion, luxury items, or essentials. Every day they give a rundown of key takeaways from each industry and the days most relevant e-commerce updates, which you can receive immediately if you sign up online. They are also tracking year over year trends in e-commerce revenue, ad spend, and conversion rate.
All the world's buying power has moved online for the foreseeable future, and e-commerce businesses have been given an unprecedented opportunity to grow. With so much business to be won the competition over consumer's attention will be fierce, so e-merchants and e-commerce marketers need to stay informed on the rapidly changing situation and how it's affecting consumer behavior. By regularly checking these recommended sites, e-merchants can adapt their marketing strategies and stay ahead of the competition.