Written By
Louise
On Dec, 10 2019
5 minute read
There are a million different things that brands can do to inspire customer loyalty. For e-commerce businesses that haven't been around long enough to build their reputation, the most effective way to inspire loyalty among customers is with a solid customer retention strategy.
The ability to retain your existing customers can have a huge impact on your business's bottom line. In fact, it costs at least five times as much to acquire a new customer than it does to retain one you already have. That's not all.
The probability of selling to an existing customer is 60-70%, while the probability of selling to a new prospect is 5-20%. According to the same research, existing customers are 50% more likely to try new products and spend 31% more than new customers.
A study found that retailers who increased customer retention rates by just 5% saw a boost in profits by 25-95%. A follow-up study concluded that the same "loyalty economics" can be observed in e-commerce businesses. In fact, for online stores, acquiring new customers can be 20-40% more expensive than for traditional retailers.
Every e-commerce business should have a customer retention strategy in order to:
Prevent churn
Increase loyalty
Increase profits/ROI
Let's look at the most effective customer retention strategies you can implement in Q4, just in time for the holiday season.
Examples of effective customer retention strategies
Loyalty programs
Recurring customers are one of your most valuable assets. Shoppers who regularly return to your e-commerce store may seem like an easy catch, but in reality, they're the ones that you should cherish the most.
The best way to express your gratitude – and make sure that these high-value customers keep coming back – is through loyalty programs.
A loyalty program is a customer retention strategy designed to identify and reward people who buy from your store on a recurring basis with the goal of incentivizing them to purchase again. It uses data provided by the customer along with their purchasing history to analyze shopping habits, based on which you can create personalized, timely and relevant offers.
According to a study by Accenture Interactive, members of loyalty programs generate 12-18% more revenue for retailers than customers who are not part of loyalty programs.
So how do you create an effective loyalty program? Here are a few examples of perks that you can offer to your recurring customers.
1. Reward schemes
The simplest way to inspire a customer to buy more? Give them bigger rewards the more they purchase.
There are several types of reward schemes that you can implement in your e-commerce store. For example, you can provide the opportunity for members to earn points that they can redeem on their next purchase, or exchange for a gift once they've collected a certain amount. Airlines have long been the champions of this type of reward scheme with their frequent flyer programs, but retailers (on and offline) like Sephora have also had success with it.
To make sure your customers are aware of these benefits, send them an email now and again informing them of how many points they've collected. In Q4, you can even add an urgency element to it: remind your loyalty program members their points have an expiration date and need to be redeemed before the end of the year.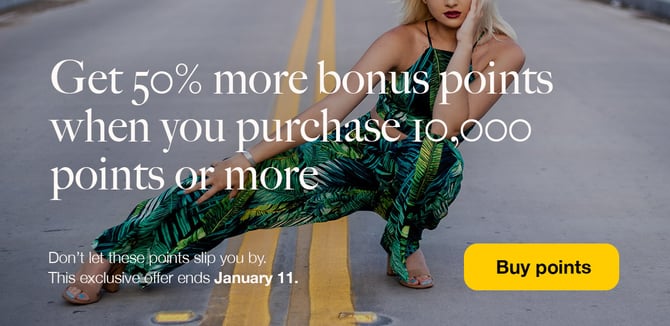 2. Exclusive discounts
The holiday season is the perfect time to offer your privileged customers an exclusive discount that only they have access to.
"Here's 10% off all books, only for our loyalty program members!"
Discounts don't have to be seasonal though. The biggest online travel companies use them year-round to make sure that their prized returning customers don't start eyeing products offered by the competition. For example, Booking.com offers a 10% discount on selected properties to members of its Genius program. So why not implement the same strategy in your e-commerce store?
3. Time-sensitive deals
As we've mentioned, time-sensitive deals can be super effective at prompting shoppers to buy because they create a sense of urgency.
If you send your loyalty program members a limited-time offer in an email, you may even get them to make an unplanned purchase.
4. Early access to new releases
If your customers are particularly passionate about your brand or your products, they'll be thrilled to know that your loyalty program also includes early access to new product releases. This is some real VIP treatment that, if communicated well, creates hype around your new range, collection or product and is a great way to encourage shoppers to purchase.

5. A subscription model with benefits
Subscription models are another form of loyalty program. While they may not make sense for some e-commerce businesses, in certain cases, they can be incredibly effective.
If you sell products that need to be replenished on a regular basis (cleaning supplies or beauty products, for example), you may consider having your customers pay an upfront fee. You can tempt members into paying for subscriptions by using exclusive membership perks.
This is exactly what Amazon has done with its Prime subscription option. The e-commerce giant offers free shipping and includes a video streaming service in its subscription model to incentivize customers to sign up.
Win-back campaigns
Next to your VIPs, another customer segment that needs your attention is the group of lapsed or inactive customers that have only made one purchase in your e-commerce store or have not purchased anything from you in a long time.
Win-back campaigns can be extremely effective at re-engaging lost customers. These marketing automation sequences aim to give 'sleeping' customers a little poke on the shoulder. They are designed to 'wake them up' and convince them to buy from your e-commerce store again.
You can choose to run your win-back campaign on a single channel or opt for multichannel retargeting and choose a combination of your most lucrative channels. While we recommend using multiple channels to maximise the reach of your campaign, we'll keep this example simple and just use email.
Here are the 5 steps of an effective email win-back campaign:
Step 1: Identify inactive customers and create a customer segment (easiest done with a marketing automation tool).
Step 2: Write catchy subject lines that will get the attention of inactive customers.
Step 3: Offer a discount or a free subscription trial.
Step 4: Segment customers who haven't opened the email or haven't engaged, and try messaging them across different channels.
Step 5: Find out why your customers became inactive by analyzing data and conducting surveys.
Win-back campaigns are not just for customers that haven't engaged with you for a long time. You can also use them for shoppers that have abandoned their carts, leaving you with a lost opportunity for a sale.
With Carts Guru, you can send automated cart abandonment campaigns through email, text message and Facebook Messenger and retrieve up to 20% of the revenue you missed out on. Check out our e-commerce marketing automation solution today!
While loyalty programs and win-back campaigns are some of the most effective ways to retain customers, you should also consider these options:
Creating referrals programs that incentivize customers to become promoters and spread the word about your brand
Conducting customer satisfaction surveys (for example, Net Promoter surveys)
Sending a regular newsletter to your customers
Collecting social proof and capitalizing on it (for example, resharing reviews)
Improving the customer experience by using customers service tools such as a powerful CRM and/or chatbots