Written By
Louise
On Mar, 20 2020
7 minute read
Businesses all over the world are struggling to come to terms with the Coronavirus pandemic and the subsequent global lock-down. For some industries, like brick-and-mortar retail, the procedure to follow is simple - shut up shop, lay off people, keep paying the rent and hope it's all over soon. But for the e-commerce industry, the situation is very different. While other industries slow down, e-commerce stores are seeing an uptick in business that signals the acceleration of consumers adopting online ordering in a way we've never seen before.
For the time being, the world's purchasing power is being directed almost entirely toward the e-commerce industry. So, what does your business need to do to make sure you can handle the influx of orders? And how should you mitigate a potential stagnation in the production of your products or supply chain issues?
To help you navigate this difficult time we've put together a checklist of 8 actions every e-commerce store should take to make sure their business thrives during this crisis.
1. Check your current stock
One issue that e-merchants may face over the coming weeks and months is that some products will sell faster than ever, and some will stop selling at all. Make sure these changes in customer demand don't become an issue for your business - ask yourself these two key questions:
What items do you currently have in stock?
What items will sell well in the current crisis?
From here, you can work out what products you need more of and what products you won't need for a while. Then, contact your supplier and change your upcoming orders. Keep your supplier in the loop and make sure they are spending their time and effort creating products that you will be able to sell.
When thinking about what products are going to sell well, place yourself in the customer's position. Will any of your products will make a lockdown more bearable, or even enjoyable? Things like board-games, DIY projects, comfortable clothes, indoor sporting equipment or books would all be a welcome addition to anyone's time in quarantine.
And remember, time is of the essence. It's important to make these changes to your production lines as quickly as you can. Some e-commerce stores have already reported that certain household staple items are selling 4x as fast as they were this time last year.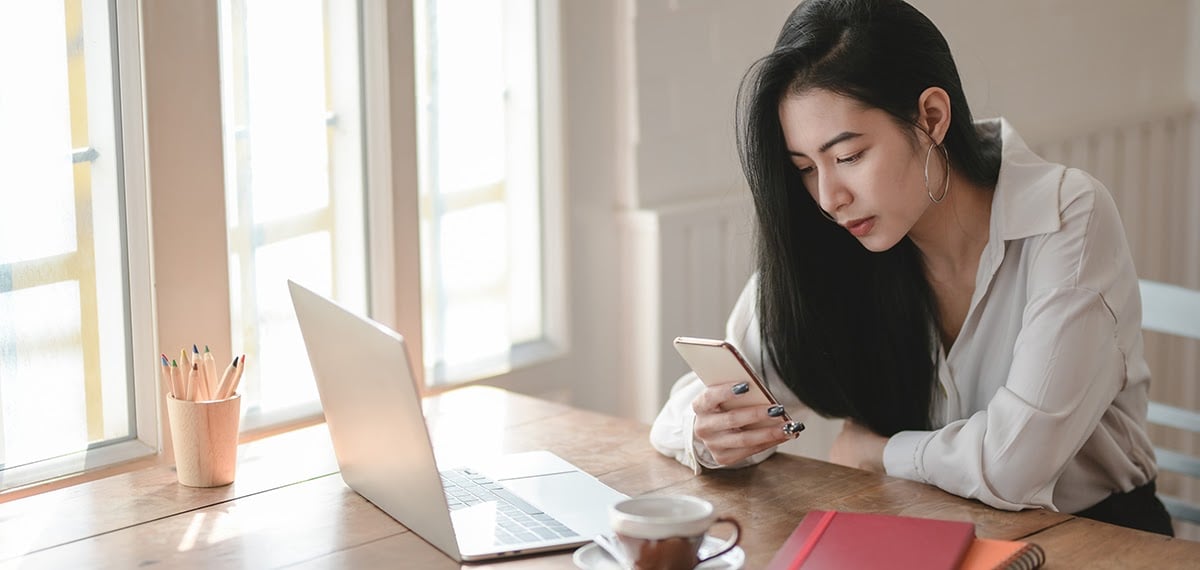 2. Move all your marketing efforts online
Now is the time to fully invest in online marketing. Here are four key reasons why:
Using any portion of your budget to advertise in public spaces is money down the drain in our current global crisis. People are stuck indoors browsing the internet and looking at screens, so if you want your marketing messages to find your customers now's the time to move it all online.
Not only will online marketing channels like email, SMS or Facebook messenger be far more successful at reaching your audience - making the switch from big-budget advertising to online marketing will also save your company money.
Without the option of brick-and-mortar retail, your customers are all shopping online. By moving your marketing online, you streamline the process between viewing a marketing message and making the purchase. With the help of Carts Guru, all your customers need to do is open your marketing message, click to purchase, and have their order delivered straight to their door.
Customers all over the world are stuck indoors, staring at screens. The only way to ensure that your brand is visible to them is by meeting them where they are - online. Over the next few weeks or months, whenever your customer needs or wants something they will browse for it online. It's your job to make sure it's your brand right there offering it to them.

3. Reassure customers, keep them in the loop
The situation we're currently in is unprecedented, and your customers are understandably cautious and confused. It's your job as an e-merchant to reassure your customers, tell them how you're dealing with the crisis, and let them know of any way that they might be affected as consumers. Now is the time to build trust, so communication and transparency are key.
You need to be pro-active. Create a company-wide communications strategy so that everyone in your business is fully prepared and your brand's message is unified. All employees need to know what language to use, how to answer customers' questions, and how to mitigate any issues that arise.
A great way to reassure your customer base is with by sending an email like this one to your entire contact list: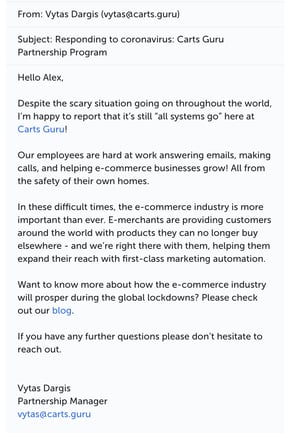 Customers will almost certainly have questions about the safety of the products they order online, particularly those coming from China. Your employees need to be fully prepared to answer these questions and reassure customers that ordering from your site won't do them any harm.
A great way to relieve your customers' worries is to preempt the questions they may have by publishing a table such as this on your website.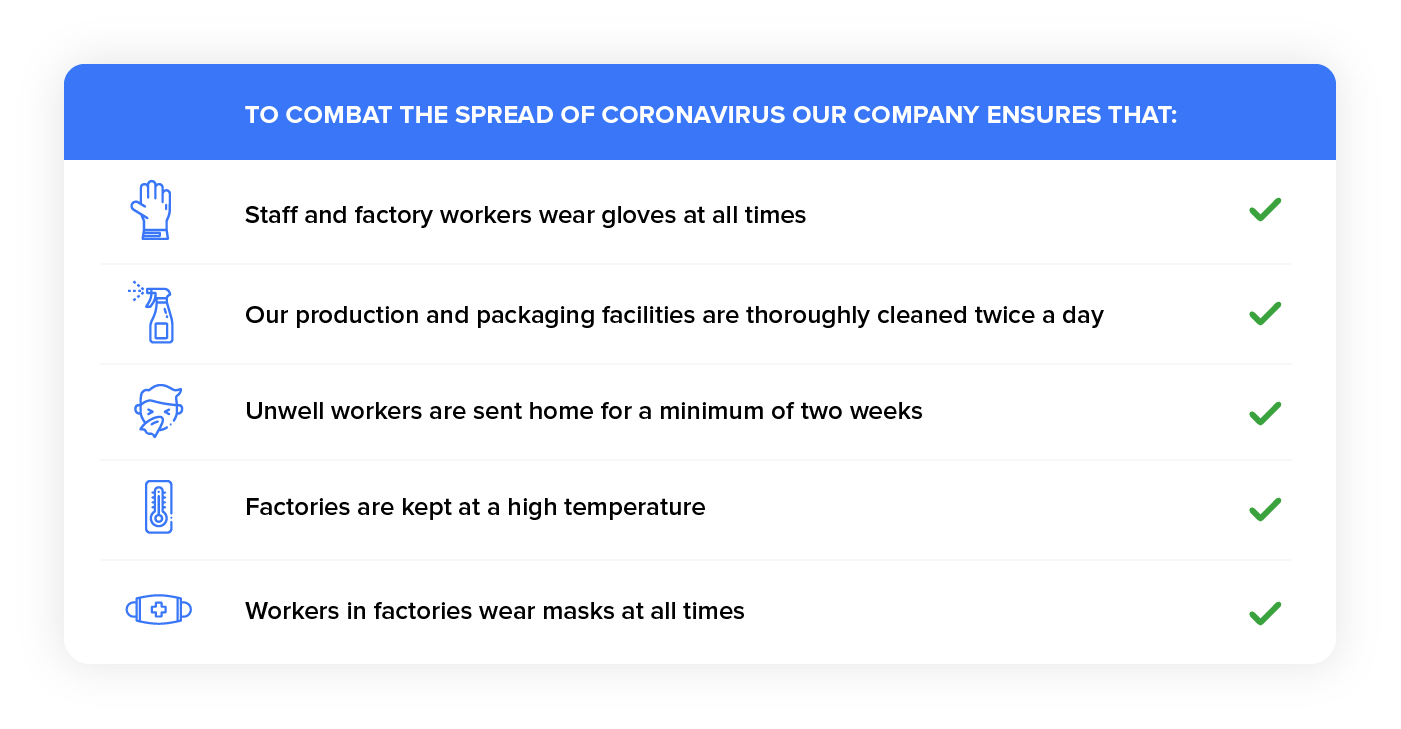 Finally, don't promise customers anything that you can't absolutely guarantee. Many e-commerce businesses will face delivery delays, problems with the supply chain, or products running out of stock. Be totally transparent with your customers about any such issues, and let them know that their delivery may take a little bit longer than usual, they'll understand.
4. Don't accept orders you aren't able to fulfill
Following on nicely from the point above, you shouldn't take orders for products that you don't physically have in stock. Most e-commerce stores are bound to experience some issues with their supply chain over the coming months, particularly those relying on factories in China.
Now is not the time to take orders for products you think will be in stock soon. Take a very conservative approach and only promise goods that you know you can provide.
It's also important to remember that delivery services will be under significant strain over the next few months, so it might be a good idea to remove the 'fast shipping' option from your website.
5. Look into alternative production methods
Factories throughout China are running at 50-60% capacity as a result of the Coronavirus outbreak. These Chinese factories account for 28% of global manufacturing and 38% of global textile production, so chances are your supply chain will be affected in some way.
If you want to keep up with the growing demand for online products, it's time to start researching manufacturers in other areas of the world. Or, better yet, look into domestic manufacturing! Not only will it reduce the risk of your goods getting stuck internationally due to the increased stress on global shipping, but it will also help stimulate your local economy during these difficult times.
If producing your goods locally is just too expensive for your business, why not consider factories based in cheaper manufacturing nations like India, Mexico or Indonesia?
China may be the global manufacturing hub, but it's certainly not the only option out there. Do some research and work out what makes the most sense for your brand and your budget.

5. Make sure your Amazon store doesn't run out of stock
Do you sell your products on Amazon? Make sure you read this next piece of advice very carefully.
Amazon's organic search and advertising algorithms are not kind to online stores that run out of products. In fact, if a product listed on your site is out of stock for more than 30 days, Amazon treats this product as if it has no sales history at all - even when it's back in stock.
Not only will this harm the future sale of this specific product, but it will also negatively impact the overall sales on your website, as your brand won't be as easy for customers to find.
Don't let your brand's long-term search position on Amazon be ruined by an unavoidable Coronavirus stock shortage. Remove any out-of-stock products from your store before Amazon catches on and punishes you for it.
The best way to avoid this is to do a stocktake at the end of every day, take note of what products are running low, and order more if you can. If any product runs out completely before the replacement stock has arrived, take it off your site until you're able to sell it again.
6. Reconsider sending discounts
Whether or not you should be giving out discounts during the Coronavirus pandemic really depends on the specific products you sell.
If you sell products that will keep people entertained during a lockdown, like board games, yoga mats, or musical instruments, then there's no need to offer any additional discounts. Customers understand that businesses are struggling in the current economic climate, so they won't be expecting discounts. Announcing a sale is a surefire way to sell out of already popular stock, then be stuck with nothing to sell while the global supply chains struggle to keep up with demand.
However, if the products you sell won't be particularly useful during the global lockdown, let's say swimwear, bicycles, or party dresses, then you may need to give your customers an added incentive to purchase a product they aren't likely to use in the upcoming months.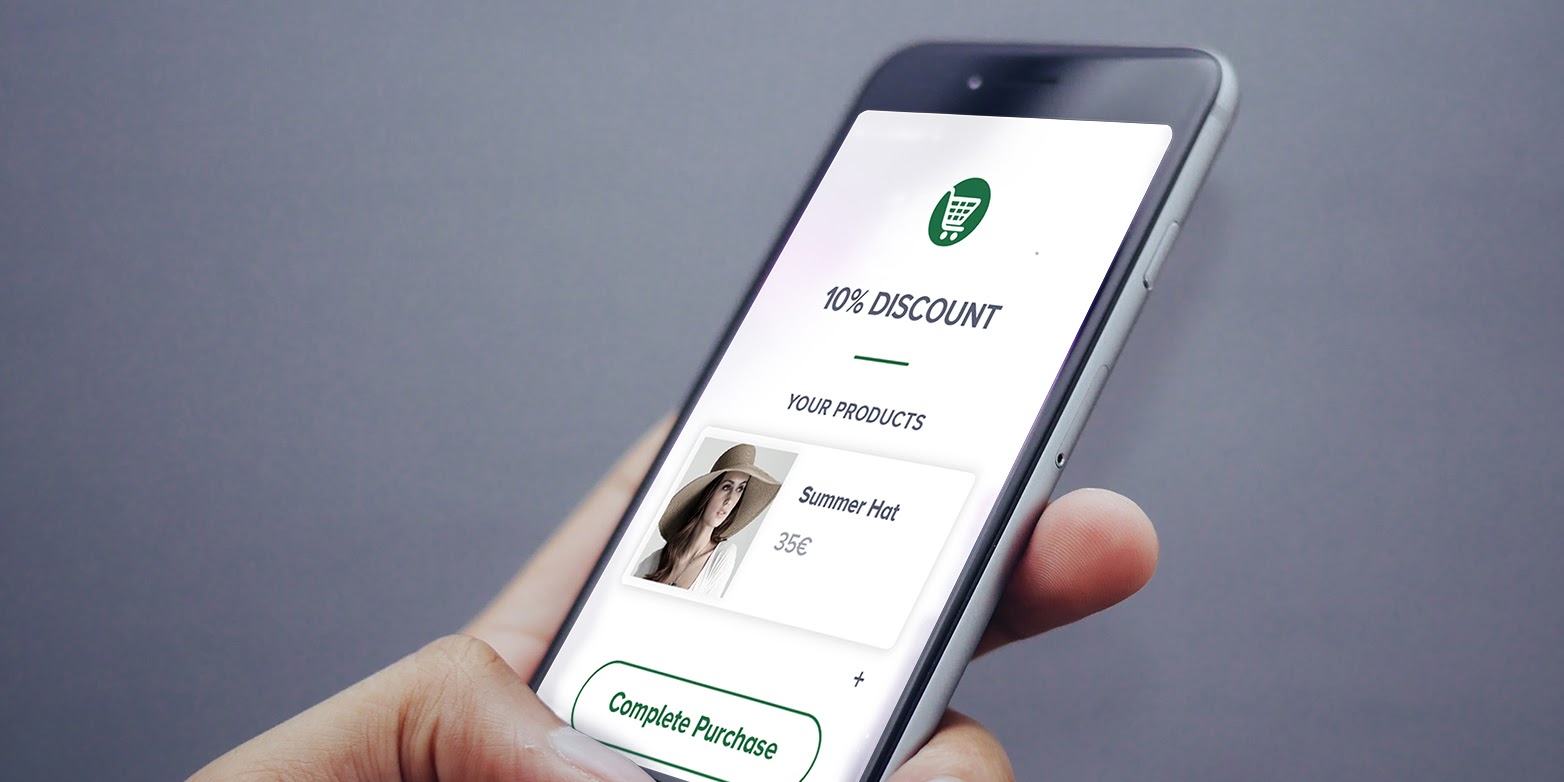 7. Boost business into the future
The Coronavirus pandemic will expose many new customers to the world of e-commerce. Life-long brick-and-mortar shoppers will be forced to leave their comfort zone and try shopping online for the first time.
This is a huge opportunity for e-commerce stores! Give these new customers the best possible experience, show them just how convenient online shopping is, and convert them well after the pandemic has subsided.
Looking ahead
If the quarantines and lockdowns continue much longer, the majority of global industries will really start to struggle. The world will turn to e-commerce to bolster the global economy, boost production levels and prevent a recession.
Amazon has already announced that they will be hiring 100,000 new employees to help with production and distribution during the crisis, which will go a huge way toward reducing unemployment levels and stimulating the economy.
Online stores all over the world need to be flexible and adapt to the new challenges that Coronavirus presents. E-commerce is one of the only industries with the potential to thrive during this current crisis, so follow our hints, be smart, and make the most of a scary situation.
Now's the time for e-commerce to shine! So do your part and reap the rewards.