Written By
Louise
On Jun, 17 2019
4 minute read
E-merchants everywhere are looking for best practices to recover abandoned carts, as the industry is constantly expanding on a rapid scale. With 2019 well underway, e-commerce carries on innovating and adapting to new trends.
However, despite all this growth, the average visit conversion rate of the top 100 online retailers is 2.8%. This means that fewer than 3 in every 100 visitors turn into purchasers. Cart abandonment is still the number one challenge e-commerce businesses face. With 68% of website visitors dropping a purchase before the finish line, it's no wonder that the conversion rates are so low.
So, how can e-merchants tackle this disheartening issue? We decided to share 6 best practices for recovering abandoned carts.
1. Use multichannel retargeting for better reach
Retargeting is one of the most useful ways to get visitors back to your website. Because they have already expressed interest in your product, there's a higher likelihood of conversion when you contact them again.
But, only one channel is no longer sufficient to re-engage visitors. Emails often get marked as spam and Facebook Messenger has a strict 24h policy in which you can contact users.
A quick win is to include multiple channels into your retargeting strategy, such as:
Emails (30% open rate)
SMS (98% open rate)
Facebook Messenger (80% open rate)
Facebook Ads
Instagram Ads
Combine the limited power of the email with the strong open rates of SMS and Facebook Messenger campaigns. This ensures that you reach your customers through various ways and encourage them to finalize their purchase.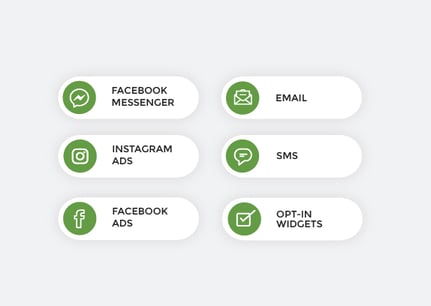 2. Plan marketing automation based on customer behavior data
Marketing automation simplifies marketing tasks by automating them. It enables marketers to assign, run, and measure tasks and workflows. You not only save a lot (and we mean a lot) of time, but you can also focus on more important aspects of your company, like strategy.
You should follow a smart and efficient approach to marketing automation. Instead of having a sequence of several emails, use multiple channels to enhance reach. For example, you could create a workflow that sends one Facebook Messenger message after a few hours, and one email + one SMS after 2 days.
For best results, you can trigger the messages based on your customer's behavior. This is why in-depth segmentation is helpful, as you can select audiences to target with specific communications.
Consider offering a discount to new customers and those that have been inactive for some time. Or, if the cart amount is higher than a certain amount, you could offer free shipping. The opportunities are endless.
3. Customize your communications
Everyone is different. Everyone wants to feel special. To provide a personalized and relevant experience to your customers, the strategy and segmentation are the first steps. Next, you should start customizing!
Include the person's first name at the beginning of your message. As you will be using marketing automation, this step will be easy and carefree .
Second, include the abandoned cart's content in the message (picture + short description + price). Bear in mind that it's not possible to include all of these in an SMS, but email and Facebook Messenger pose no boundaries. Using a personalized approach shows interest in your customer's preferences and increases engagement.
Third, include automatically generated product recommendations relevant to the product/s left in the abandoned cart or according to your website's best sellers.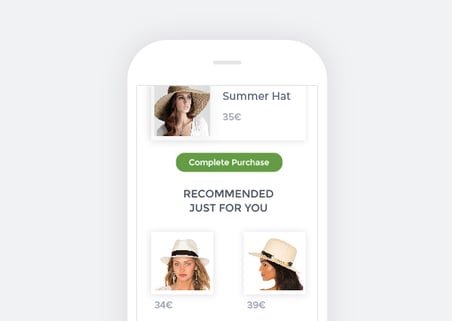 Finally, include a direct link to the abandoned cart for customers to finalize the purchase in the easiest possible way.
4. Time it wisely
In this day and age, everything is a question of time, especially when it comes to recovering abandoned carts. Sending an email 3 weeks after a cart is abandoned is counter-productive and won't benefit your strategy.
So is sending an SMS with a discount code at 4 a.m.
Let's make one thing clear: people who abandoned their carts had a reason for doing so. Maybe it was an impulsive purchase, or they didn't have enough money in the account, or they saw something else that they liked on another website. Regardless, the interest was there.
You should take advantage and not wait too long before reaching out. After 20 minutes of inactivity on the website, the first message should be ready to go. For example, emails sent within 20 minutes of inactivity get an average conversion rate of 5.2%, compared to 4.5% for those sent after an hour and 2.6% for those sent after 24 hours.
The numbers speak for themselves. Be careful not to put too much pressure on the user, though! One message after 20 minutes should be enough. After a few days, you can try engaging again through a different channel.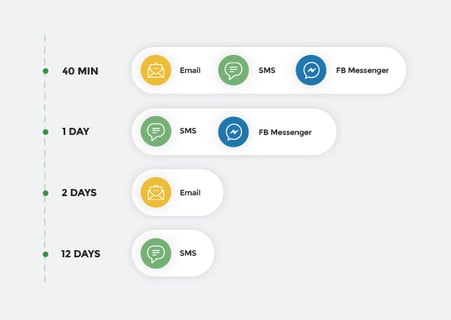 5. Be fun and visual
How to differentiate yourself from the dozens of emails people receive daily?
Include eye-catching visuals
Visual storytelling is becoming increasingly valued in a sea of chunky irrelevant content. This doesn't come as a surprise given that our brains process visual content 60,000 times faster than text. Presenting text in a visual manner or using beautiful professional images increase the chances of catching buyers' attention.
Be funny
No surprises here: everyone knows that humor is the way to one's heart. Use funny GIFs, jokes, or even memes to reignite the spark between you and your audience.
Be original
Much like visual content, originality is essential in the endless amount of information that exists on the internet. Some might argue that it's impossible to create anything original nowadays. We'd argue that everyone is different and even the same idea might have various ways of expression.
So, play around with words, colors, channels, and strategies to create something inspirational for your customer.
Be nice
Being nice implies offering something to your more important customers, such as a special discount.
The discount codes will be integrated within your messages, whether it's emails, SMS, or Facebook Messenger. Use enticing and clear language to highlight the amazing offer you're giving away and include redirect links to the abandoned cart. If you're using retargeting software, the discount code will already be applied to the cart in order to optimize the user experience.
6. Use pop-ups
Whenever you need a quick way to reach people who have not left their contact information on your website, pop-ups come to the rescue. Use them to collect your visitor's details, from phone number to Facebook Messenger opt-in.
Pop-ups appear at strategic moments on your website. For example, one may be triggered when the visitor is adding an item to the cart or when they are about to leave the website. Pop-ups can also encourage people to engage in gamification to win a discount code, get free shipping, or download an ebook!
To conclude, use multichannel strategies to help you reach more customers, marketing automation to make your job easier, and proper timing and personalized messages to engage your visitors.