Written By
Louise
On Oct, 2 2019
5 minute read
Discount codes are an undeniably powerful driver of sales for e-commerce businesses. Offline and online, more than 93% of Americans used coupons to shop. In fact, research shows that promotions encourage 28% of customers to spend more, 27% to switch stores, and 25% to make unplanned purchases.
There's no question: It's important to understand how to run promotions on your site. Here are our top five tips to help you make the most out of running discounts in your online store. Follow these and soon you'll be bringing in even more sales!
1. Choose the right type of discount
Not all discounts are created equally - and they are used in different places for different reasons. Discounts on delivery, for example, are good at lowering your cart abandonment rate and increasing your average order value (AOV). Many leading stores, including Amazon, offer free delivery on orders over a certain value. This encourages people to buy more. Just make sure the offer is obvious to the buyer and easy to use. If the value of the shopping cart goes over a certain amount, the shipping costs should be deducted automatically.
If you want to encourage return visits and starting building customer loyalty, send a thank you email with a discount code to be used on the customer's next shop. It's a good idea to include the value of the discount in the subject line to make sure that people don't ignore it. For example:
"Thank you for shopping with us! Here's $10 off your next purchase (on orders over $100)"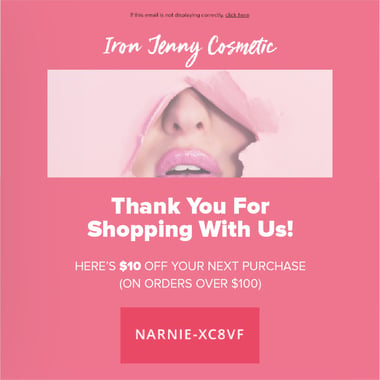 Alternatively, if you are unsure of how a cash discount will affect your margins, you can offer a percentage discount on specific products instead.
You can also start looking at multi-buy and volume-based discounts. These help you to increase your average order value (AOV) and start shifting one type of item. Buy one get one free (BOGOF)-type offers work in the same way and often appeal to hardcore bargain hunters!
Combination offers, where you bundle together different types of items at a discount price, are another way to introduce your customers to new items. They can also help you sell less popular product lines.
Pro tip:
To set up a discount code or offer on your website, go into the discount code section in your e-commerce platform. There, specify a discount based on a dollar amount, a percentage discount or "a buy X, get Y" offer. Depending on your platform you can also apply time restrictions or other variables. This might include a limit on the number of coupons a customer can apply per purchase.
Shopify has a great video that goes step-by-step through how it works on their platform.
You can also set up discount codes on the Carts Guru platform, and add them to your emails, texts, and other client communications.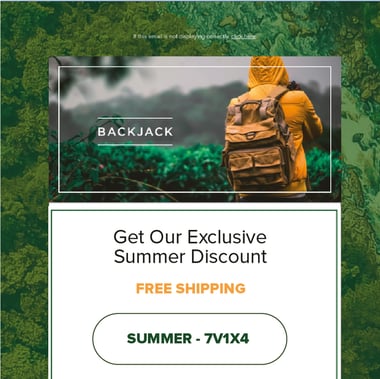 2. Use unique codes to track ROAS
In the golden age of newspapers, there was an old adage in advertising: You are wasting half your advertising budget, you just don't know which half. But in the digital age, this just isn't the case. Discount codes offer a concrete way to track and adjust your marketing/advertising strategy in real-time.
Imagine you have sponsored a podcast, run ads on Facebook, and have a Google Adwords campaign on the go. You'll need to set up a unique discount code for each one.
After a set amount of time, see which promo codes people redeem. You can use your data to calculate the return on ad spend (ROAS) for each of your channels. Then you'll know which channels to double down on and which to ditch.
3. Be visible, be quick
You should make it easy for users to find your discounts and offers. Walmart, for example, has an entire section on its website dedicated to discounts, deals, and sales. If people know where to look for savings, they're more likely to come back.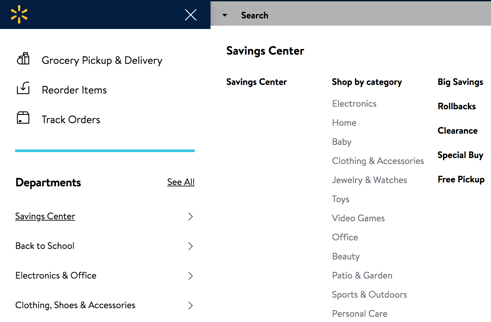 Walmart has an entire section dedicated to sales and discounts
Moreover, you should use discounts as a reward and give the reward right away. This keeps customers interested. Minted.com does a great job of this by providing a signup bonus code on the website, as well as an emailed version, right away.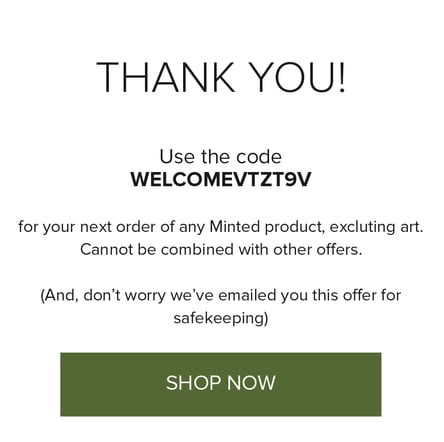 Here you can see that Minted sends you an email as well as giving you instant access to the code.
Finally, when it comes to applying coupons, customers should ideally be able to click on a code to apply it, rather than having to copy-and-paste or type it in. This is difficult on mobiles and many clients will give up and exit your store if it becomes too complicated or frustrating.
On the other hand, if you don't (or can't) use autocomplete discount codes, make sure the discount fields are clear and easy to find on the cart and checkout pages. If your customer struggles to find where to enter the code, it's possible they'll abandon their carts. And you know how much we hate that!
4. Personalize the experience
It goes without saying that people like to be treated as individuals - and personalization is key to customer loyalty. There a number of ways to make the most of it:
Segmentation
The better you know your customers, the more effective your discounts will be. Once an order is completed, send them a discount to a related product. For instance, if they bought a high ticket fishing reel, send them a discount premium fishing line a day later. Or, if you want to make them smile, send them a discount for their favorite product on their birthday.
Urgency
A classic marketing tactic, urgency encourages your customers to act right away by setting a deadline. Look at how low-cost airlines and travel firms send out time-limited discounts on flights and hotels. This way they encourage clients to book their holidays in the low season. Just make sure you segment your audience so the offers you make are related to your buyer's purchase history and situation.
Abandoned carts
Offering a discount code in your cart abandonment emails can be a way to personalize the shopping experience. It also encourages customers to follow through on their orders.
Referrals
We've also found that recommendations from friends via social media are very important. A study in the UK saw that 53% of UK adults look more closely at promotions if their friends have recommended them. So make sure to give your customers codes to share, it's a winner!
5. Offer seasonal discounts
Another strategy is to deploy discount codes at strategic points of the year like holidays or end of the financial year. You don't even need to stick to traditional retail holidays like Black Friday or Valentine's day. Amazon's Prime Week is in the middle of July and is celebrated in 17 countries across Asia, Europe, and North America - and why not? It stands out from the crowd!
This is a great tactic for niche e-commerce stores as it can generate a buzz online and get people talking about your products. To help build on this, it's a good idea to try and tie it into an event or something recognizable. For example, if you sell products and accessories for cars, why not hold a sale to celebrate the start of the Grand Prix? Or, if you sell cycling gear, why not run a sale to make the beginning of the Tour de France?
With a bit of creativity and a sprinkle of research, it's a great way to boost your bottom line.
With these discount code optimization tips in mind, you can roll out a successful, profitable discount campaign or sale and keep your customers coming back time and time again.
Finally, if you haven't already, check out our post on how to set up a six-figure e-commerce website. It offers practical tips and links to free tools to help you set up and run your business.